Introduction
"Everyone loves an early inflation. The effects at the beginning of inflation are all good. There is steepened money expansion, rising government spending, increased government budget deficits, booming stock markets, and spectacular general prosperity, all in the midst of temporarily stable prices. Everyone benefits, and no one pays. That is the early part of the cycle. In the later inflation, on the other hand, the effects are all bad."

- Jens O. Parsson (Ronald H. Marcks)
As I have gotten older and think back upon the fond memories that I have had, and the blessings I have had in my life, especially with loved ones lost, I have increasingly come to believe that life experiences are priceless and irreplaceable for any amount of money, but I am also frugal, and this paradox has surfaced throughout my life. I will get to this paradox when examining the prices of tickets and artwork today, further down in the article, but for now, I am going to take a moment to look into the past to reminisce.
Over the course of my career and my life, I have been blessed to be "poor", "wealthy", and everywhere in between, sometimes one after the other, and I suppose that is the life cycle of an entrepreneurial person. Through my experiences, I have learned that there are life lessons to be learned in each circumstance. During the course of the successes and failures, I have always had a consistent work ethic. This was the product of my father's, who insisted I start working and providing for myself at a young age, and he prevaricated to get me a paper route with the Post Tribune in Crown Point, Indiana at 9 years of age. Some of my fondest memories are those mornings with him, and I hope that I am able recreate this experience with my three children, though it seems like only adults deliver the papers these days. My dad taught me to fold papers, and through these hour-long morning sessions with him, he also taught me to keep an optimistic attitude no matter what happened.
My father was a repairman for U.S. Steel, who got laid off and started a heating and cooling maintenance business, where he turned out to be a terrible businessman. He and his business partner, Norman, could not bring themselves to charge enough for projects like fixing an air conditioner, so they charged what they thought was reasonable, which turned out to be about the cost of their lunch for that particular day. My mother and Norman's wife would not put up with this for too long, and thus, they closed this business after two years, leaving my father with only a giant Ford van for his efforts - which he then converted into our family vehicle, where he hauled my two brothers and myself around. After this stint as a business owner, my father became a teacher, which was his true calling, and he impacted more lives than I could ever imagine doing. He was a hero of mine. And I miss him.
When I first started working in the investment world, I used to travel to conferences on a regular basis, and I always liked bringing traveling partners along - as I still do to this day. Some day, I hope to get my three kids to travel with me, or me with them. My dad was my favorite person to travel with, as he knew how to make each person feel like they were the most special person in the world during the time he spent with them. My father continued to teach me life lessons even on these trips. He always knew how to stretch a dollar, even when we did not have to stretch one anymore, and I can still see him now, checking into an expensive hotel room with me and going to the grocery store down the road to buy orange juice, milk, tea, ice, and food. He would come back to the hotel, close the drain on the hotel sink, pour the ice into the sink and put the drinks in there, along with any food that needed to be refrigerated, setting up the room for our stay together. He taught me to value a dollar, though he also taught me to invest and speculate and be involved in the markets, and that is a different story for another time. Even though I knew the value of a dollar, and still do to this day, I have to be honest - the fact is that I have lost this lesson at times, as I have forgotten Mr. Buffett's Rule No.1 and Rule No.2 in pursuit of outsized returns at various junctures in my life.
Besides recalling fond memories of my dad, the point of my story is that even when I have been blessed to accumulate large amounts of wealth relative to my upbringing, I have always been relatively frugal, and that was ingrained in me by my dad. As a result, I turned into an aggressive/conservative investor in the mold of Marty Whitman or Mr. Buffet himself, who both made their fortunes with large, concentrated bets, even though they were frugal in their everyday activities. However, occasionally I have lost course, and drunk by my success, I have been more aggressive than warranted, forgetting about the downside - and these have been dear lessons to pay for.
One example of my conservative, or quirky nature has been in my car choices. I have been driving a 2003 Blue Jeep Wrangler from when I bought it new through today. In fact at 37 years of age, I have principally driven only two cars (we have had a family car that was shared for our children) in my life - both bought new with my savings - and I started driving to school and work (washing dishes and cooking at a restaurant, stocking shelves at a hospital) as soon as I was able to drive, which was at 16 years of age. At that time, I had accumulated savings from my paper route and other jobs, and my dad went with me to buy a GMC Sonoma pick-up truck, which was blue, just like my jeep. Now, I am not saying this to brag, though I am proud of the achievement for some strange reason. Like anything else, though, being proud of something can be your downfall, and not spending money for priceless experiences could be a consequence of my frugalness that I may regret later in life.
When I first started making a larger income, I actively tried to hide this from people, including my friends and family, and I hid some of my generosities with my newfound wealth, as I wanted to remain quiet and anonymous. Through experience, I have found that this is not a good way to live, at least for me. In fact, the life experiences that I am going through currently have given me a different vantage point on wealth and how it should be used. To conclude, I am still searching for that balance between frugalness, and having your wealth have its most meaningful impact. One thing I can say for certain is that you must have as many memorable experiences with the ones you love as you can. And that does not necessarily mean spending money on them - the most difficult times in life can also be the most rewarding moments, as challenges stimulate personal growth and cause people to bond over shared experiences. I remember reading a story about how life expectancy increased during the Great Depression, as people bonded together, and that makes me think about all the special people I have been blessed to have in my life now. To close, remember to make people around you feel like the most special person in the world when they are with you. That is a lesson I learned from my dad!
Inflation = Too Much Money Chasing Too Few Goods
As I was reading this morning, I came across an article about the Kentucky Derby, titled "$10,000 Derby Seats Net Churchill Downs $83 Million In 2 Minutes". 2 minutes? That is amazing! The price per seat is staggering on its own, but the amount of demand to cause $10,000 seats to sell out in two minutes must be extraordinary. I have never been to the derby, despite living close enough to drive to it in a few hours, and it sounds like a terrific experience and event. It encompasses a lot of my favorite pastime activities, including being outside, figuring out the odds, and wearing hats. While the experience of the Kentucky Derby may be priceless, the price tag for the best seats - which is equivalent to that of a small, reliable car - got me thinking that headlines and news stories like these could mean we are in the final stages of the current bull market, where speculative excesses emerge and emerging inflationary pressures rear their ugly head. Just as I was pondering whether I could, or would, ever pay $10,000 to go the derby, I came across another article with the headline "You Aren't The Only One Who Can't Get Mayweather-Pacquiao Ticket". In the article, it is speculated that floor seats are going for $100,000, famous celebrities and politicians cannot get tickets at any price, and that the average resale price of a ticket for one seat in a 16,800-seat arena was $6,268, per Stubhub. On the surface, this seemed like another sign of speculative excess and forthcoming inflationary pressures, and it caused me to look up the stock prices of Churchill Downs Inc. (CHDN) and MGM Resorts International (MGM), the two respective hosts of this Saturday's sporting events, for a historical perspective; I have posted long-term performance charts listed below.
There Is Definitely Speculation In Gaming Stocks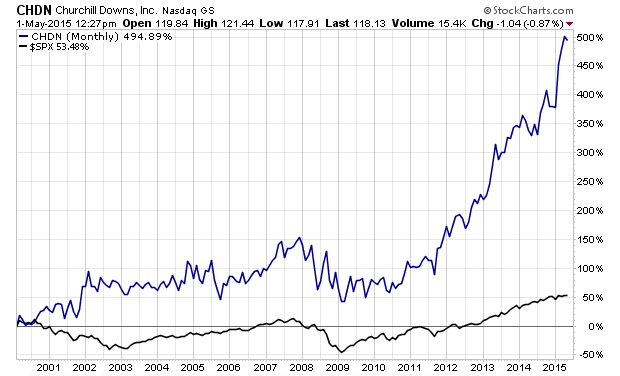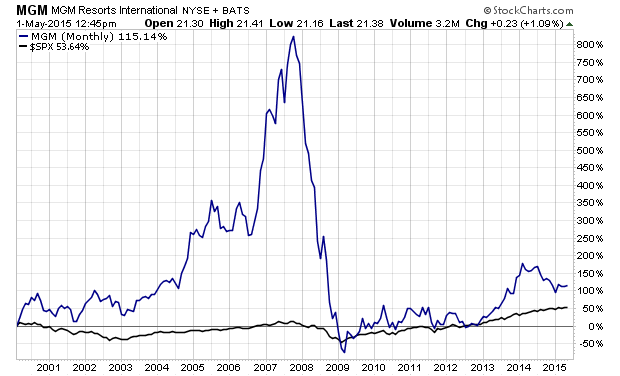 Looking at the above charts, Churchill Downs has had a remarkable run, far outpacing the S&P 500 Index (SPY), with the relative performance accelerating in 2012, and going on a parabolic rise ever since its lift-off at the end of 2011. Additionally, as a horse track owner and casino owner, it captures two categories where hot money flows - cementing its status as a leading indicator of emerging inflationary pressures. Building on this, MGM Resort's stock price has perked up since 2013, and it has outpaced the SPY by a healthy margin over this time frame, after it crashed in 2008 - so consumer overindulgences are returning as people feel more confident spending money.
Sotheby's Has Been A Leading Indicator
I have been reading Marc Faber's GloomBoomDoom Report for the better part of fifteen years, and his writing style has inspired me as a writer. From time to time in his reports, Faber will look at the world of artwork, antiquities, and rare coins to gain perspective on how the ultra-rich are spending their money. As a result, I have been following Sotheby's Holdings (NYSE:BID) for a long time, as they remain the premier auctioneer of fine art, decorative art, and jewelry all over the world. Prices for top-tier works of art remain at all-time highs, yet the stock price of Sotheby's, which has a history of leading market downturns, as indicated in the chart below, has not yet been able to break out to new highs - and in fact, has been weakening since 2014, offering a warning sign to the broader stock market: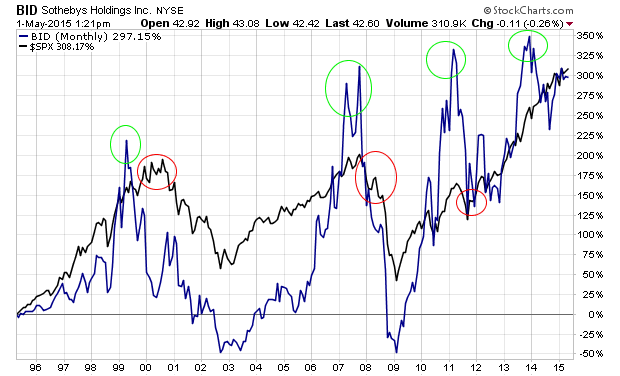 Looking at the chart of BID above, the green circles notate when it has topped and the red circles notate when the broad stock market has topped. Thus, BID has been a reliable leading indicator, declining ahead of the SPY in 1999, 2007, 2011, and potentially in 2014. Thus, unless BID makes a new high in 2015, there is an existing divergence between BID and SPY that will not be resolved until the stock market, as measured by the SPY, declines, or BID eclipses its 2014 high.
A Potential Short Opportunity
Since the share price of Sotheby's has historically been a reliable leading indicator of broader stock market weakness, conservative investors should heed the warning sign that BID's current stock price is advertising, raising the level of cash in their portfolios. Building on this point, expected returns for U.S. equities are near all-time lows, so raising cash and becoming more defensive should be strategies that all investors are considering at the current juncture. Investors and/or traders who are more opportunistic in nature could look to enter a short trade in Sotheby's itself near today's price levels. BID is an attractive short candidate due to its higher-than-market beta (1.7), its higher-than-market price-to-earnings ratio (25 for the trailing twelve months), its declining earnings expectations, a tendency to move sharply down ahead of the market, and due to the weak relative performance of its stock price since 2014. An investor/trader could sell short today at approximately $43, with an initial downside target of $35, which is an area of chart support and also approximates BID's 2014 low, for a potential gain of approximately 18%. If BID moves above its 2015 high, which is approximately $45, and closes above it for 3 consecutive trading days, I would close the short position. Thus, there is approximately $2 of risk, versus approximately $8 of profit at our initial target price, for a favorable risk/reward trade over the short to intermediate term. Once the target price is reached, the trade should be re-evaluated as a breakdown in BID, below its 2014 low, and/or the breakdown of the broader stock market could prompt a lower target price.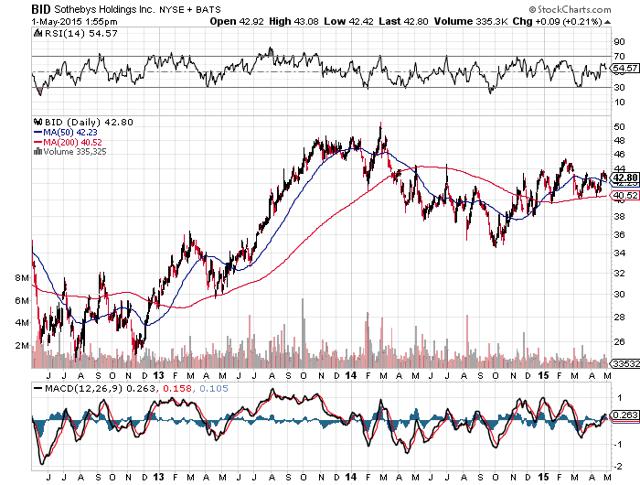 Put Options Offer A More Favorable Opportunity
I often choose to create short positions with put options, due to their defined risk and magnified reward, and with a sector as volatile as Sotheby's, I would advocate the same strategy here for investors who have an aptitude for options. This is something I have specialized in for the past 15 years.
Conclusion - A Warning Signal And A Favorable, Defined Risk/Reward
A lot of money was being thrown around in the run-up to the Mayweather/Pacquiao fight and the Kentucky Derby, which both occurred on Saturday, May 2nd, 2015. Additionally, top-tier artwork is selling for record high prices. These are all signs of emerging inflationary pressures that could potentially cause interest rates to rise and stock prices to decline. The current eagerness of consumers to overspend is eerily reminiscent of excesses that have marked the top of bull markets in the past. Sotheby's has been a reliable market-leading indicator for over twenty years, and it remains substantially below its 2014 highs, sending a warning signal to the broader stock markets. Conservative investors should consider raising cash, while more opportunistic investors can consider looking for shorting opportunities. BID itself is a viable short candidate, and it currently provides an attractive entry point for an aggressive investor to speculate on the short side of the market, with a defined risk/reward.