Several healthcare conferences took place at the end of November and beginning of December. This week I am reviewing the publicly available investor presentations made at those conferences. This article contains the highlights from the AngioDynamics (NASDAQ:ANGO) presentation as I understand them, as well as some of my own commentary.
Context
During the Canacord Genuity Cardiovascular, Aesthetics & Metabolic Disorders Medical Devices Conference, ANGO CEO Joseph DeVivo admitted the company has suffered from "some execution issues." These include "failed product launches" and "sales force stability challenges" in its 100+ direct rep sales force. By the end of the year the company also expects to lose a $30 million revenue stream it derived from an oncology product called LCB due to a "relationship that's ending." These challenges contribute to management's guidance of 0-4% YOY revenue growth.
DeVivo took over as CEO in August and is looking to return the company to growth. In the investor conferences he identified four major strategies for growth:
Increase focus on high-growth market segments
Expand Internationally
Invest effectively in R&D
Make Accretive Acquisitions
1. High-Growth Market Segments
VenaCure EVLT System
This minimally invasive laser is used to treat varicose veins. Laser fiber is inserted directly into the vein via a catheter. The laser delivers a blast of energy which collapses the walls of the vein.
Although this is a promising product, it operates in a mature market. Covidien's VNUS lawsuit win should benefit ANGO by forcing competitors to raise their prices. However, ANGO will need to keep dumping R&D resources into the development of new versions of the VenaCure in order to retain market share.
Vortex Ports
An implantable port is a type of catheter that can be slotted into a vein to create an opening just under the skin. A needle can be inserted into the port for the delivery of medication. Ports can be left in for an extended period of time and make it easier to administer treatments, particularly if the walls of a patient's veins have hardened. The Vortex Port is designed to minimize areas where bacteria can build up. The design maximizes efficient flushing to cleanse the inner compartment of the port.
ANGO is not the only player in the implantable port market. Competitors include Bard Access Systems, Navilyst Medical, Smiths Medical, and MedComp. However, ANGO's self-flushing port seems sufficiently differentiated that is has been able to carve out a growing market niche.
NanoKnife System
The NanoKnife is designed to destroy inoperable tumors through heat. The system uses electrical pulses to open cellular membrane pores. Fluid fills the pores and destroys both healthy and cancerous tissue. However, the technology preserves vessels and nerves. It has received 510K clearance for soft tissue surgical ablation and a CE mark. While the NanoKnife is FDA-approved for soft tissue ablation, ANGO still needs to obtain approval for specific diseases and conditions. ANGO is currently seeking approval for liver, prostate, and pancreatic treatments. Management indicated that it is particularly excited about pancreatic treatment. Revenue in Q1 FY 2012 from the NanoKnife increased 105% on a YOY basis to $2.3 million.
According to the National Cancer Institute, there were approximately 38,000 deaths from pancreatic cancer in the United States in 2011. Approximately 44,000 new cases of pancreatic cancer were reported. In a previous earnings call, management indicated that it had perhaps dedicated too large a portion of R&D to the NanoKnife. FDA approval could offer significant upside potential to the company and alleviate investor concerns over execution risk.
2. International Expansion
13% of ANGO's Q1 FY 2012 sales were international. ANGO management believes it can realize growth in international markets by replicating its direct sales model. It has purchased international distributors and is now able to sell direct in France, Germany, the Netherlands, and the UK through a 20+ rep sales force. ANGO also plans to continue to invest in international clinical studies.
3. R&D
In the Q1 FY 2012 earnings conference call, management admitted that the company may have over-allocated R&D spend to NanoKnife. Management now plans to refocus R&D spend on vascular product development. R&D was 10% of revenue in Q1 FY 2012 and 11 new products were launched in FY 2011. Planned product launches in FY 2012 include the Smart Port, the DuraFlow II Dialysis Catheter, and line extensions and software updates to NanoKnife. Management now expects R&D to account for 10.6% of FY 2012 revenue.
4. Acquisitions
Although ANGO's board of directors has approved a $20 million stock buyback program this year, the company still has plenty of cash to devote to acquisitions. ANGO has $135 million in cash on its balance sheet and generates approximately $30 million annually in FCF. It has a direct sales channel it can leverage for new products. This makes it attractive for the company to acquire small tuck-in acquisitions. Management plans to look aggressively for acquisitions that can be accretive within 4-6 quarters.
Valuation
Vuru provides a quick means of looking at ANGO valuation metrics.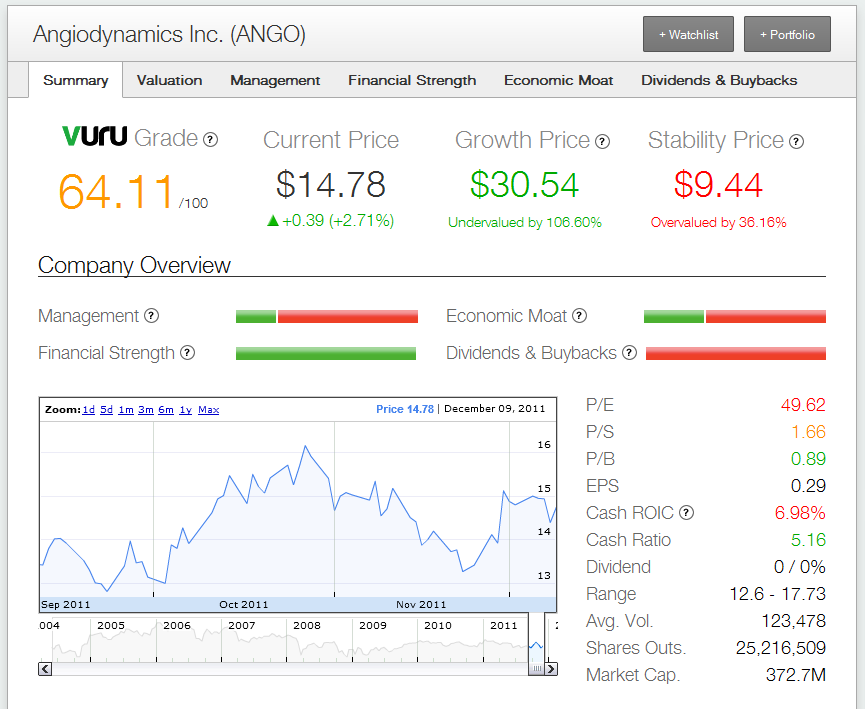 The Vuru analysis offers mixed results. Given ANGO's low revenue growth guidance, I believe the stability price calculation (i.e., EPV) is a more conservative valuation. This suggests the company is overvalued. I believe the "Growth Price" (i.e., DCF) calculation is skewed by Vuru's use of past growth rates to predict future growth rates. However, reducing future FCF assumptions to 0% still suggests the company is significantly undervalued.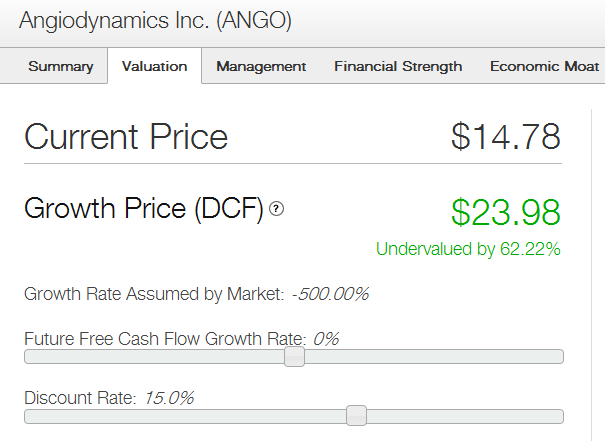 Both the EPV and DCF calculations use a discount rate of 15%, a conservative calculation even when accounting for a small-cap premium.
Overall, ANGO management is guiding to low-to-nonexistent revenue growth for FY 2012. The new management has articulated a plan for growth but several of the markets it plans to focus on are highly competitive. International expansion offers ANGO the opportunity to expand a direct sales force but comes with currency risks. The company seems to be looking to acquisitions to drive growth.
While it is true that ANGO can leverage its sales force, buying a medical device company on the hopes that it can execute smart acquisitions is a questionable proposition. Although ANGO's cash hoard is impressive, management's strategy of using the cash for acquisitions and share buybacks suggests the company has not been able to identify meaningful organic opportunities. At a P/E around 50x, a prospective buyer may want to wait until a growth catalyst becomes apparent before diving into this stock.
Disclosure: I have no positions in any stocks mentioned, and no plans to initiate any positions within the next 72 hours.
Disclaimer: I did not attend any investor conference in person, and am not associated with any of the hosts or participant companies. The summary and commentary provided in this article are a result of my own potentially erroneous understanding of the presentations. Investors should not rely on my article and the opinions contained therein as a substitute for management presentations or company-issued materials.