Some have described Apple (NASDAQ:AAPL) as the perfect stock. While I can't complain about the company's consistent growth, its market-outperforming tendencies, and eye-popping paper and realized gains that Apple has provided many of us over the years, there is one thing that the most successful, cash-rich tech company could do to make this long-term shareholder even happier: Announce a quarterly dividend policy.
Apple has long shrugged off the idea of issuing a dividend, generally stating that it would prefer to hold its mountain of cash for potential strategic acquisitions and that it wants to keep its employees eager and hungry. There are also many investors who have detailed their respective rationales against an Apple dividend.
About a month ago, I read a report from Neil Hughes, at Apple Insider, that opened my eyes to the real possibility and the long-term financial sensibility of the company acting against the strong will and long-held beliefs of the late Steve Jobs by implementing a dividend policy.
From the Hughes Report:
Analyst Brian Marshall with International Strategy & Investment Group said his firm's surveys have indicated most investors do not believe Apple will initiate a dividend policy in 2012. However, he believes now that Tim Cook is in charge of Apple, the CEO will make an effort to optimize his company's capital structure and will, in fact, pay out a dividend.

He believes that Apple could "easily" implement a dividend yield of 250 base points, amounting to about $2.40 per quarter. In Marshall's view, a dividend payout would reduce Apple's free cash flow by between 20 percent and 25 percent.

But he also estimates that a dividend yield would bring in more than $4 billion in incremental investments, which is why Marshall believes Cook will decide to change course for Apple.
Here is a graphic that Hughes provided to illustrate the above - (click to expand):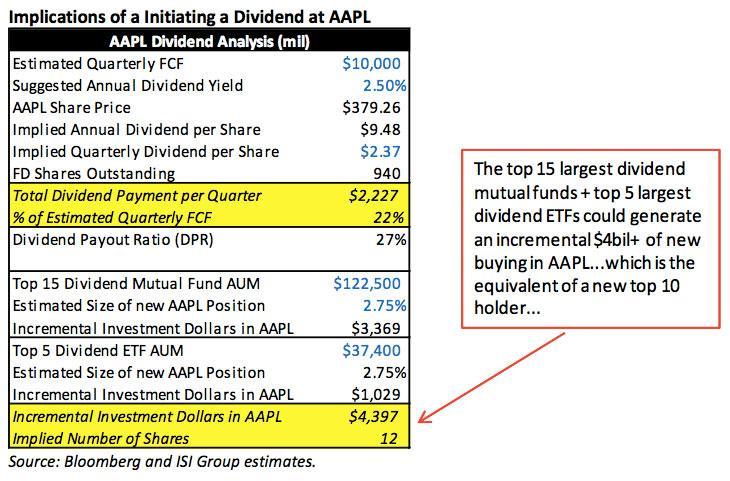 Many will disagree that a dividend would make for the best use of Apple's arguably overly impressive cash reserves, citing tax implications and concerns about the depletion of the company's free cash flow (among other items). The reality is that the issuance of a dividend would not signify the end of Apple's status as a growth company, as some would fear. Apple fanatics will surely continue to swarm and buy up every quality new product or product update the company can throw at them. As such, I am of the belief that a performance-based stability or hybrid dividend would make the stock more attractive, as it would bring even more perceptual constancy to what is already a seemingly impenetrable fortress of a company. I also feel that, along with continued growth, it would bring the company's stock to the next level and eventually into a much higher trading range. This is not to say that the stock can't or won't greatly appreciate in value without the implementation of a dividend policy.
The relatively miniscule amount of interest Apple is currently accruing on its cash-pile seems nonsensical, thus unacceptable to me, and if the company doesn't plan to buy-back millions of shares per year or use the money in the coffer to generate more money by investing in liquid assets, it may as well share the wealth with its many loyal shareholders by implementing a dividend policy that makes sense for all. I trust that there would still be more than enough dry powder left over, along with its multitude of additional readily available resources, for Apple to make as many large strategic acquisitions as it chooses.
If Santa doesn't grant my reasonable request, I may enlist the Easter Bunny to help me encourage Apple to buy Adobe (NASDAQ:ADBE). Not because I think Apple needs it or that such a move would even be prudent, but rather for the sake of my Adobe holdings.
Kidding aside, happy holidays to all and may there be a neatly wrapped Apple device or accessory under every tree.