Dear readers,
This week's Outstanding Performance Awards demonstrate two ways of understanding probable forward looking corporate events. One is a company with an online platform and scale, seeking to further take advantage of their marketing position with bolt-on acquisitions. The other identifies key economic fundamentals, including the results of trail data, and extrapolates their implication for a development stage pharmaceutical company, namely, the apparent superiority of a generic product over a novel treatment in phase III. In both cases, the authors identify key economic fundamentals which would greatly affect share prices in quarters to come, most likely through corporate events.
This week's Outstanding Performance Award winners are:
Shaun Currie for his long idea on 1-800-FLOWERS (NASDAQ:FLWS) published December 2013. Return to date: +108%
Sirius Capital for his short idea on Aerie Pharmaceuticals (NASDAQ:AERI) published December 2014. Return to date: +70%
Both authors have updated their articles with a comment on the original article (here and here). Both articles are part of the SA PRO equity research archive, available exclusively to SA PRO subscribers, but will be made available to all readers for 48 hours in honor of their winning the award.
About Shaun Currie
Shaun Currie is currently working on his MBA at Northwestern's Kellogg School of Management. Currie completed his CFA in 2010 and worked five years as a buy side analyst. He is currently interning with Wells Capital through their Select Equity Fund and will be interning this summer as an equity analyst at T Rowe Price. Currie has written on Seeking Alpha since May 2013 with success. He pointed out John B. Sanfilippo & Son (NASDAQ:JBSS) before it more than doubled, tapping Select Comfort (NASDAQ:SCSS) for 70%+ upside some 80%+ ago and has had his price target for Scholastic Corp (NASDAQ:SCHL) handily beat.
Performance Award Case Study - 1-800-FLOWERS
Shaun Currie's long thesis on 1-800-FLOWERS was a valuation and growth via acquisition thesis. The company has three segments: (1) a flower delivery business, (2) a flower shop network business (BloomNet) and (3) a gift business.
In terms of historic earnings before the article, there was a rising 3-year trend in the flower delivery business and BloomNet, but some fallback in gifts. The gifts segment, however, is where Currie sees the opportunity. With its continued acquisitions in the space being integrated into the 1-800-FLOWERS platform overtime, the company was determined to grow the business and take advantage of their existing scale and online platform. In addition, a new loyalty rewards system was to come into effect in 2014.
To Currie, these signs pointed to a stronger future for 1-800-FLOWERS. With their history of acquisitions and their disclosed desire for more, though with discipline, Currie also pointed out the company's debt paydowns and attractive borrowing costs as indicators of the company's capacity to execute. Currie calls the most likely candidate one with a chocolate business and says that he "wouldn't be surprised" to see an acquisition in 2014.
In discussing some of the missteps by management regarding their approach to fruit bouquets, Currie mentions Harry & David's recent bankruptcy in the space "due to a combination of operational miscues and the growing preference for fruit bouquets over fruit baskets."
Currie also gives us some forward looking quantitative expectations through 2017: modest growth in Flowers and BloomNet, but a doubling of EBITDA from the 1-800-FLOWERS gift business via organic and acquisition related growth.
Eight months later, 1-800-FLOWERS purchased Harry & David for $143m, which posted some $369m in revenue in 2012 and was reaching "nearly $400 million in its most recent fiscal year." The acquisition was expected to be immediately accretive to earnings and would put FLWS sales cleanly over $1 billion for the first time. The stock market began to react; analysts rapidly following suit. The latest results from the first quarter post-integration revealed an increase in quarterly revenue by 100%, EBITDA by 188% and adjusted EPS by 207%. The stock commenced its latest rally, briefly touching $13 and closing this past Friday at $10.20. Have a read of Currie's update. This was good for a 108% gain: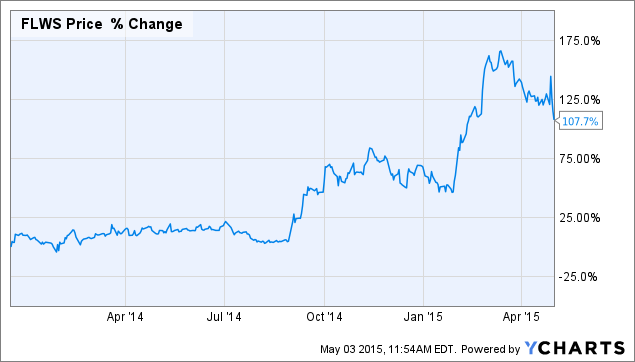 About Sirius Capital
Sirius Capital is a biotech portfolio management firm specializing in small and mid-cap biotech and pharmaceutical companies using an event-driven model. The firm utilizes their background in academic biology research and the research of pharmaceutical firms to achieve this end. The firm researches the public domain for ways to maximize returns for their investors and to occasionally share their views on Seeking Alpha.
Performance Award Case Study - Aerie Pharmaceuticals
Sirius Capital's short thesis on Aerie Pharmaceuticals established that a clinical stage product was likely overhyped and overpromised, in respect to its price competitiveness and potential market share. Aerie Pharmaceuticals, at the time, was conducting phase III trials for Rhopressa, a product aimed at treating glaucoma and hypertension. If successful, the firm aimed to file their NDA in mid-2016.
At the time of the article, their stock sold at $31.23 per share, a market capitalization of $750m with about $148m in cash. This, according to filings, was enough to get to commercialization, pending, of course, successful outcome of their trials and FDA approval.
Given the development stage nature of the company, the trials are the point of focus for Sirius Capital. One of these being their recently completed phase II trials and the construction of the phase III trials. The phase II trials, with clarity in the abstract, conclude that Rhopressa was not as effective as its comparison, latanoprost, and furthermore produced more patients with red eye.
Sirius Capital then points us to some "spin" in their press release on the matter. The company states that Rhopressa had the medical effect the company sought, which they bucketed as a success, without mentioning its weaker performance against its comparison - a cheap generic.
This brings us to phase III. Sirius makes the observation that latanoprost, according to studies by Pfizer, is more efficacious than another drug in the broadly defined glaucoma market, timolol. Furthermore, Aerie Pharmaceuticals has substituted timolol for latanoprost as the standard of care in their phase III trials, which Sirius interprets to mean they are setting up their trials as best they can for success. The problem, he argues, is that the stock is priced as if it will capture 40% of the glaucoma market (about $800m in revenue, using his figures) which appears to be unlikely in face of the drug's relative performance. "Since their candidate does not present any advantage over the cheap generics," he concludes, "it is unclear how that will happen."
On April 23, 2015 Aerie Pharmaceuticals released the results of its phase III trials:
The trial did not meet its primary efficacy end point of demonstrating non-inferiority of IPO lowering for once-daily Rhopressa compared to twice-daily timolol.
In case that triple negative trips you up, the drug didn't demonstrate that it was better than timolol. As Sirius Capital points out in his update:
If there is a 'take home message' from this example, it would be in our opinion to trust the data and not the interpretations that are in the press releases, since the latter are often affected by the desires and optimism of researchers and managers who have an agenda of bringing a drug to market.
The stock subsequently sold off from a market cap of $850m to a market cap of approximately $225m, resulting in a share price decline of some 70% since publication: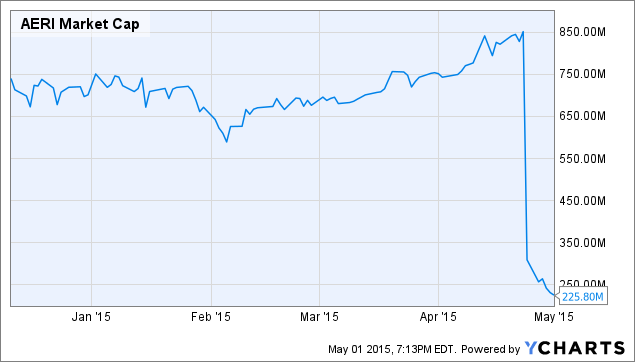 Congratulations to this week's winners! Look out for a new pair of Outstanding Performance award winners each Monday. Here's a page with all previous winners. Keep an eye out next week for the announcement of the winners to our latest investment pitch contest!
More about Outstanding Performance awards
Seeking Alpha aims to help investors outperform the markets. In awarding authors of outstanding stock ideas that played out, we hope contributors will be motivated to share more outstanding long and short ideas with our readers - which benefits everyone.
Every week, we'll be searching through our long and short ideas archives looking for outstanding stock ideas that played out, and awarding two $2,500 "Outstanding Performance" prizes.
Here's what we'll be looking for:
Performance: Above all, we're looking for ideas that made SA readers money. Risk matters, so we'll be looking at the stock's market cap, sector, etc. as well.

Confluence: Every idea has a thesis. Did the idea play out for the reasons proposed or not?

Compelling: For an idea to be outstanding, it needs to be sufficiently convincing that a reader would have been compelled to take a deeper look at the stock and potentially take a stake. In assessing compellingness, we'll be looking at a number of factors including article comments (how did readers react?), historical performance (does the author have a track record of well-thought-out stock ideas?), voice of expertise (does he/she come across as someone who has unusual insight into the stock?), and how thoroughly the article covered key issues (reasons for market mispricing, catalyst(s), competitive landscape, company management, key risks, etc.). In other words, we'll be looking for the same things readers look for when assessing an idea.
To qualify for an award, the idea needs to have been submitted exclusively to Seeking Alpha. We will also be asking award winners to publish an update to their thesis, either as a comment to the article or as a standalone article.
Generally, we'll be looking for longer-term ideas that offered meaningful upside to readers. We'll be going back as far as two years or even further. We may also reward ideas that played out outstandingly over a shorter timeframe. But we will not be using Outstanding Performance awards to reinforce extreme short-term price volatility.
To get exclusive access to these articles after they are selected, as well as early and archival access to many of our top performing ideas, subscribe to SA PRO.
We'll be announcing Outstanding Performance award winners in Wall Street Breakfast, in the Today in SA PRO newsletter, and in a standalone article like this one.
If you have great stock ideas, why not become a Seeking Alpha contributor yourself? Our contributor success team will make it easy to share your ideas with tens of thousands of readers.