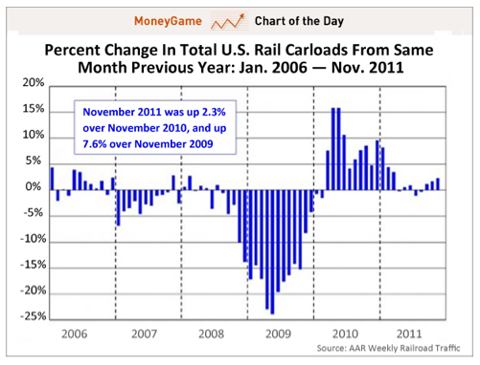 The market last week was highlighted by Europe almost wholly. Economic data were rather limited, and the week culminated in the ECB meeting that won agreements from a majority of the pieces in Europe. The resolution agreed on was well received on Friday. With Europe perhaps "solved" for the near-term, the bloc may take a backseat to at home issues such as payroll taxes, employment and economic data.
The week ahead will continue to focus on Europe, but there may be a larger focus on economic data. The week is backloaded on data with major reports coming at the end of the week. We get retail sales, business inventories, and an FOMC rate decision meeting on Tuesday. On Wednesday, the market gets import/export prices and crude inventories. Thursday will bring us jobless claims, PPI, Empire Manufacturing Index, industrial production, and Philly Fed Index. And it all wraps Friday .. the market reports CPI. This data and the Fed meeting will be crucial to a further Santa Claus rally.

Despite the slowdown in earnings, there are a number of key retail and tech earnings this week. Some of the highlights include Best Buy (NYSE:BBY) on Tuesday. Thursday will be highlighted Adobe (NASDAQ:ADBE), FedEx (NYSE:FDX), Pier 1 Imports (NYSE:PIR) and Research In Motion (RIMM). Friday gives us Darden (NYSE:DRI). The big ticket is obviously FedEx as well as RIMM. FedEx is a great bellwether that we will be watching closely. Can RIMM show something that will inspire investors?
We come into the week sitting fairly bullish, and we see the market being able to continue its Santa Claus Rally as long as data continues to be decent and comes in at expectations. European developments should continue to move the markets, but for now, the market seems a bit settled.
Our positions moving into this week ..
Pier 1 (PIR) - We went long on Pier 1 Imports on Friday. The company pre-announced earnings this past week, and they are looking good moving into Thursday. With the pre-announcement of earnings, that gives the company limited downside moving forward. Additionally, we should see them continuing higher as long as the market stays strong.
SPY - We entered a bull put spread on Friday with the 119/118 strikes. As long as the market stays flat this week and does not test the 119 level, we will make all the premium.
Exxon Mobil (NYSE:XOM) - We sold the $77.50 puts on Exxon Mobil that expire this week for a max gain of 9%. The stock broke out on Friday, and oil prices are looking like they are making their way back toward $100. Unless the market breaks, we should be good on XOM.
Starbucks (NASDAQ:SBUX) - We sold the $39 puts on Starbucks for Jan21 expiration, and the stock has held the $43 level very well. We look for SBUX to continue to be strong moving forward.
Sina (NASDAQ:SINA) - We have a bearish position on Sina with an 85/90 bear call spread expiring in January. We have a Sell rating on the stock, and we believe that SINA has a ton of resistance above it. Even with the rally, Sina has not performed well.
Nike (NYSE:NKE) - We have the $85 puts expiring this week. Nike has held above $90 very well, and we look for the stock to hold that level through the end of the week allowing us to get the full premium on Nike.
Research In Motion (RIMM) - We sold the $19/$20 bear call spread on RIMM this past week. We think that Research In Motion looks fairly weak into this Friday's report. We will look to cover some of the premium before earnings to bring down some of the risk.
CarMax (NYSE:KMX) - We have sold the $26 puts on CarMax. The company looks very solid moving into earnings, and the company broke a key level at $30. We look for that to hold. We may take some off before earnings to lock in some premium and bring down risk.
AutoZone (NYSE:AZO) - We sold the 300/290 bull put spread on AutoZone, and that spread looks good to us to maintain. $330 is a good level to watch right now.
For this week, we believe the market continues to be at headline risk but probably less than other weeks. We believe the market should be continuing higher. We currently like Bristol-Myers (NYSE:BMY), McDonald's (NYSE:MCD) and Ventas (NYSE:VTR) this week. All the stocks are in an upward channel and above their 200-day MA with really nice upward trends. We would look for all of them to move higher with MCD looking like it wants to test $100 before the end of the week.
Click to enlarge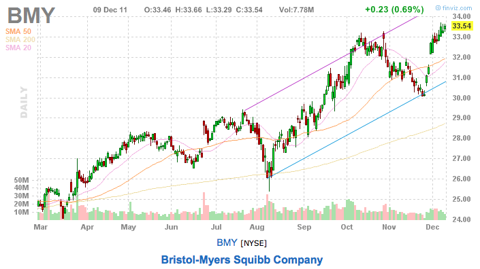 Disclosure: I am long AZO, KMX, NKE, SBUX, XOM, SPY, PIR.
Additional disclosure: I am short SINA, RIMM.