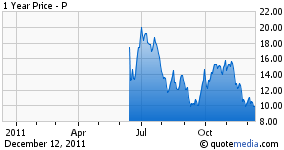 Back in the industry's glory days, Randy Michaels referred to his company, Jacor Communications, as The Noise You Can't Ignore. And it was true. Programming on Jacor radio stations makes today's content in the audio entertainment space sound even more sterile and boring than it actually is.
Jacor's competition often made the mistake of not ignoring that noise. Instead of keeping their heads down and focusing on long-term goals and objectives, competitors often took the bait and battled Jacor publicly and fiercely.
Given the day-to-day noise that I, for one, can't ignore on Seeking Alpha and other sites, it seems that many investors who, presumably, consider themselves "long-term investors" make a similar mistake. Or other "investors," who are bearish on a particular stock, use near-term noise as a primary basis for their bearishness.
Investors, long- or short-term, simply do not pick winners 100% of the time. In fact, realistic investors expect to pick losers. The key, however, is properly balancing the winners with the losers. And, by this, I don't point to a simple win-loss record. Rather, it's about how you allocate capital and manage risk.
Portfolios, as I see it, should contain various sub-sections. At the core sit relatively boring long-term plays that you expect to appreciate modestly to considerably over time. For some, these "plays" include something other than stocks, such as mutual funds and ETFs. On the fringes, you can have any variety of subsections ranging from speculative plays to short-term swing trades.
Pandora (NYSE:P) deserves a place in a sub-section of some aggressive investors' long-term portfolios. A considerable amount of noise that's tough to ignore drowns out the original long-term convictions that put the stock on radars in the first place.
I'm taking all sorts of heat for being long this stock. While I can certainly see where the bears come from, I do find it ironic that so much of the venom comes from ardent Sirius XM (NASDAQ:SIRI) longs.
First, many of the most vocal SIRI supporters scoff at the notion that the two companies even compete in the first place. Thus, why even pay attention? Frankly, some of the venom has to do with the undying hatred many SIRI longs have toward me. Get a load of this and then tell me that more-than-likely loving, caring and thoughtful people do not sell out their "real-life" personalities in favor of that of a deranged soul while online:

What a guy. And that's one of the "nice" messages. As opposed to the "people who invested in Pandora who are good people," I must fall into the "bad people" category on the basis of a poor stock pick, at the moment, and bearishness toward SIRI. Happy Holidays to you and yours as well.
It seems, however, that SIRI longs should be among those who understand the conviction of somebody who is long Pandora. I am not saying they should agree with the basis behind the long play, but they should be able to muster something like empathy for the sentiment.
Let's cut through a bit of noise and remember just how many bagholders exist in SIRI. People with cost bases in the $3.00 to $5.00 range or higher. People often ask why SIRI investors are so passionate. That's a big reason why; they're trying to pump themselves out of a horrendous investment. Others had considerable foresight and made one heck of a play loading up on the stock when it traded well below $1.00.
Those who bought SIRI low took a chance on what was, at the time, a dying company. The situation was much worse than the headwinds Pandora currently fights. I have always given credit where it's due, though. And people who gobbled up SIRI for spare change per share deserve credit. They believed in the long-term viability and survival of satellite radio and the subscription-based business model.
That said, the speculative sub-section of a portfolio should include these "us against them" speculative plays. If you make the investment in SIRI at $0.50 or Pandora when everybody in the world appears to hate the stock as part of a larger, diversified set of holdings, you essentially do it with money you can not only afford to "lose," but money you expect to "lose."
For instance, while my Pandora position currently sports a 30% on-paper loss, I closed out a trade in Netflix (NASDAQ:NFLX) puts last week for an 80% realized gain as well as a two-month long buy-write on Sprint (NYSE:S) for roughly 20%. Both were not only bigger winners percentage-wise, but size-wise as well. I structured it that way because I have a heck of a lot more faith that the Netflix conviction will deliver, short- and long-term, and that writing $2.50 calls on Sprint made sense with a cost basis of $2.17 than I do in the Pandora trade.
The point - if you kick yourself or chide somebody else for a bad trade, short- or long-range, you clearly have limited experience investing or you're just being a ... jerk.
While Pandora faces real issues, much of what dogs it is short-term noise. Let's consider the latest first, the stock's lock-up expiration. For some reason, bears seem to have more of an issue with Pandora insiders getting rich than they do with companies like Netflix and Open Table (NASDAQ:OPEN) buying back stock, promptly selling it and/or exercising options on the backs of shareholders.
For better or worse, the IPO game exists to not only provide liquidity, but to make insiders rich or richer. I don't begrudge anybody for selling as many shares as they can as soon as they can.
But, we're not even sure who's actually selling. Certainly, as the stock dropped ahead of the lock-up expiration, it was not insiders with restricted shares. Rather, it was more likely a mix of investors taking profits after a nice run and lock-up-related noise providing downward pressure.
CNBC conducted a bit of a hatchet job on Pandora CEO Joe Kennedy the day the company went public. That's an interview that Pandora bears distorted by claiming Kennedy said he did not know when the company would be profitable. Of course, he never said that. More importantly, however, if you fast forward to about the 16:00 mark of that interview, you'll hear that the Pandora float was so low because insiders did not want to sell their shares. One of those investors supported exactly that contention in the interview, which you can link to from a Seeking Alpha article I wrote that discussed the issue.
That said, until you see SEC filings listing insider transactions, you'll probably never know, outside of funds, who bought and sold shares upon lock-up expiration.
This and other pieces of short-term noise have very little to do with the long-term reasons for being long Pandora. Either the company will execute its business model or it won't. If it does, chances are the stock will rise. If it doesn't, the bear case, or components of it, will play out. Plenty of variables will influence an outcome that will not occur in a tidy, neat and straightforward trajectory. But, over the long haul, we will not recall most of the noise, such as the lock-up hysteria, as real factors.
Pandora's price action on the first trading day after the lock-up expiration only drives home the inanity of short-term noise. After gapping down at the open, touching a new 52-week low and ranging between $9.15 and $10.00 a share, Pandora closed the day up $0.03 at $9.93.
Click to enlarge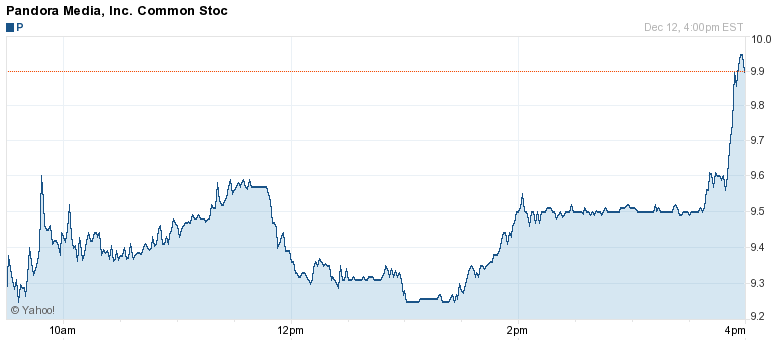 Chart courtesy of Yahoo Finance
Power hour came and, obviously, somebody was buying the stock. While that chart makes a point in the face of short-term and meaningless chatter, I really could care less about the day-to-day gyrations of a fresh IPO that I intend to build a stake in over the next several years, not days, weeks or months.
Pandora's long-term story, which I outline in several recent Seeking Alpha articles, remains intact. It continues to build a sales force that should have little problem selling multi-platform advertising at the national and local levels that brings the 18-34 demo to clients with force.
Instead of operating as bears by default, Sirius XM investors should consider the synergies I explore between the satellite radio niche and the noise you can't ignore. Sirius XM continues to throw money away by not aggressively going after the young audience Howard Stern dominated while on terrestrial radio. While M&A among the two companies might never take place, Mel Karmazin should certainly look to companies such as Pandora for creative partnerships in an attempt to diversify Sirius XM's audience and finally give its top talent the exposure he deserves.
Clear Channel (CCMO.PK) and Cumulus Media (NASDAQ:CMLS) recently showed that anything's possible. Who would have thought five or 10 years ago that one big radio company would turn its stations over to the mobile and online app of its biggest and largest competitor? I believe in Pandora as a long-term investment because it is an innovative company with a foothold on demos advertisers want to target. Instead of wasting time on the noise, Sirius XM longs and other Pandora bears should look to the future and consider possibilities that actually have meaning.
Disclosure: I am long P.
Additional disclosure: I am long NFLX June 2012 $40 put options. I no longer own a position in S.