"Rock, paper, scissors ... shoot!" - Anonymous
I wanted to bring attention to gold which has been struggling to make new highs and outperform equities since the middle of August. Commodities generally speaking have been having a hard time rallying in a sustainable way given not just European growth concerns but what appears to be a significant decline in China's demand for resources as its own economy slows down. Oil has been an exception to this given continued fear over tensions with Iran, but for now let's save the topic of oil for another article.
Gold has certainly been a standout performer all year, but I wonder now if outperformance will get undone in the months ahead. Take a look below at the price ratio of the SPDR Gold Trust ETF (NYSEARCA:GLD) relative to the S&P 500 (NYSEARCA:IVV). As a reminder, a rising price ratio means the numerator/GLD is outperforming (up more/down less) the denominator/IVV.
Click to enlarge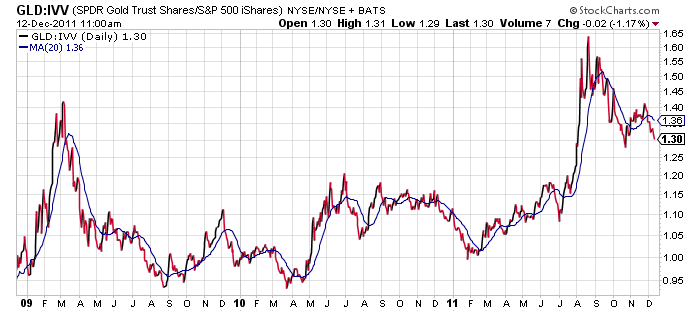 Notice how dramatically gold outperformed equities from the beginning of July to about the middle of August this year after having been on a steady path of outperformance pretty much all year. Since the peak ratio, though, gold has been underperforming, with weakness picking up in recent days. Whether this is because of a strong dollar or the fear premium coming out of the precious metal, it does seem possible that the spike up in outperformance gets undone in a way similar to the period after the spike in leadership that occurred in the first quarter of 2009.
Could gold's underperformance be signaling that the debt crisis actually won't get worse and that the "end of the financial system premium" is about to come out? Note that I am not suggesting that gold can't advance further in absolute terms. Rather, from a lead/lag perspective I am addressing what gold's weakness may be saying. Within the context of the Fall Melt-Up Return, equity investors may not be aware just yet of what this weakness in gold prices may be saying and could adjust up strongly as a result.
Either way, relative performance does suggest that, at least for the time being, paper (stocks/bonds) beats rock (gold).
Disclosure: I have no positions in any stocks mentioned, and no plans to initiate any positions within the next 72 hours.
Additional disclosure: This writing is for informational purposes only and does not constitute an offer to sell, a solicitation to buy, or a recommendation regarding any securities transaction, or as an offer to provide advisory or other services by Pension Partners, LLC in any jurisdiction in which such offer, solicitation, purchase or sale would be unlawful under the securities laws of such jurisdiction. The information contained in this writing should not be construed as financial or investment advice on any subject matter. Pension Partners, LLC expressly disclaims all liability in respect to actions taken based on any or all of the information on this writing.