Cloud.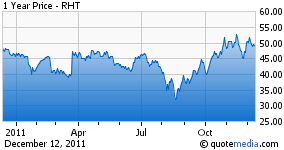 Don't think of Red Hat (NYSE:RHT) as a Linux company, an open source company or an operating system vendor. Think of it as a cloud software leader.
If you want to build a reliable cloud, one that can hold your enterprise applications, you are probably doing business with Red Hat, and will only do more in the future.
RedHat's OpenShift and Enterprise Linux are both considered solid enterprise-class management systems that can handle what companies are doing now and what they plan to do in the future. Thanks to their open source heritage they are much less costly than what rivals offer.
This is why Jim Cramer likes them. This is why Citigroup loves them. Red Hat is in the enterprise computing sweet spot, and since it's a software company it can accelerate sales without accelerating expenses, meaning it can accelerate its bottom line.
Under Jim Whitehurst the company is hardly putting a foot in the wrong direction. Its new Red Hat Software Storage Appliance lets companies build big data with existing storage systems. (It may be the most disruptive product in the whole cloud space right now.) Its management bench is deep enough so that top executives take CEO jobs elsewhere and they don't miss a beat – think New England Patriots.
As Matt Asay put it at The Register, "Red Hat long ago ceased to be about any one person, no matter how capable they are." High praise for a tech company.
But not exactly true. Because it's Whitehurst who bet the company on cloud with OpenShift, and who deserves the credit for its present success. The most successful software company in Silicon Valley isn't in Silicon Valley, but in Raleigh, NC. (Actually many of the top people are in the Boston area, but Red Hat remains tied to the Research Triangle the way Dell is tied to Austin, Texas.)
When a company sports a PE of 74, as Red Hat does, the pitch has to be that both the top line and the bottom line are accelerating upward. That's true here. Red Hat is scoring rising margins with steadily rising sales and is on track to do over $1 billion in business next year.
The company is also investing in areas like Platform as a Service (PaaS) whose pay-off is years away. It has proven adept at packaging its software into solutions for building entire private clouds.
Any possible losses are backstopped by the company's close relationship with IBM (NYSE:IBM). If there were serious trouble at Red Hat I could easily see IBM acquiring the company. But there isn't such trouble, and there likely won't be for some time to come. Red Hat still has serious upside potential and minimal downside.
Disclosure: I have no positions in any stocks mentioned, and no plans to initiate any positions within the next 72 hours.