Seeking income in a low-yield world, investors may find high quality, dividend-paying stocks a desirable option. Relative to Treasuries, dividend yields are more attractive than they have been in 50 years. The table below spotlights a dozen Dividend Divas which during the past year have increased their dividends at double-digit rates, demonstrating management's confidence in their financial strength and long-term growth opportunities.
What investor wouldn't applaud a double-digit increase in their dividend paycheck given the stagnant and miniscule yields from money market funds and bonds? Even better, these growing dividend income streams should bubble well ahead of inflation in the years ahead.
This diversified group of Dividend Divas includes small companies with full-sized 4.4% dividend yields like Westwood (NYSE:WHG) to large companies with show-stopping 20+% dividend increases like Microsoft (NASDAQ:MSFT), Wal-Mart (NYSE:WMT) and Walgreen (WAG).
Among the chorus, Coach (COH) earns prima donna status for filling shareholder pocketbooks with a dazzling 50% dividend increase this past year. With strong cash flows and a relatively low dividend payout as a percentage of earnings, Coach should continue to fatten shareholder wallets with dividend increases for the foreseeable future.
While the stock market's volatility this year reminds one of a Lady Gaga concert, our unruffled Dividend Divas steadily increase their dividends year after year as many of them have done for decades. A good example is Emerson (NYSE:EMR) which recently increased their dividend a substantial 16%, marking the company's 55th consecutive year of dividend increases. Returning cash to shareholders during both good times and bad remains a core refrain of the company's value creation strategy. Management is committed to returning 50%-60% of operating cash flow to shareholders.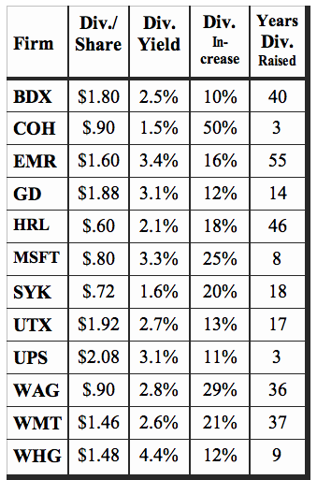 Strong cash flows are a hallmark of all the Dividend Divas. Given copious cash flows, Hormel Foods (NYSE:HRL) recently increased its annual dividend 18%, marking the firm's 46th consecutive annual dividend increase. Since becoming a public company in 1928, Hormel has paid a regular quarterly dividend without interruption, proving that it ain't over until the fat lady sings.
A key task of management is to carefully allocate a company's capital between investments in the growth of the business and distributions to shareholders. Stryker (NYSE:SYK) and United Technologies (NYSE:UTX) both have announced significant acquisitions this year to fuel future growth while still increasing their dividends at double-digit rates. Other divine Divas not only return cash to investors through dividend increases but also through substantial share repurchase programs. Becton Dickinson (NYSE:BDX), General Dynamics (NYSE:GD) and United Parcel Service (NYSE:UPS) have all delivered double-digit dividend increases along with billion dollar share repurchases this year.
Despite global economic challenges which leave many in the audience booing, these Dividend Divas provide long-term investors with plenty to sing about!
Disclosure: Hendershot Investments holds a long position in each stock presented. The content in this article should not be taken as investment advice or construed as a recommendation to buy or sell any security. Ideas expressed may not be suitable for every account, depending on an individual's investment objective, risk-tolerance and financial situation. Information presented here was obtained from sources believed to be reliable but accuracy and completeness and opinions based on this information are not guaranteed. It should not be assumed that investments discussed will be profitable or will equal the performance of securities listed here or recommended in the past. All data, information and opinions expressed are subject to change without notice. Further information on companies mentioned is available upon request.