Westwood Holdings Group (NYSE:WHG) manages investment assets and provides services for its clients through two subsidiaries, Westwood Management and Westwood Trust. Westwood Management is a registered investment advisor and provides advisory services to corporate pension funds, public retirement plans, endowments and foundations, the WHG Funds, other mutual funds and clients of Westwood Trust. Westwood Trust provides, to institutions and high net worth individuals, trust and custodial services and participation in common trust funds that it sponsors.
STRONG GROWTH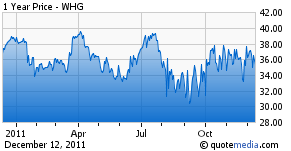 For more than two decades, Westwood's disciplined and conservative investment process has reliably delivered solid performance. The company's chief investment officer, Susan M. Byrne, takes a value-oriented approach, focused on achieving superior, risk-adjusted returns by investing in companies generating high levels of free cash flow with strong balance sheets, and stable to improving returns on equity. This investment approach is designed to preserve capital during unfavorable periods and provide superior real returns over the long term. Ms. Byrne has over 40 years of investment experience.
Despite a challenging stock market environment, Westwood has generated strong growth over the last five years. Sales have compounded at a 19% annual rate with net income growing even faster at a 26% compounded annual growth rate. Year-to-date 2011 results continue to reflect strong growth with total revenues up 30% and net income up 32%. As of 9/30/11, the company'stotal assetsunder management (AUM) were $11.7 billion. Assetsundermanagement have experienced a five-year compounded annual growth rate of 15%.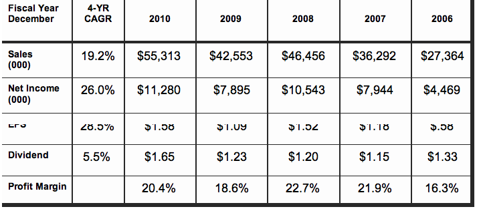 Over the past five years, Westwood has enjoyed net asset inflows of $4.6 billion in its highly-rated mutual funds, institutional and private wealth accounts. In 2010, when many in the asset management industry were under pressure to downsize, Westwood was able to expand by acquiring McCarthy Group, an Omaha-based investment advisor with more than $1.1 billion in AUM. Furtheracquisitionsarepartof Westwood's growth strategy.
HIGH DIVIDEND YIELD
Westwood's operations are highly profitable with net profit margins averaging 20% during the last five years. The business also generates high levels of free cash flow as capital expenditures are minimal. Last year, free cash flow increased 73% to $18.2 million. Year-to-date, free cash flow is up an additional 28%.
As of 9/30/11, Westwood boasted a cash-rich, debt-free balance sheet. Cash and investments topped $53 million or $6.94 per share. Cash and liquid investments are 153% higher than the approximate $20 million the company held at the end of 2006.
Westwood returns significant cash to shareholders through share repurchases and dividends. In August 2011, the board of directors authorized a $10 million share repurchase program. Since going public in 2002, the company has paid more than $70 million in dividends. Year- to-date, the company has paid $5.3 million in dividends and repurchased $5.9 million of its shares. In 2010, the company paid a regular annual dividend of $1.32 per share and a special dividend of $.33 per share. This year the company increased its regular dividend twice, representing a 12% increase over last year. The annualized dividend rate of $1.48 per share provides investors with a generous 4.4% yield.
HIGH INSIDER OWNERSHIP
Equity-based compensation is a critical part of the company's compensation program which attracts and retains talented individuals and aligns employees' interests with clients and shareholders. Westwood employees and directors own 33% of the company's stock. Other large owners of Westwood include GAMCO Investors with a 12.1% stake, Royce & Associates which owns 7.2%and Third Avenue Management which owns 6.8%. All these investment groups share Westwood's value-oriented approach, as we do. Long-term investors should consider investing in Westwood, a high quality company with strong growth, highly profitable operations, strong free cash flows, a high dividend yield and high insider ownership. Buy.
Disclosure: Hendershot Investments holds a long position in each stock presented. The content in this article should not be taken as investment advice or construed as a recommendation to buy or sell any security. Ideas expressed may not be suitable for every account, depending on an individual's investment objective, risk-tolerance and financial situation. Information presented here was obtained from sources believed to be reliable but accuracy and completeness and opinions based on this information are not guaranteed. It should not be assumed that investments discussed will be profitable or will equal the performance of securities listed here or recommended in the past. All data, information and opinions expressed are subject to change without notice. Further information on companies mentioned is available upon request.