This morning the Commerce Department will release retail sales results for November. There's tremendous anticipation considering Black Friday drew so many record crowds. According to Thomson Reuters, November sales could be up 3.2% over last year. Barron's is reporting that National Economist Paul Ballew predicts sales will be up 6 to 8%. Jharonne Martis-Olivo, an analyst at Reuters, was quoted as saying "Consumers will be hitting the malls". Yet a lot of investors tend to shy away from retail "mall" stocks, especially in times of job cuts and unemployment. When consumers don't have discretionary Income, they can't afford to buy new clothes, shoes, or big ticket furniture items.
However, in spite of this, some stores seem to survive and even thrive. But this doesn't stop the shorts from picking their victims. Andrew Feinburg wrote a wonderful article in the November 2011 Kiplinger about shorting. He admits a lot of people consider shorting to be "un-American", and as he points out, it can be extremely expensive if you make a mistake:
Many otherwise savvy investors simply don't (short), either because they don't know how or because they fear they'll end up on the wrong side of a one-time juggernaut like Netflix (NASDAQ:NFLX) and lose $60,000 on a $10,000 investment.
When it comes to picking a retail stock to invest in, it pays to look at the short options for each company. According to Feinburg you should never short a stock just because you think it is overvalued, but rather because there is something wrong with that company. So a large percentage of short positions implies that a company is having problems whether it is or not. Here are some popular mall stocks and their short positions at the first of this month, beginning with the companies that have the most shorts as a percent of float.
Talbots (NYSE:TLB) has suffered tremendously this year. As you can see the stock price fell from over $8 a share to $1.50 this year. And even though there is an offer on the table to buy the stock for $3 a share, it is still being shorted. Short positions are $17.40 million shares, which is 28.26% of float up 8.01%.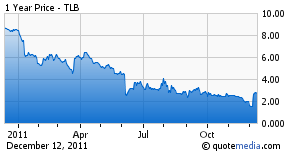 Dillards (NYSE:DDS) stock has enjoyed a major incline since it bottomed out in 2009. And they have released a good Q3 earnings report, however analysts at Zacks have them listed as a short term hold, and long term outperform. There are obviously investors who believe it hit its peak at over $60 a share this summer and the only way to go is down. Short positions are 6.46 million shares, which is 21.20% to float down 0.26%.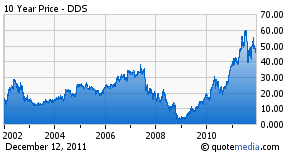 Ann Taylor (NYSE:ANN) has "delivered another outstanding quarter" said CEO and President Kay Krill concerning Q3. However, investors weren't impressed judging by the stock price and shorts. Although not excessively high, they are still there. Short positions are 5.98 million shares, which is 11.81% of float down 10.64%.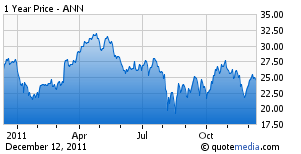 Nordstroms (NYSE:JWN) released November total sales which are up 11.6%. And last Wednesday CNBC reported that Nordstroms ranked 4th on the list of the "Happiest Employees". This has obviously helped their stock since employees are the top customers and investors in a company. Short positions are 7.60 million shares, which is 4.76% of float down 6.85%.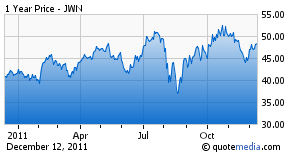 Macy's (NYSE:M) beat Q3 analyst expectations and is running a lot of holiday ads, ensuring a positive Q4. Investors seem bullish on the stock since short positions are 16.56 million shares, which is 3.88% of float down 6.85%.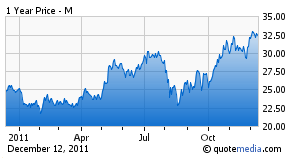 Short positions do not mean that a company has problems. It may or may not be in trouble. But it influences an investor's perception of the company. The best thing a company can do is to continue to deliver the best possible results and make it a losing proposition to short their stock.
Disclosure: I have no positions in any stocks mentioned, and no plans to initiate any positions within the next 72 hours.