I can see why SAP (NYSE:SAP) bought cloud-based SuccessFactors (NYSE:SFSF) at a 52% premium. Look at its growth. SAP had to have been drooling. SAP hasn't experienced that kind of growth in over 10 years. SuccessFactors has a blistering five-year revenue growth of 74%, clobbering SAP's 8% and dwarfing Salesforce.com's (NYSE:CRM) 40%. Of all the cloud software companies, this one had the most growth. Left another few years, we might have seen sales approach the level of Salesforce.com.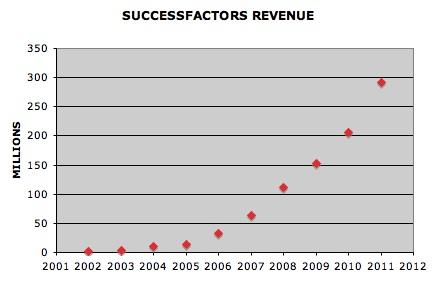 And that really is the story: How does old tech meet Salesforce.com in the cloud? This season, they've gone into the shopping aisles, paying up to get a toe-hold in the cloud.
Oracle (NYSE:ORCL) acquired RightNow (NASDAQ:RNOW), a SaaS play. Not to be left out, IBM (NYSE:IBM) bought DemandTech, another Web-based software company. Even HP (NYSE:HPQ), which had pledged to go on an acquisition diet, came away with privately-held Hiflex, a German cloud computer company specializing in software for print and media industries for an undisclosed sum.
Except for SuccessFactors, none of these acquisitions gives anywhere near the growth or know-how required to catch Salesforce.com.
Judging by what's left in this space to buy, we're getting into pretty slim pickings. None has startling growth. Yet, the way things are going, I wouldn't be surprised to see a cash-rich tech make a bid for one of them. It's getting pretty crazy out there. Some possibilities:
Cornerstone OnDemand (NASDAQ:CSOD) $900 million market cap

Kenexa Corporation (KNXA) $750 million market cap

NetSuite (NYSE:N) $3 billion market cap

Taleo Corporation (NASDAQ:TLEO) $1.7 billion market cap

The Ultimate Software (NASDAQ:ULTI) $1.8 billion market cap
Disclosure: I have no positions in any stocks mentioned, and no plans to initiate any positions within the next 72 hours.