So far in 2011, as investors remain wary of a true economic recovery, it is not a surprise that companies which pay a decent dividend have done well. Investors have sought out safety and stability through well managed dividend paying companies to provide some stable cash flow, while keeping some exposure to the equity markets. While there have been some positive signs of life relating to a potential economic recovery, such as the recent market rally as well as lower unemployment numbers, there is still plenty of uncertainty amongst money managers.
While it is often the case that investors give up some of the potential for growth by focusing on stable dividend payers, dividend payers have tended to outperform non payers during bear markets and times of economic stagnation in the past. In the chart below we have broken down the S&P 500 into quintile groups based on dividend yield. This chart illustrates that the companies in the top quintile of dividend payers (highest yield) have done very well so far this year.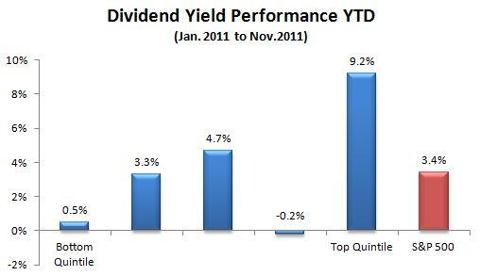 Utilizing a strategy of purchasing companies that pay a solid dividend, coupled with AFG Valuation, has proven to put investors in a position to outperform. The chart below illustrates that over time dividend paying stocks tend to outperform benchmarks; incorporating AFG's investment grade clearly enhances that performance.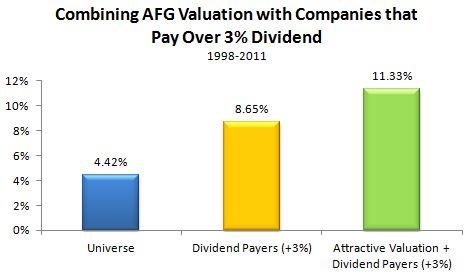 Today we will provide our readers a list of stocks that look attractive according to AFG's Investment Grade criteria (explained below) and that also pay a dividend above what could be earned by purchasing a 10-year US Treasury note (current yield 2.04%), as a starting point for money managers looking for investment ideas that provide a steady income stream.
The Applied Finance Group has been developing a new quantitative tool to easily navigate our various Valuation, Momentum, and Quality metrics. The AFG Investment Grade uses these metrics in a multi-factor model to rank all the companies within our universe of over 20,000 companies. Companies with the best scores receive an A, whereas companies with the worst overall scores receive an F. This grading system allows subscribers of our research to easily identify attractive investment ideas and avoid potential torpedoes. In addition to ranking companies based on Valuation, Momentum, and Quality, our model also applies different weights to each factor based on what is working in the market.
The list of stocks below earn an AFG Investment Grade of A and also currently pay a dividend above what could be earned by purchasing a 10-year US Treasury note (current yield 2.04%).