After seeing a higher than expected drop, shares of Affymetrix (NASDAQ:AFFX) appear to be showing some a bottom at these price levels. Please note that AFFX is not to be confused with Affymax, Inc. (NASDAQ:AFFY) whose shares were up 8.00+0.36 (4.71%) on Monday.
The stock has been getting some attention from robots and writers who are both wondering if the stock will finally rebound.
Affymetrix Inc is engaged in creating breakthrough tools that drive the genomic revolution. The company also develops and commercializes systems that enable scientists to improve quality of life. Affymetrix' product categories include: microarray solutions, quantitative assays, PCR, molecular biology enzymes, molecular biology kits and reagents, biochemicals, detergents and lipids, etc. The company's microarray solutions include all necessary components for a successful microarray experiment, from arrays and reagents to instruments and software. The company offers a wide selection of products and kits for popular molecular biology applications, including cloning, RNA analysis, DNA sequencing, and protein analysis. As noted by The Motley Fool, Federal research spending in this space may be cut, and Affymetrix is feeling the effects of the outlook. It's shares have been cut in half from their 52-week highs. Analysts who cover the company have assigned a median price target of $5 per share and a mean target of $5.86.
Still something that jumps out here is that net institutional shares purchased over the current quarter are at 3.5M, which is 6.23% of the company's 56.19M share float. In addition, this fall insiders purchased $293,348 worth of stock at an average cost of $4.46-- when shares were 13.45% higher than they are today. And as the saying goes, there is only one reason insiders buy shares: They want to make money.
Recently, the firm announced that it would buy privately held eBioscience Inc. for $330 million in a deal it expects to expand its product portfolio and diversify revenue. In fact, EBioscience is expected to have 2011 sales of more than $70 million. Can it be that Wall Street missed that detail? It certainly looks like Affymetrix has some fundamental reasons to rise, but our scan thinks it's time shares rise as well.
By looking for certain mathematical characteristics and filtering for several trending factors on a stock chart, including an analysis of the firm's Weekly Williams %R (both one and two days ago) as well as the stock's Weekly Relative Strength Index (also for the past two days), and other factors such as Bear Power and Bull Power. technical analysts are able to set and apply various histograms. They also track other specific points on the Moving Average Convergence Divergence of a stock and in the end, come up with a mathematical formula which yields very specific results.
These results of these scans do not take into account broad market activities, news or other factors which may influence a particular stock, but tests which have been performed as well as methods which have been refined can help us predict how investors and traders will react.
Remember that no one can predict how any one particular individual will act, but crowd psychologists can usually tell us with a high degree of probability how a group or crowd will act given a specific set of circumstances. That study and methodology is the basis for some pretty basic predictive market behaviors and even to some extent the actual technical analysis of stocks.
If you still don't buy it, then the answer is simple. Paper trade and track this stock and see if the mathematicians, analysts and market monitors who came up with this idea were right.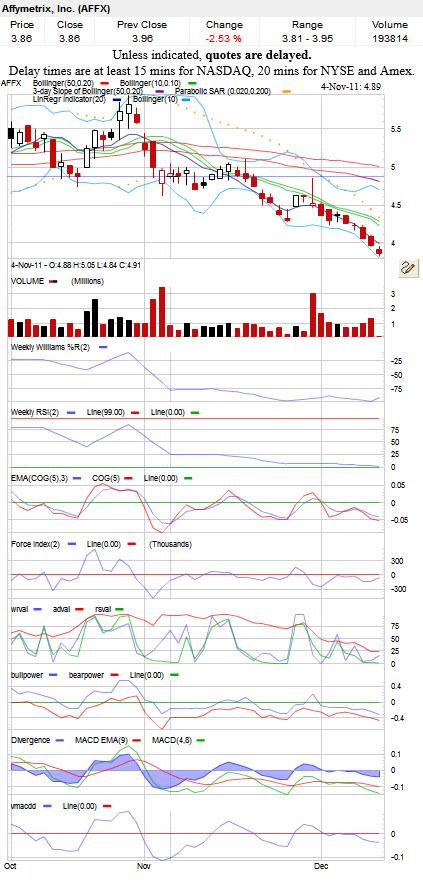 Disclosure: I have no positions in any stocks mentioned, and no plans to initiate any positions within the next 72 hours.