After a very cool summer in the markets, emerging market equities appear ready to emerge from the depths of massive losses for a warm winter. Inflation fears pushed investors away from the fast growing sector in droves in 2011, but now that inflation has begun easing now might be the time to return to the sector.
Almost all of the emerging markets are down for the year, especially the leading BRIC markets.
These inflation fears were somewhat misplaced since they were based on year over year comparisons of very volatile commodities. For example, copper prices soared to $4.6/lb in February which was a lot higher than in 2010, but only slightly higher than the peak back in 2008. Is that really inflation especially rampant inflation?
What most observers failed to understand is for the commodity inflation to continue soaring, copper and oil prices needed to keep soaring each and every month. Now 10 months after that peak, copper prices are down to around $3.4/lb providing support for lower inflation along with most other commodities.
Now with inflation under control, the BRICs have begun to reverse course on tight monetary policies. Brazil has already had 3 interest rate cuts of 50 basis points each and China recently began reducing the bank reserve ratio. Something they are likely to continue if growth slows further. This will free up cash for the banking system to provide loans.
This all leads back to the stocks. After a year of dramatically lower prices and now the beginning of a monetary loosening cycle, it all adds up to a strong investment opportunity in the sector. This will be the first in a series of reports on emerging markets with this report focusing on India.
The Sensex Index now flounders near 52 week lows and even close to lows going back to the end of 2009. Why in the world would India stocks struggle so much with the economy still growing at 7% (reported Q3 number was 6.9%)?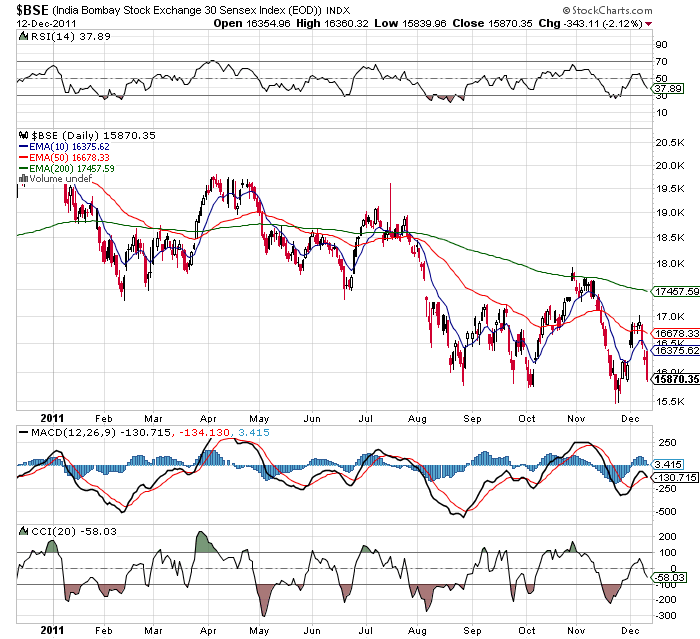 The main culprit goes back to inflation which lead to 13 interest rate hikes by The Reserve Bank of India (RBI). The Economist has a report on the issues facing India.
The recent bad news for the economy was the drop of industrial output by 5.1% in October providing the first drop for this report in 28 months.
The good news though is that food inflation, a big driver of headline inflation, dropped to 6.6% in November hitting a three year low. With commodity inflation clearly subsiding, the RBI will not only take a pause on rate increases but likely be allowed to cut rates.
With the Sensex Index facing yearly lows, it shouldn't be surprising that Individual stocks can be found at one and two year lows. Below is a sampling of the more intriguing stocks including a speculative play worth watching for now.
ICICI Bank (NYSE:IBN)
largest private bank in the country that provides not only banking services but also has large insurance and investment banking operations. IBN is trading at two year lows after a 7% plunge on Monday. It offers an investment option in a strong bank that could grab worldwide market share from weakened banks in Europe. Even without that, the long term growth in India makes these banks worth investing at much lower prices.
IBN currently trades at just a 10 forward PE with a market cap of $15B. CNN Money had a good article on the CEO (ranked as one of the most powerful women in business) and some great information on the bank including how it handled the financial crisis and a run on the bank.
HDFC Bank (NYSE:HDB)
Another leading private bank to profit from the growth in demand for retail credit. Though having a smaller branch network than IBN, HDB currently trades at a higher market cap at $20 due to a much higher forward PE of 17.
Zacks has a good write up on the latest quarterly earnings report. Though earnings grew 32%, Zacks remains unimpressed ranking the stock as a short term sell.
Sterlite Industries (SLT)
leading non-ferrous metals and mining company in not only India, but the world. Also the company is involved in the power generation business with over 1,000MW of generation capacity. Power is one of the major issues in the country.
Like the other stocks on this list, it trades at lows not seen in years. With limited investment options outside technology stocks and the above mentioned banks, SLT is great play on the future demand on metals and power generation in the fast growing economy.
With a $25B market cap, SLT is not a small company, but it only trades at a forward PE of 6.6 providing plenty of upside potential.
Speculative
MakeMyTrip.com (NASDAQ:MMYT)
While the other stocks in this report are multi-billion dollar companies, MMYT provides an opportunity to speculate in the fast growing air travel sector in India. The online travel company continues to benefit from not only the growth in the travel market, but also the growth in internet penetration in India.
In Q3, revenues grew 84% to $44M and 66% to $21M when deducting service costs. Adjusted income though growing 164% remained a relatively small $1.5M. Earnings amounted to $0.04 per share for the quarter making the $24 appear expensive.
Combine fast growing air travel with growing internet penetration and MMYT could be a home run stock similar to a Priceline (PCLN) in the US. For now though, the company needs to show the ability to continue growing the bottom line. With a market cap of nearly $900M, the stock is expensive especially for a market not interested in speculative emerging market stocks.
With most of these stock in free fall, investors might want to wade in slowly until a solid bottoming process is in place. Long term though, these India stocks along with other emerging market leaders should be accumulated while the market ignores them.
Disclosure: I am long IBN. Data source from Yahoo! Finance. Please consult your financial advisor before making any investment decisions. This report is provided for informative purposes only.