In early December S&P revises its list of Dividend Aristocrats, S&P 500 stocks that have raised annual dividends for at least the last 25 years. One stock was dropped, CenturyLink (NYSE:CTL), an integrated telecommunications company, after 37 years of increases. The relatively good news for stockholders is that they continued to receive the former dividend with a yield above 8%.
Below are the 10 new members for 2012.
AT&T descends from the original Bell telephone company and everybody is familiar with the consumer products made by CL. I have written about SYY and GPU many times. Now they are included on the S&P 500 list. The two longest streaks are impressive: GPU has raised its dividends for the last 55 years and the record for CL is just short of half a century. BEN and TROW are major managers of investment funds.
Four of the highest yielding Dividend Aristocrats (two new members and two veterans) are appealing for their high yields
AT&T
HCP
Leggett & Platt
Kimberly-Clark
AT&T was considered a monopoly 30 years ago until the government broke it up. This company has much of the assets from the original phone company and has the largest market cap in the group. Now it is known for its landline telephone business, cell phones and is fighting the government so that it can purchase T-Mobile. The high yield of 6% reflects worries about the future of the landline business and future growth for the cell phone business.
(Click charts to expand)
AT&T --- 10 years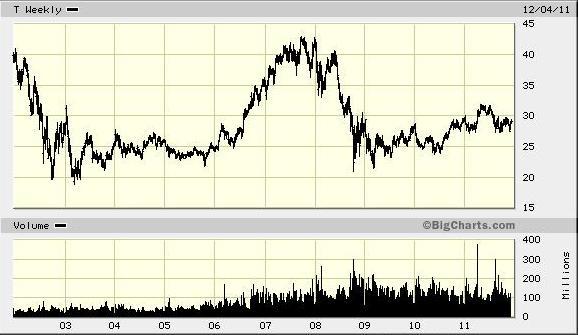 HCP is a REIT that invests primarily in real estate serving the healthcare industry. 672 facilities include: senior housing, medical offices, hospitals and related properties. Dividend increases in recent years have been modest when it is difficult to find any REIT that didn't cut the dividend. The 5% yield is attractive and the company expects to grow because of the aging population.
HCP --- 10 years
LEG manufactures components for seating and other products sold to manufacturers making final products. LEG uses TSR - Total Shareholder Return (dividends plus or minus stock appreciation divided by the beginning stock price) has been used as its measure of success and its performance has been good in the last 3 years. After a big increase in the dividend to $1 just prior the the recession, yearly increases have been a modest 4¢. Larger increases are subject to more rapid earnings growth and the company has high incremental profit margins. The 5% yield is rewarding for patient investors and the company has been aggressively buying treasury shares.
Legget & Platt --- 10 years
KMB is well known for consumer brands such as: Kleenex, Scott and Huggies. Like many large companies, KMB is expanding its brands around the world and expects much of future growth to come from new business in emerging countries. Unlike other high yielding stocks (it has a 4% yield), it has had good increases for dividends, up 43% in the last 5 years. KMB also has an active program to buy treasury stock.
Kimberly-Clark --- 10 years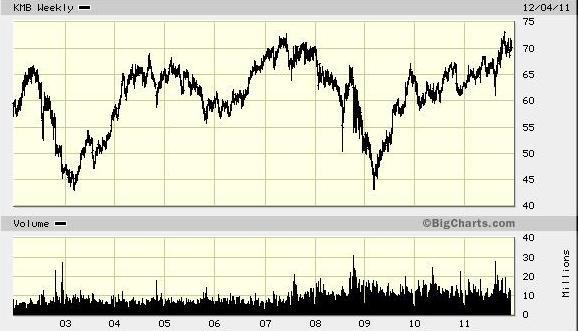 The list increased, partially because S&P is grading easier. It will not consider special cash dividends when calculating yearly increases. Companies with long track records of raising dividends through thick and thin have greater investor interest in a low interest rate environment. For much of 2011, the stock market has stumbled after successful analysts had forecasted a year of rapid growth. Their dividends can be counted on no matter what the stock market does and for many of these companies, the next dividend increase is just a few months away. Dividends feel very good, especially when markets do poorly.
Disclosure:
I have no positions in any stocks mentioned, and no plans to initiate any positions within the next 72 hours.