Pandora (NYSE:P) released more numbers today that show just how much it dominates the 18-34 year old demographic. The details, from the official press release, are nothing short of astounding. Here's a snapshot, but you should really read the entire release: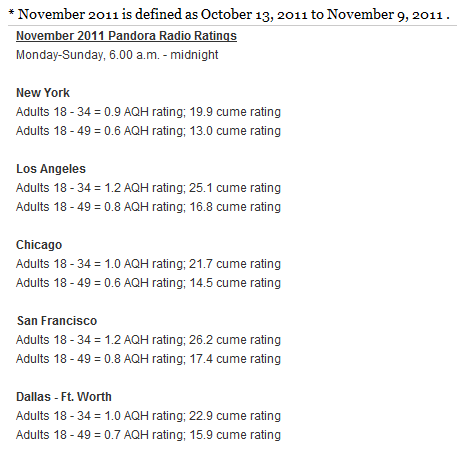 It's no surprise that Howard Stern owned the 18-34 market, particularly among men, when he broadcast his show on terrestrial radio stations, often ones with rock-based formats. It's also not a major revelation that Sirius XM's (NASDAQ:SIRI) audience skews older, to the 35-64 year old demographic, much like AM news/talk stations. You can get a pretty good view of that picture in an article I wrote several months back, which also shows that Pandora and Sirius XM both sport affluent audiences, relative to the general population.
While the move to satellite radio worked out incredibly well for Stern financially, it also marginalized him to obscurity, at least compared to the exposure and reach he enjoyed on terrestrial radio. And that's a shame, not only for Stern, but for Sirus XM investors.
When Stern re-signed with Sirius, he noted how excited he was that his show would be included on mobile applications available on Apple's (NASDAQ:AAPL) iPhone and other devices. What he forgot to mention was that, because he's on satellite radio, not many people under 40 would care much.
Terrestrial radio has undergone a remarkable, albeit predictable, trend over the last several years. Practically every radio company has moved or is moving talk radio that appeals to younger audiences, such as sports talk, away from the AM band to FM. Clear Channel (CCMO.PK) even runs sports talk/rock music hybrids for part of the day in several markets, including Pittsburgh and Cleveland.
For years, programmers beat their heads against the wall in an attempt to bring 18-34 year old listeners to AM radio for talk. Most of what they tried failed to work. Finally, it dawned on them to bring the programming that appeals to the younger set to where they congregate. That's an interesting point that requires further exploration because it has implications for Stern and Sirius XM's future growth.
When sports talk and "hot talk" resided primarily on AM, all it would have taken was the flick of one button from the FM to AM band for an 18-34 year old to find it. But that transition never really happened with any meaning or force, except in isolated cases. For years, though, Sirius XM has seemed to expect the audience that Stern could continue to dominate to not just flick a switch, but plop down a monthly fee for a service that, as a whole, appeals more to an AM news/talk audience than an FM rock/talk listener. And that's exactly where Sirius XM, led by CEO Mel Karmazin, acts more like an old-school radio company than the new media firm it needs to be.
While catering to the 35-64 crowd and collecting their monthly subscription fees works well for the time being, it will, without profound change, put Sirius XM on the same trajectory as AM news/talk radio within a couple of years. Sirius XM needs to break down the barriers that keep 18-34 year olds from Stern and the other handful of stations and shows that might be attractive to that age group.
Because of the monthly subscription fee, however, just making Stern and other content available online or via an app does not cut it. It's not quite the same as moving programming from the free AM band to the free FM band. Instead, Sirius XM must go after that 18-34 audience aggressively. That's why a partnership with Pandora makes so much sense.
Pandora cannot afford to buy content to compliment its already expensive music offering and its comedy supplement, but "original" content would, undoubtedly, enhance Pandora's value proposition. Sirius XM has proven that, like AM radio, it simply cannot bring large numbers of 18-34 year olds to its service. Making a suite of its channels, headlined by Stern, to Pandora's largely 18-49 year old audience for an a la carte fee through Pandora's online and mobile platforms could open the door to not only an additional revenue stream for Sirius XM, but new satellite subscribers. It's a partnership that could see each company help strengthen the other's weaknesses in several areas, including, but not limited to the ones I focus on here.
By keeping Stern out of his target market's consciousness as part of a niche service, Sirius XM does the one thing Stern has complained about since he first started his radio career - it does very little to effectively promote his show. Money and working three days a week aside, Stern has an ego and he would love nothing more than the exposure he once enjoyed during his terrestrial radio heyday. It's the type of exposure he deserves as, unarguably, one of the best talents to ever crack the mic.
Sirius XM investors should pound down Mel Karmazin's door, begging him to start running the company like a new media hot shot, not a former terrestrial radio executive. From cutting programming costs with an ax to coming way late and far too soft to the multi-platform party, Karmazin nurtures a tired terrestrial radio culture at Sirius XM. The only thing that really makes Sirius XM distinct from the old days of terrestrial radio is the subscription fee it charges.
For the stock to ever truly break out of its mainly stagnant range, Karmazin needs to show investors that he can not only run Sirius XM's core subscription model well, but that he has the vision to drive revenue growth in other areas. Great companies don't waste opportunity. They don't throw money away. And they don't fall short of maximizing their biggest investments. By not getting Howard Stern in front of the audience his show is made for, Sirius XM not only sells him short, but it sends the signal to investors that imaginative innovation is simply not in the company's blood.
Disclosure: I am long P, AAPL.