VIX - Market Sentiment:
US markets woke up Tuesday with futures pointing up almost 10 points after the Monday selloff. Futures appears to have stabilized in the last couple of days. The premarket range is 11-12 points in comparison to the 30-40 point moves seen just last week. This is reflected perfectly in the CBOE Volatility Index (VIX) as the last hour of Monday's trading was slapped down hard as traders' unloaded options. The VIX at 15:00 was trading north of 27 but ended the day south of 26 which is a very large move on very light volume.
This is especially odd on a day where we were down 28 handles in the SPX. Tuesday the VIX saw a trade where it has not seen in quite some time trading below 25 which lines up with the put buying which has accumulated over the last week. However, once again, the VIX took another leg up above the 25 mark as markets continued to weaken throughout the day. It will be interesting to see going forward where we move from here as once again we are not on heavy volume.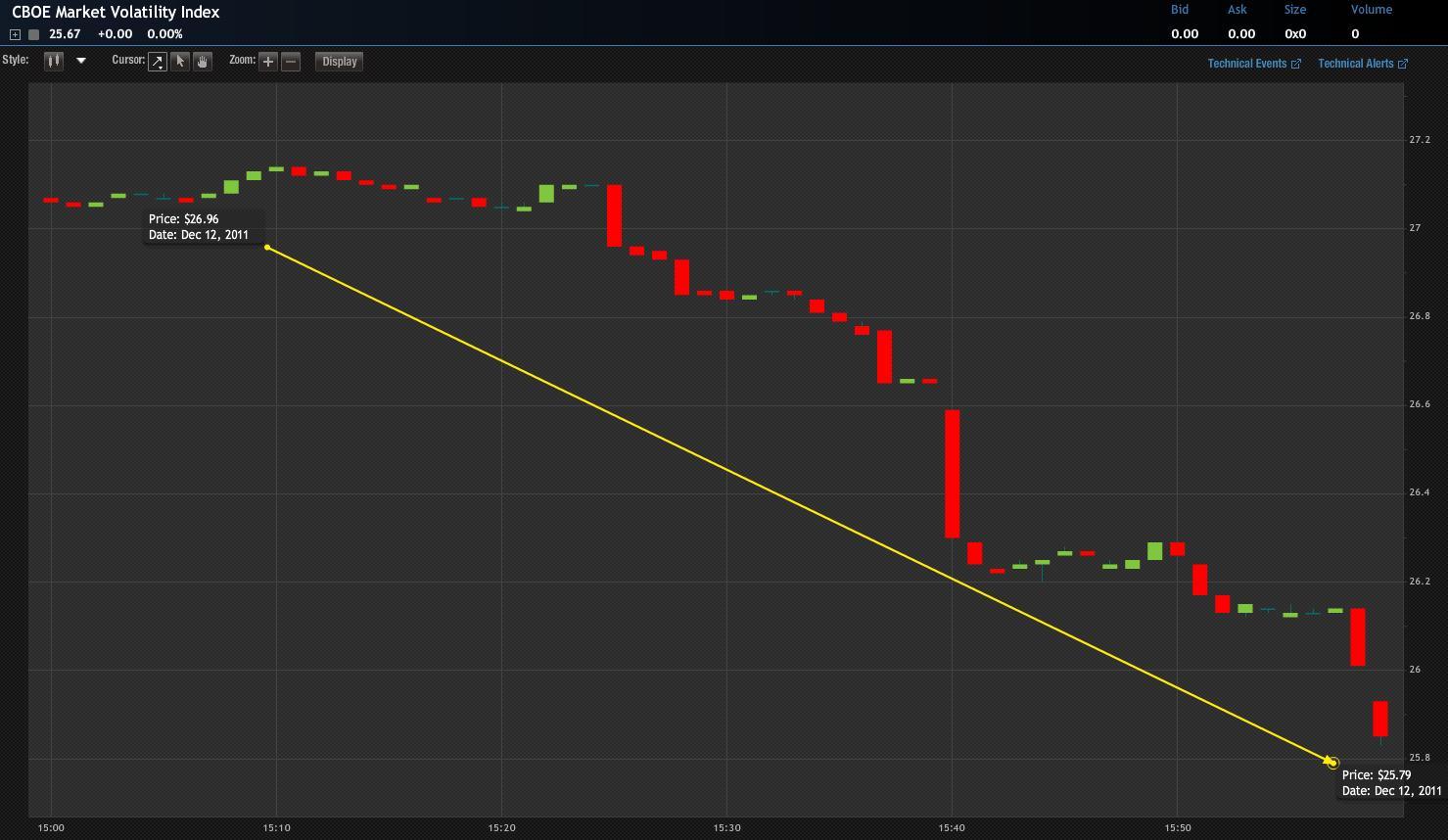 Options Paper:
As expected, Best Buy (NYSE:BBY) Tuesday saw a ton of option paper after reporting disappointing guidance. BBY had massive amounts of option paper come unwound as traders began to press shorts on this news. The options straddle Monday was pricing in a move of just under a 10% move post earnings and turns out this appears to have been incorrect as BBY traded down 11.5% in early trading. This appears to be accelerated as calls were sold and puts purchased.
Intel (NASDAQ:INTC) saw some very heavy put option in early Tuesday trading. INTC recently cut its numbers and has been taken to the woodshed. It looks as if some traders are looking for yet more of a drop as put spreads are all over the place in the upcoming months. Investors should keep an eye on INTC as it pulls back and approaches the 100 and 150 DMA of the 22.50 range.
Monday, in what had been a very boring day in terms of options activity, the majority of paper actually appeared to have been focused in the ETF sector. The SPY, SPX, QQQ, EEM, IWM, and GLD all lead in total option contracts and not a single stock name other than Intel or Bank of America (NYSE:BAC) was in the top 10. Even tech giant Apple (NASDAQ:AAPL), which is normally a very active name in options, had only traded 160K total contracts more than halfway through the trading session. It is still worth noting this is on relative very light volume.
Volatility Explosion:
Seaspan (NYSE:SSW) saw a massive 25% jump in volume Tuesday when the stock shot up more than 30% at the open but then quickly sold off. The options market was not overly active initially, but the 12.5 put lines were active trading from .10 to .70 in very short order as investors appeared to buy protection on the pop. This initially appears to have been the correct call as the stock traded from a high of 13.92 and dropped to the 12.00 level rather quickly.
Monday, on what had been a very light day in terms of options paper, Hecla Mining (NYSE:HL) saw a 10% spike in implied volatility in the options paper. The majority of this volatility has been generated in combination of the 5.75% drop in stock price with the unwinding of a large call contract in the Jan 6 call strike. Selling came heavy in the Jan 6 as the current 41K open interest calls were sold across the board all morning long to the tune of more than 29K before noon.
Research in Motion (RIMM) reports earnings this week and although not a ton of option paper has moved as of the writing of this article, the IV seems to be creeping higher. This is nothing new as it relates to RIMM who in the past has had large price swings post earnings. This gives some very interesting plays as the December options are 20% more expensive relative to average and January is trading at a 6% discount. This makes options calendars very interesting for a trade in the short term to capitalize on this discrepancy. The 15 December / January Calendar could be had for ~.65 and could be a huge payoff if RIMM runs to the 15 line after earnings.
Volatility Implosion:
Endo Pharmaceuticals (NASDAQ:ENDP) bucked the trend Monday as its option IV came in significantly, almost 50%. This was in response to ENDP announcing FDA approval of a new formulation of its "Opana" drug. ENDP traded up on the day moving more than 5% in a very bad tape halfway through the trading day. The majority of the options activity appeared to be call selling although it's hard to tell with spreads so wide in a heavy volume day for the stock. The average volume for ENDP was just over 1.22 million shares a day, prior to 1:00 EST had almost traded to the 3 million share mark.
Other Options Action:
Monday, Targacept (TRGT) has had 78:1 call to put ratio, suggesting a potential pop prior to May 2012 expiration. A lot of paper in the May 10 and 17.5 lines have crossed, suggesting a possible heavy move upwards in the underlying stock price.
American Capital (NASDAQ:AGNC) IV has seen a rather large gain over the last week as options markets became very active with put sellers. This action was very muted, but IV continued to climb, suggesting a move in AGNC stock price.
Diamond Foods (NASDAQ:DMND), a very active stock on my daily reports, once again saw more than 7x option volume. The apparent call sellers noted on last week's pop are sitting pretty this week as DMND opened down more than 20%. Once again, this is on extreme volume in a very volatile stock. Both long and short should set some very tight stops moving forward.
As always, happy trading and stay hedged. Remember, equity insurance always looks expensive until you need it.
Disclosure: I am long AGNC, TZA, FAZ, SDS, NLY.
Additional disclosure: I am short RIMM through a 15 calendar put spread and a 15/14 1:2 put spread. I also shorted INTC Tuesday using the Jan 22.5 puts and used the 24/27 call spread I sold for a total trade cost of 0.