Amid today's economic uncertainty and the European debt and currency problems, it is very hard to argue against owning gold and other precious metals. Many investors buy gold as a portfolio diversifier, and a store of value with good liquidity. But even more importantly, gold is starting to look more like the last remaining safe haven, especially now that the Swiss franc is now pegged to the euro.
The situation in Europe does impact the demand and the price of gold and I imagine some investors are incorrectly expecting gold prices to drop as a result of Europe's high-profile agreement on Friday of last week. The agreement saw the 17 countries using the euro agreeing to introduce laws that would cap their national spending deficits. In addition, countries that exceed that limit would be hit with automatic penalties. But this agreement will not ease much the pressures on the European banking system as the problems for the near-bankrupt countries of Greece, Spain and others are far from over.
Gurus in Disagreement
Investment gurus seem to be in disagreement about gold. Jim Cramer likes gold even at the current price, adding he prefers GLD, "I like the proxy for gold, not the stocks."
Others believe gold prices are due for a pullback. According to Edgar Online during Q3 2011 Paulson & Co., the U.S. hedge fund run by John Paulson, cut his stake in the SPDR Gold Trust (NYSEARCA:GLD) – the largest exchange-traded fund backed by the precious metal, according to a government filing. Paulson held 20.3 million shares in the SPDR Gold Trust as of Sept. 30, down from 31.5 a quarter earlier. Jim Rogers recently stated on CNBC that 11 years of gold appreciation is extremely unusual for any asset and that gold is quite overdue for correction. Rogers added that the dollar seems like a better investment than gold. When is the last time you heard that?
So what is a fair price to pay for gold? The current price of gold bullion is $1,712 an ounce, up approximately 24% for the year as shown below: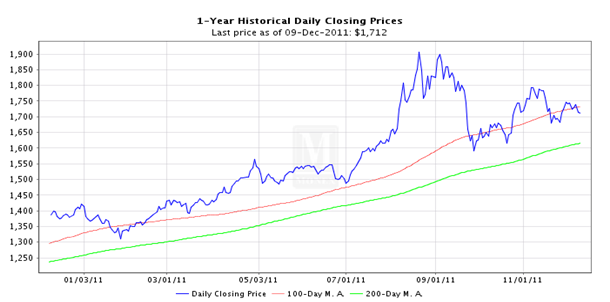 Well, since price in a market economy is determined by supply and demand, let us look at some of those statistics for the Third Quarter 2011, as compiled by Thomson Reuters GFMS.
Demand
According to the World Gold Council, the three main demand flows for gold are jewelry, investment and industrial. Gold demand in the third quarter of 2011 increased 6% over the same period last year reaching 1,053.9 tons. This equates to $57.7bn, an all-time high in value terms. Understandably, demand growth was driven by investment demand, which rose by 33% year-on-year to 468.1 tons. In Europe, investment demand reached a record quarterly value of €4.6bn, equating to 118.1 tons - a year-on-year increase of 135%. Virtually all markets saw strong double-digit growth in demand for gold bars and coins.
Central bank net purchases amounted to 148.4 tons, as, of course, China and Russia among others continued to increase their allocation to gold as a percentage of total reserves.
Supply
Gold supply's two main sources are mining and recycling. Overall supply in Q3 2011 was 1,034.4 tons, 2% higher than year-earlier levels of 1,013 tons. Mine production increased by 5% to 746.2 tons from 710.9 tons during the third quarter of 2010. Recycling activity growth was more modest and registered an increase of 13% year-over-year.
So, even though demand growth was higher than supply growth in the quarter, we can see that overall there was no real disconnect between supply and demand. I expect this trend to continue for a while, which would indicate that there won't be any sharp movements in gold prices in either direction.
Disclosure: I have no positions in any stocks mentioned, but may initiate a long position in ABX, GLD over the next 72 hours.