The EU is the biggest importer of US technology products. If the EU goes into a recession, it will have a significant negative effect on US technology sales revenues. If the USD keeps rising versus the euro, US technology products will be more expensive in the EU (and elsewhere). This too will hurt sales. It is time to start looking at the performance US technology companies are likely to see in 2012. If US technology companies are already having trouble showing profits in a "good" market, they will have even more trouble remaining profitable with EU price pressure and decreased EU sales. US technology companies with a low net profit margins, decreasing or small growth in revenues last quarter, decreasing analysts' earnings estimates for FY2012, and high PE's are likely to under perform the market as a whole.
The technology sector (using the PowerShares QQQ ETF to track overall behavior) is currently near overbought levels according to the slow stochastic indicator. This means it is more likely to cycle downward than not. With the current weakness in the market due mostly to the EU credit crisis and partially to China weakness, technology stocks fitting the description above are extremely likely to fall. This means you should sell them now, if you own them. It means you should consider shorting them, as they are likely to fall as the world economic situation worsens next year. A few stocks that meet or approximate the above description are: Kewaunee Scientific Corp. (NASDAQ:KEQU), Spansion Inc. (CODE), IntraLinks Holdings Inc. (NYSE:IL), and Pegasystems Inc. (NASDAQ:PEGA). Brief descriptions of each are below. The descriptions are mostly from Yahoo Finance.
Kewaunee Scientific (KEQU) engages in the design, manufacture, and installation of laboratory, technical, and laminate furniture products in the US and internationally. The company offers laboratory furniture products, including steel and wood cabinetry, fume hoods, adaptable modular systems, moveable workstations, casework, biological safety cabinets, and epoxy resin counters and sinks, etc. It is categorized as a technology company. However, it is ultimately a furniture company; and furniture companies are historically among the hardest hit companies in a downturn. Its European sales should be especially hard hit.
Spansion Inc. (CODE) engages in the design, development, manufacture, and sale of flash memory semiconductors worldwide. The designs are primarily based on CODE's proprietary two-bit-per-cell MirrorBit technology. Its products are used in a wide variety of businesses. The semiconductor industry has recently been ratchetting down its future expectations. Most notably Texas Instruments (NYSE:TXN) and Intel (NASDAQ:INTC) have lowered EPS and revenue expectations. CODE will get hurt on both ends. The US companies it sells to will have a harder time selling their products in Europe. The European direct sales will be hurt too.
IntraLinks Holdings Inc. (IL) with its subsidiaries provides software as a service (SaaS) solutions for securely managing content, exchanging critical business information, and collaborating within and among organizations worldwide. Its cloud-based solutions enable organizations to control, track, search, and exchange sensitive information inside and outside the firewall, within a secure and easy to use environment. It provides a number of products. However, this is ultimately another of the over priced cloud stocks. These prices are reminiscent of the dot com era of over inflated prices. They are due to fall of their own accord. The coming EU recession will exacerbate this fall.
Pegasystems Inc. (PEGA) develops, markets, licenses, and supports software to automate business processes primarily in the US, the UK, and Europe. It provides a number of products, plus Pega Cloud, a cloud computing service, which enables its customers to build, test, and deploy their applications in a cloud environment. Like most cloud computing companies this stock is over priced. Yes, the cloud is a growing area, but the growth prospects in this area are so inflated as to be ridiculous. They are reminiscent of the dot com fiasco, and they are likely to fall dramatically on the coming economic slowdown/recession. This is especially true if the company involved derives a large portion of its sales from the EU.
The table below contains some of the fundamental financial data for these stocks. The data are from TDameritrade and Yahoo Finance.
| | | | | |
| --- | --- | --- | --- | --- |
| Stock | KEQU | CODE | IL | PEGA |
| Price | $8.15 | $8.03 | $5.79 | $30.62 |
| Net Profit Margin | +0.44% | +0.45 | +1.07 | +1.86 |
| PE | 88.59 | 105.66 | 241.25 | 162.87 |
| FPE | -- | -- | -- | -- |
| Revenue Growth (MRQ) | +1.32% | +110.72% | +14.52% | 56.37% |
| EPS Growth (MRQ) | -114.61% | -16.07% | +106.26% | +6.10% |
| Debt/Capital (MRQ) | 19.12% | 43.18% | +21.65% | 0.00% |
| Performance vs. Its Industry YTD | -25.52% | -58.93% | -66.03% | -12.49% |
| Volume | 1400 | 278,020 | 535,825 | 229,490 |
| Beta | +0.9 | -- | -- | +1.1 |
| Institutional Holdings | 16% | 84% | 102% | 44% |
| FY2012 EPS Estimate | $0.56 | $1.01 | $0.47 | $0.97 |
| FY2012 EPS Estimate 90 days ago | $0.86 | $2.344 | $0.60 | $1.46 |
| Short Interest as a % of Float | 0.10% | 6.00% | 5.30% | 18.80% |
| Average Analysts' Opinion | 3.0 | 2.4 | 2.9 | 2.0 |
| Dividend | 4.90% | N/A | N/A | 0.40% |
One telling data point above is that all of these stocks, even though some are "cloud" stocks, have significantly under performed their industry. Normally underperformers do not catch up in a slow down or down turn. All the above stocks have outrageous PE's, when earnings estimates are likely to be decreasing in the next 6-12 months. This means those outrageous PE's will not come down (or not as quickly as expected). This in turn means the stock prices should come down. All of the net profit margins are less than 2%. With price pressure likely from the EU and sales volumes to the EU under pressure, many or all of these companies is likely to become unprofitable in the near future. One point against shorting IL is that it has 102% institutional ownership. Usually it is a good idea to wait for at least some of the institutions to begin selling. Another problem for shorting is the combination of a 4.90% dividend for KEQU, a low short interest of 0.10%, and an extremely low volume of 1400/day. I might leave this one alone solely due to its low volume. In sum, CODE and PEGA are fundamentally acceptable for shorting, even with good revenue growth in each last quarter. The profit margins are still too thin, and they are not likely to improve in a down trend. I think it is worth keeping a sharp eye on the other two, especially IL. I would sell them all in the near term. If the market and world economic situation begins to improve, I might consider buying these back again. I would have to evaluate each at that time.
The one year charts of each stock are below. They should provide some technical direction.
The one year chart of KEQU is below.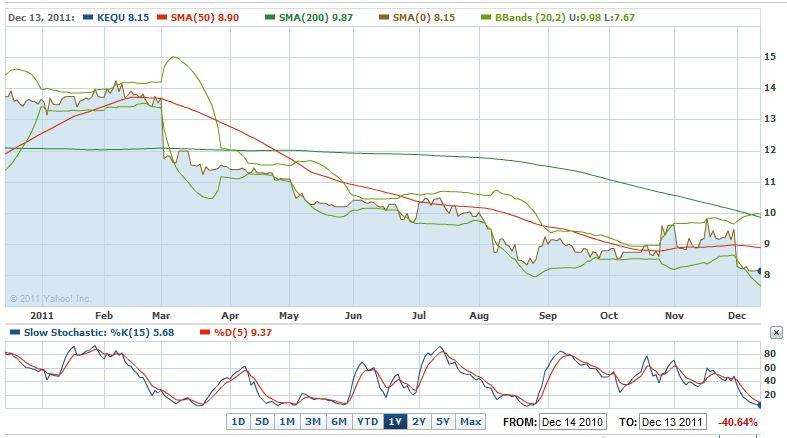 The one year chart of CODE is below.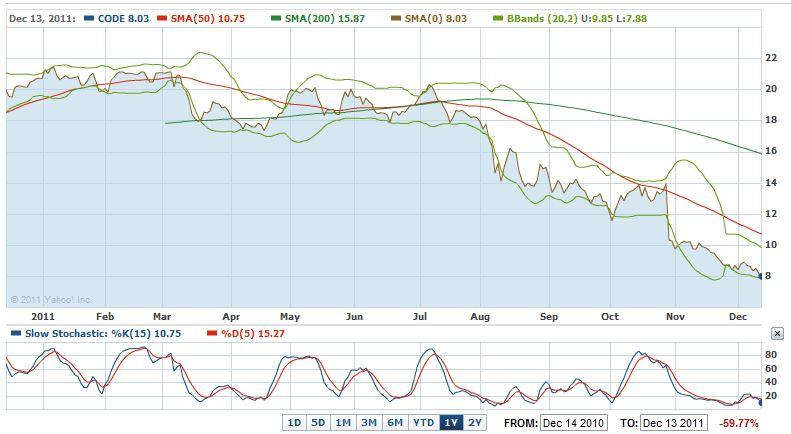 The one year chart of IL is below.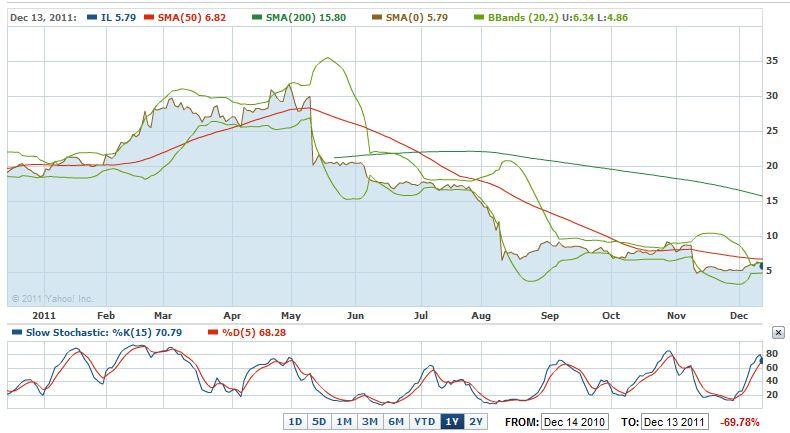 The one year chart of PEGA is below.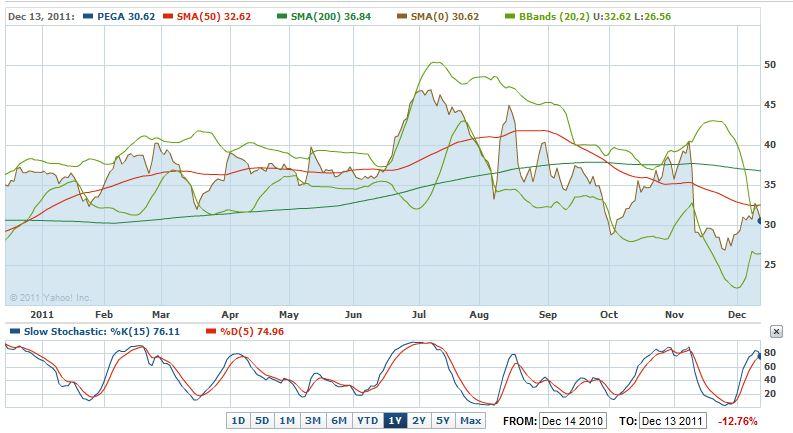 The last two of these stocks are at or near over bought levels on their slow stochastic sub charts. The other two are at over sold levels. All are below their 200-day SMA's. All seem to be in down trends. Given the above fundamentals and technicals, these stocks seem likely to continue their down trends.
Good Luck Trading.
Disclosure: I have no positions in any stocks mentioned, but may initiate a long position in CODE, PEGA over the next 72 hours.