Broadcom (BRCM) has outperformed the Nasdaq Composite Index over the past year as shown in the chart below: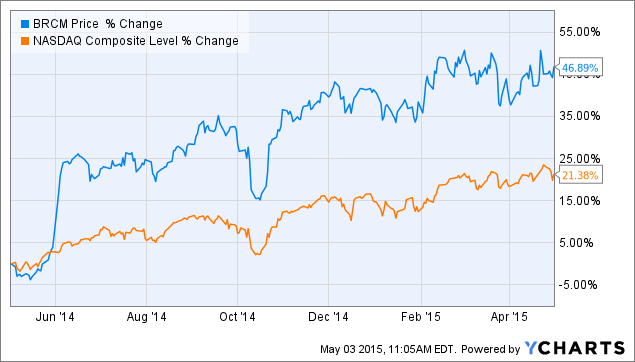 BRCM data by YCharts
This is a result of the company's decision to move away from the cellular baseband business s it is now being able to focus on areas that will propel its growth going forward. One such area is 4G LTE in China, where Broadcom will see tremendous growth in the coming years due to its smart product development. Let's take a look.
Chinese LTE growth will act as a catalyst
According to ReportsnReports.com, the global LTE wireless infrastructure market is expected to reach $78 billion in 2018 from just $3.9 billion in 2012. As a result, substantial investment can be expected in this market as service providers build out core networks and upgrade backhaul networks to support large data traffic volumes. Now, the infrastructure growth will lead to higher demand for Broadcom's LTE and TDS CDMA solutions that are aimed at improving the efficiency of 4G LTE networks.
The following graphic represents the expected growth of the LTE market going forward, with Asia Pacific expected to be the biggest driver: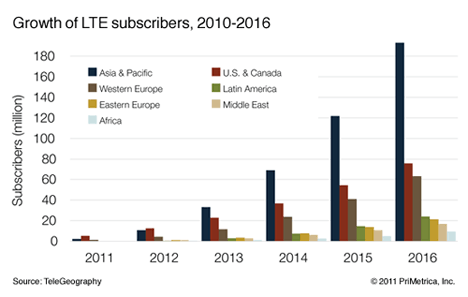 More specifically, Broadcom will benefit from the adoption of 4G LTE in China where it has secured wins for processors, switches and backhaul solutions. China Mobile (CHL) is leading the build out of the TD-LTE network in China. The telecom carrier is tapping equipment providers to build the infrastructure, and once the FDD-LTE licenses are given to other players, we will see more telecom companies join China Mobile. This will create the need for more capable data centers due to higher data traffic, faster speed and ASIC conversion to merchant solutions.
Key product development moves addressing the wireless market
As a result, the need for Broadcom's connectivity solutions in the Chinese market will increase. Now, the good thing is that Broadcom is moving aggressively to tap this market. It has launched a new family of switch products known as Tomahawk. This family is expected to deliver 32 ports of 100 gigabit Ethernet. It is capable of addressing 25G and 100G applications in the datacenters. As a result, Tomahawk should gain traction due to an increase in data rates.
On the other hand, according to a research report:
"WinterGreen Research predicts that the dramatic growth of wireless infrastructure is based on the growth of smartphones to a one trillion market by 2019, serving an installed base of 8.5 billion, many people having more than one smartphone. Wireless infrastructure markets at $58 billion in 2012 will be $163 billion by 2019 new markets evolved because of the value that apps provide to smartphones, mobile devices, tablets and the Internet of things."
Hence, the growth of wireless infrastructure also will act as a big catalyst for Broadcom going forward. To tap this market, the company has launched the second generation of its 2x2 MIMO 802.11ac combo chip. This chip is expected to enhance its position and improve its performance in high-end smartphones and tablets.
By delivering faster speeds, consuming less power, decrease interference, and occupy less board space on the chipset, Broadcom is giving its customers an efficient product. Additionally, Broadcom has launched a GPS Sensor Hub Combo Chip, which is unique in the industry given the tasks its performs. This product is expected to drastically reduce power consumption in mobile devices, while allowing health fitness and life-logging applications to run seamlessly.
Fundamentals and final words
Apart from strong end-market prospects that Broadcom is looking to tap with its product development, another positive factor is the company's strong fundamental position. The stock trades at a forward P/E ratio of just 14, which is reasonable considering its expected earnings growth of 13.3% over the next five years.
In addition, its balance sheet is robust with a cash position of $2.95 billion, which is higher than its debt of $1.59 billion. This means that Broadcom has enough resources to continue investing in its products. In addition, Broadcom has generated operating cash flow of $1.29 billion and levered free cash flow of $750 million in the last year. Also, the stock carries a dividend yield of 1.30%, and the impressive cash flow numbers indicate that it is capable of sustaining its dividend in the future.
Thus, Broadcom looks like an impressive investment from both the growth and the fundamental aspect, and even though it is trading at the higher end of its 52-week range, it is a stock worth holding on to.