The real quantity of Mongolia's natural resources cannot yet be know. Weighed down by communism from 1921 to 1991, followed by poor economic times thereafter, and still troubled by poor but now developing infrastructure, it is one of the last great frontiers of natural resources.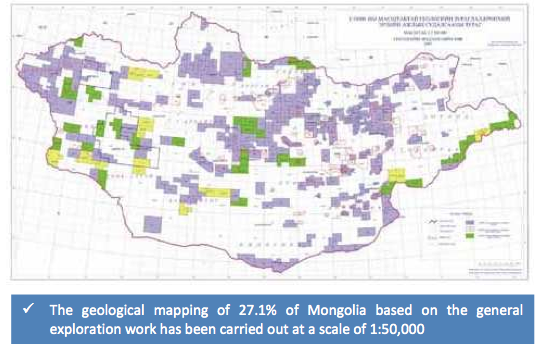 Source: Mineral Resource Authority of Mongolia, ResCap's Mongolia 101 (January 2011). All images in this article can be clicked on to see them larger, escape to exit full view.(P. 76)

There are two laws of note that effect uranium mining in Mongolia. As of January 2011, Mongolia had about "1,170 mineral deposits and 7,654 occurrences" (Mongolia 101). Among those, the Minerals Law of 2006 declared 15 deposits strategic. The laws governing these strategic deposits state that the government can "acquire up to 34% of ownership rights from the license holder, if the exploration work has been financed purely with private funds, and up to 50% of ownership rights, if the exploration work has been financed partially with state funds, including capital invested during the Soviet times" (Mongolia 101, italics added). Three uranium deposits are on the list of 15 strategic deposits.
Click to enlarge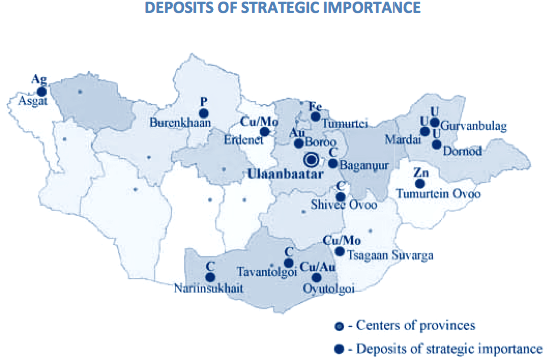 Source: Worley Parsons, Ministry of Mineral Resources an Energy, State Property Committee of Mongolia (list). Mineral Resources Authority of Mongolia (map). ResCap's Mongolia 101 (both).
Beyond these 15 strategic resources, "foreign investors can own 100% of any registered business and it is not legally required to have a Mongolian partner" (Mongolia 101) except in the case of uranium. The Uranium Law of 2009 created both a government regulatory authority and the state-owned MonAtom. Under the law, all prior uranium licenses were canceled and had to be re-registered with the government. Moreover, when the licenses were re-registered, it was on the condition that investors understood and accepted that the government uranium company MonAtom could take 51% ownership of any uranium license without compensation to the license holder.
In addition to Mongolia's MonAtom, Russia's Atomredmetzoloto [ARMZ] has extensive uranium license rights, some extending back to the communist era. One could question the relevance of all of this when, as of 2009, Mongolia was believed to have only 1% of the world's known recoverable resources of uranium. However, three of the biggest companies in uranium development -- AREVA, Cameco, and Denison Mines -- all have operations in Mongolia. Among other notable ventures, there is the private Mongolia Forward, which has former U.S. Ambassador to the United Nations John Bolton on its board of directors and former Montana U.S. Senator Conrad Burns on its advisory committee. Mongolia Forward is in negotiations to form a joint venture with MonAtom.
Click to enlarge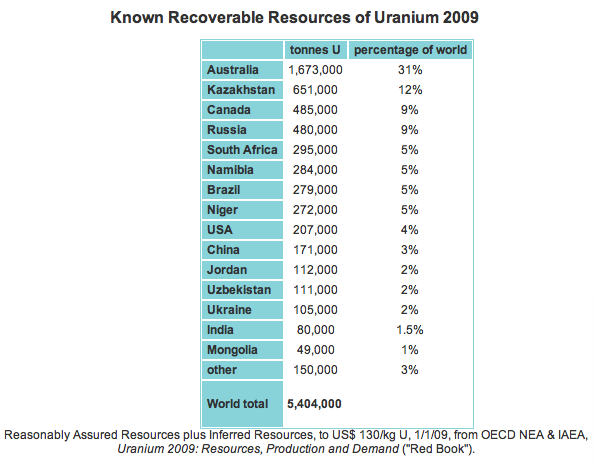 On the above list, Mongolia ranks 15th. Here are some salient points from a April 2011 Reuters report on MonAtom's Tsogtsaikhan Gombo:
He believes reserves are 80,000 tons, not 49,000.
He believes with investment the reserves could "rise to above one million tons."
"We want green development and nuclear is the number one choice."
"We have the ambition to build the capability of nuclear energy in Mongolia, and the ambition to supply nuclear power plants in Northeast Asia."
The government wants its first nuclear facility by 2020.
Uranium development ties are being coordinated with countries including the Untied States, France, and Japan, to diversify from the interests of Mongolia's two neighbors, China and Russia.
France's AREVA and Mongolia signed an agreement in October 2010 for uranium exploration and mining.
Frontier Securities, a Mongolia brokerage, in a press release on its Mongolia Expert Series stated in September 2011:
"Today's proven reserves amount to roughly 70,000 tons and there is strong belief that they may rise up to 100,000/120,000 tons within the next 2 years. There is also high speculation as per the country's potential in uranium deposits with the IAEA's red book having indicated estimates of up to 1.39 million tons untested reserves, which if proven would constitute the largest reserves in the world. MonAtom is more conservative, capping such a number to 500,000 tons." [Note: vis-a-vis the above chart from 2009, 1.39 million tons would be 2nd to Australia.]
Click to enlarge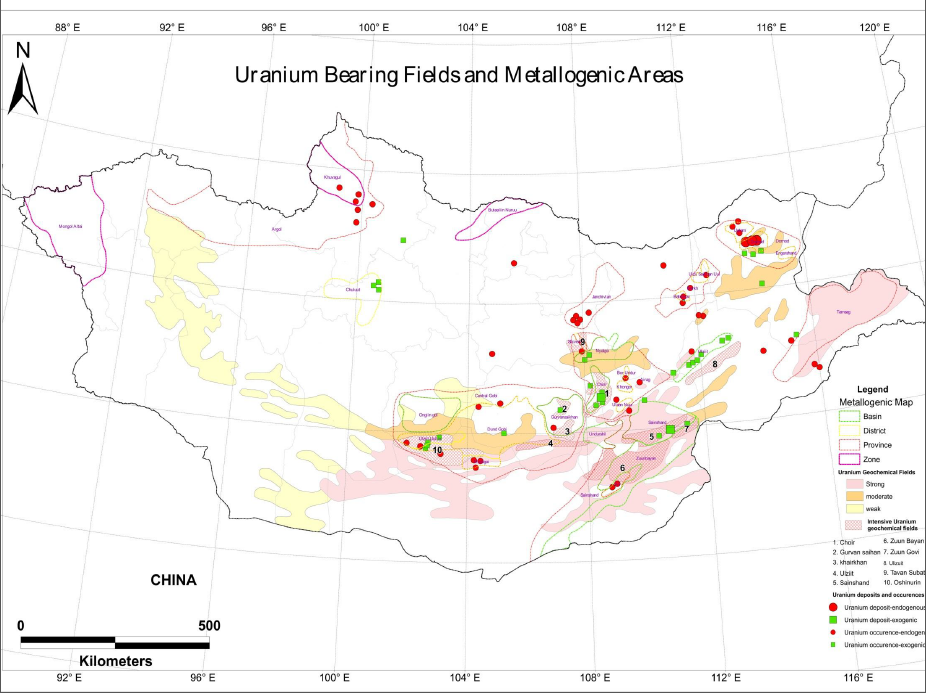 Source: International Atom Energy Association [IAEA]. Power point presentation by Mongolia's representatives at IAEA headquarters during the October 3 to October 6, 2011, Nuclear Power Technology Development meeting at IAEA headquarters in Vienna, Austria. Link to the presentation below under "Further Reading."
In an interview from June 2011 (video), Mr. Tsogtsaikhan Gombo of MonAtom stated that the government was aware that current uranium laws made Mongolia less competitive, and there was a government committee working on a revision of the 2009 Uranium Law (video is 4 minutes, relevant quote at 2:30).
Three International Companies
AREVA (OTCPK:ARVCF)
AREVA is a major international uranium and industrial company based in France, with a market cap of $10 billion. Its 100% owned subsidiaries AREVA Mongol and Cogegobi have been present in Mongolia since 1996. They have "28 licenses covering more than 14,100 kilometers," primarily in the East Gobi (the southeast of the country). AREVA Mongol has worked in cooperation with Japan's Mitsubishi Corporation since December 2009. AREVA commenced uranium recovery operations in Mongolia for the first time on December 1, 2010 (notably after the 2009 Uranium Law was put in place). Not coincidentally, one month earlier a cooperation agreement between France and Mongolia was signed, which also defined "a clear and solid framework for AREVA to explore and mine uranium in Mongolia."
The cooperation agreement of November 2010 also refers to Mongolia viewing France as "its third neighboring country." Mongolia's two neighbors are China and Russia. Mongolia government policy is a policy of pursuing third neighbors around the world to maintain geopolitical balance for itself with its two larger neighbors.
AREVA is building a "small-sized factory" for its mining operations that will be complete in 2 to 3 years. "It's projected that the factory [will] process uranium to yellow powder by 2017 and export that " According to China's Xinhua news agency, AREVA Mongol will export uranium to France and Kazakhstan for enrichment starting in 2017.
Cameco (NYSE:CCJ)
Cameco is a major international uranium focused company based in Canada, with a market cap of $7 billion. Cameco established Cameco Mongolia in 2005. Cameco Mongolia is still in the exploration phase. It has used Major Drilling (OTCPK:MJDLF) for the exploration and been pleased with safety and environmental preservation, a relevant issue since Cameco spinoff Centerra Gold (OTCPK:CAGDF), and its Boroo subsidiary, has had issues with the Mongolian government's environmental laws, though it has now "duly completed rehabilitation work". Their properties are in eastern Mongolia.
Denison Mines (NYSEMKT:DNN)
Denison Mines is an international uranium focused company based in Canada, with a market cap of $550 million. It has properties in the U.S., Canada, Zambia and Mongolia. Denison holds a 70% interest in the Gurvan Saihan Joint Venture [GSJV] along with 15% partners: the Mongolian government and Geologorazvedka (a Russian government company). Thus, the company is partnered with both of the governments heavily involved in Mongolia's uranium history.
Click to enlarge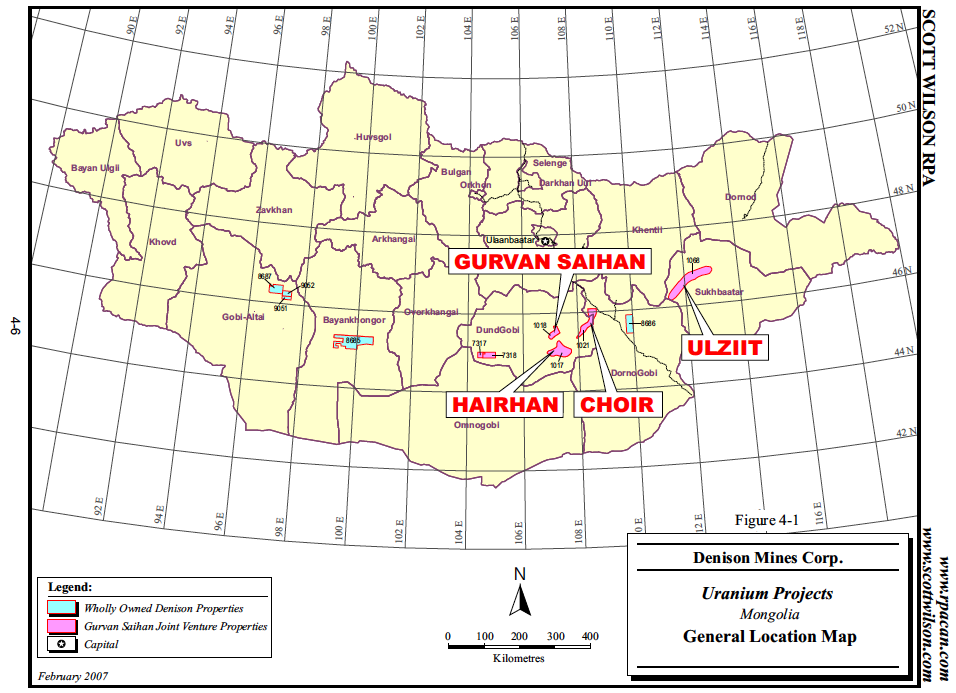 Source: Denison Mines February 2007 NI 43-101 report on Mongolian properties.
Denison licenses cover 685,632 hectares (6,856 square kilometers). It was noted in March 2011 that Denison planned to spend CAD$7.4 million on exploration and development in Mongolia in 2011. Four days later, Denison released an update on the NI 43-101 resources of the Hairhan deposit. Details summarized by the media were, "the new report by Roscoe Postle Associates, estimated 12.26 million tonnes of indicated resources at a grade of 0.062% U, or 19.78 million pounds of U308, representing a 151% increase over the last study in February 2007. Inferred resources were calculated at 5.54 million tonnes grading 0.040% U, or 5.81 million pound of U308, representing a 67% boost over 2007." Additional plans for the Hairhan license include:
changing it from an exploration license to a mining license
an in-situ recovery plant
commencing "site construction and development activities"
The Roller Coaster
East Asia Minerals Corporation (OTCPK:EAIAF)
East Asia Minerals is a diversified miner with properties in Indonesia and Mongolia. It had a market cap of $55 million on December 10, 2011. Its properties in Indonesia include gold, silver, copper, and molybdenum. In Mongolia, East Asia Minerals properties include uranium and phosphate. East Asia Minerals website seeks to address some recent issues about Indonesia's mining laws.
Why is East Asia Minerals dubbed "the roller coaster"? With a 52 week high of $8.62 and a closing price on December 9, 2011, of $.71, it has been an eventful year, and for that matter-- an eventful 5 years for the share price. Investors should understand that the share price has been driven by East Asia Minerals Indonesia holding, as there is no production yet at any of its Mongolia assets. Its Mongolia assets received 1 page of attention in the company's 20 page corporate presentation.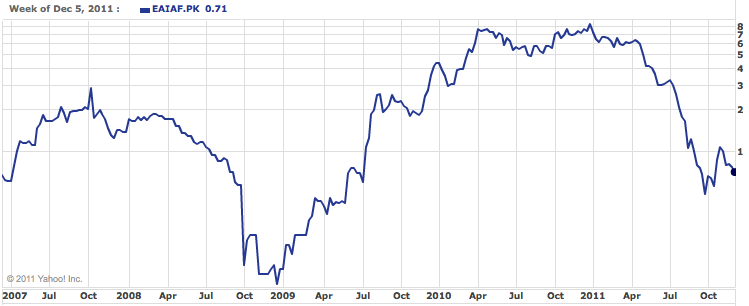 Source: Yahoo! Finance.
Indonesian challenges have resulted in a change in management. Additionally, East Asia Minerals announced a private placement for shares on October 7, 2011, to raise $10,000,000 by selling 20,000,000 shares for $.50.
Among East Asia Minerals 11 uranium projects in Mongolia, 3 are "ready for resource drilling" per the company website: U1 Ingenii (Nars), U2 Ulaan Nuur, and U3 Enger Ar.
Click to enlarge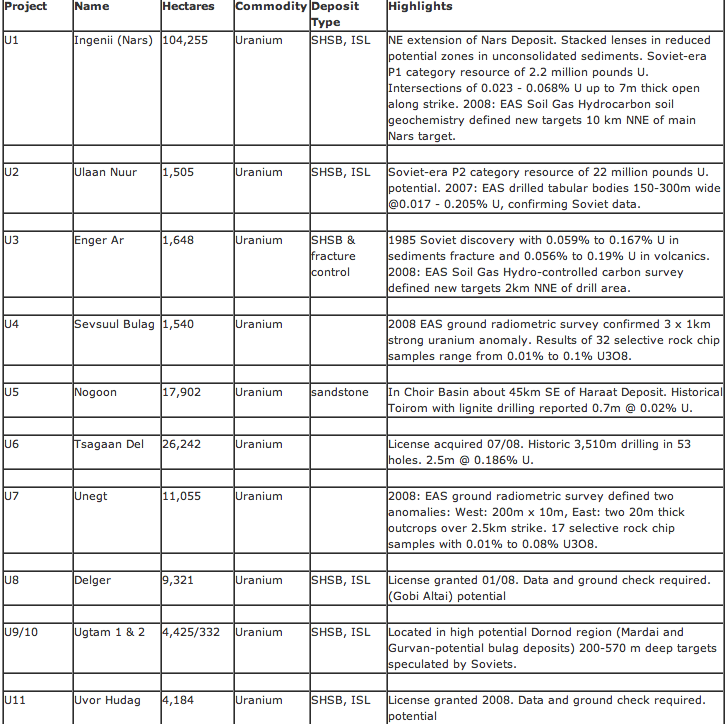 Source: East Asia Minerals webpage on Mongolia.
East Asia Minerals last issued an update on its Mongolia holdings in September 2011. For more up-to-date information on East Asia Minerals, I suggest following the news feed about the company. East Asia Minerals' share price issues are due to events in Indonesia, but there is one more stock in the uranium sector in Mongolia that has problems uniquely in Mongolia.
One Pure Play, Many Problems
Khan Resources (OTC:KHRIF)
Since my first research article about Mongolia in June, Khan Resources, despite a $12.5 million market cap, has been a story I have followed closely. I have since been to Mongolia, developed contacts there, and increased my knowledge about Mongolia a lot. The fate of Khan Resources remains a mystery.
Since the Mongolian government repealed the 2006 Windfall Profit Tax in 2009/2010, the development of mining interests in Mongolia has boomed. The Uranium Law of 2009 is what is left out of the below timeline, because it runs counter to the narrative about Mongolia's mining boom. Yet, Western Prospector, once another Canadian uranium company, is now owned by the China National Nuclear Corporation on the below timeline. Western Prospector owned licenses for the Mongolian strategic deposit at Gurvan Bulag.
Uranium is one of the many important natural resources Mongolia holds. Based on facts, one could make an educated guess that the Uranium Law of 2009 will not be amended to be in line with the rest of the Mongolian mining boom's narrative until after there is resolution in the matter of Khan Resources.
Click to enlarge
Source: Business Council of Mongolia, Mongolia 101.
Khan's website home page shows a map of Mongolia with a stake in Dornod, one of the three strategic uranium deposits among Mongolia's 15 strategic deposits. Dornod is believed to be Mongolia's biggest uranium deposit. Khan's website says its "assets consist of is interest in the 'Dornod Uranium Property,' which is held through a 58% interest in the Main Dornod Property (mining license 237A) and a 100% interest in the Additional Dornod Property (exploration license 9282X)."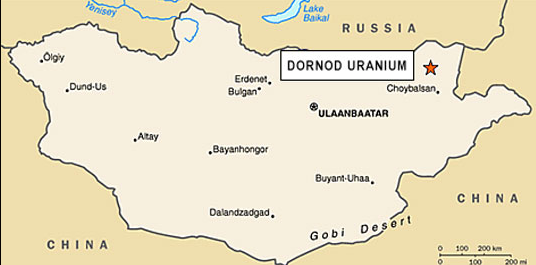 The same page of Khan Resources' website begins to discuss the history of the site, its discovery in "1972 by a Russian Geological Expedition," "open pit mining in 1988," "until 1995, some 590,000 tonnes of ore grading approximately 0.1% U was hauled" to a processing facility in Russia, and "Because the property was extensively explored and developed by the former Soviet Union, the bulk of Khan's work has concentrated on verification and infill drilling plus core sampling for metallurgical work."
While there is a 250-page NI 43-101 report from 2009, and Khan's belief that the property can produce "3.5 million pounds of uranium oxide over a 15 year mine life," genuine due diligence on the company requires reading legal briefs and researching international law, not understanding mining reports. Revisiting the law governing the 15 strategic deposits of Mongolia: The laws governing these strategic deposits state that the government can "acquire up to 34% of ownership rights from the license holder, if the exploration work has been financed purely with private funds, and up to 50% of ownership rights, if the exploration work has been financed partially with state funds, including capital invested during the Soviet times" (Mongolia 101, italics added). The Uranium Law of 2009 adds the kicker that state-run MonAtom can take 51% ownership of any uranium license without compensation to the license holder.
Khan Resources And ARMZ
Khan's 58% interest in Dornod was actually a 58% interest in the Central Asia Uranium Company [CAUC], which was 21% owned by the Mongolian government and 21% owned by Russia's Atomredmetzoloto, the Russian government's nuclear conglomerate. An April 2010 article details, "Dornod contains at least 28,000 tons of uranium, and Russian experts in particular believe further and better exploration could uncover twice that amount."
The same April 2010 article provides the following timeline:
May 2009, Russian Prime Minister Vladimir Putin makes a state visit to Mongolia "that focused on Russian participation in mining Mongolian uranium."
July 2009, the Uranium Law passes (as mentioned above) that gives the Mongolia government the right to own 51% in uranium ventures.
August 2009, Russian President Dmity Medvedev makes a state visit to Mongolia with ARMZ parent company's Rosatom's chief Sergei Kiriyenko.
October 2009, Khan Resources receives a hostile bid for "65 Canadian cents per share (about 35 million U.S. dollars) for Khan's CAUC stake." Khan Resources refuses the offer.
Khan Resources "accused ARMZ of negotiating with the Mongolian government without recognizing Khan's interest in the deposit." ARMZ counters by "accus[ing] Khan Resources of negotiating with the Mongolian government over the Russian company's interest in Dornod."
Under the uranium law, Khan's license was suspended.
Khan Resources got a separate bid from the China National Nuclear Corporation "at 96 cents [Canadian]" or "some 53 million U.S. dollars." This deal fell through due to failure to get regulatory approval.
"ARMZ, Khan Resources, and the Mongolian government continue to trade accusations about breaches of their agreement. The Mongolian government has also opened an investigation into the legality of Khan Resources' licenses in Mongolia."
The way this situation has been presented recently in the Mongolian press as of November 2011:
"The governments of Mongolia and Russia signed an agreement to establish a uranium-mining company called Dornod Uran LLC in December 2010... But Dornod Uran has not been established yet because a Canadian mining company called Khan Resources has complained to an international arbitration panel... With the establishment of Dornod Uran delayed, AREVA could be exporting yellow powder before the Russian-backed company."
Reuters reported the debut of Khan's case against ARMZ in August 2010. The full 31-page legal filing is available to the public. As this May 2011 article from Canada's Globe And Mail notes, Khan's $700 million lawsuit against ARMZ "alleges that the Russian firm wrongly excluded the Canadian company from the Dornod project and waged a campaign to discredit it" (this is referred to as a $300 million case in most media sources, however the original legal filing indeed demands $700 million). Khan Resources further contends it invested $21 million in the Dornod property and its development since 2003 while ARMZ "contributed virtually nothing."
A separate article from February 2011 notes that the Russian government cited article 13 of the Hague Convention and refused to accept the lawsuit or serve notice to ARMZ.
Khan Resources And The Mongolian Government
Separately, Khan filed an international arbitration case against the government of Mongolia and MonAtom in January 2011 under United Nations Commission on International Trade Law [UNCITRAL] Arbitration Rules.
This filing by Khan indicates the agreement that formed CAUC was formed in 1995 with WM Mining, ARMZ and the Mongolian government as equal 1/3 partners. Based on a cash infusion, WM Mining's share increased to 58%, as approved by the Mongolian National Security Council in February 1997. In July 1997, WM Mining's shares became part of what we'll simply call Khan Bermuda. Khan Resources of Canada acquired Khan Bermuda in July 2003, and this was subsequently affirmed by partners ARMZ and the Mongolia government in a corporate resolution of October 2005. This is the portion of Khan Resources history regarding the main Dornod property.
There is also the question of the Additional Dornod Property in which Khan Resources believes it has a 100% interest. This was acquired from Western Prospector in April 2005. Western Prospector was a Vancouver-based company founded in 1998. Further details on the history of the Additional Dornod Property are limited to the facts in the filing.
According to Khan's current corporate presentation, its action against the Mongolian government seeks $200 million in compensation.
Khan Resources Since 2009, The Unclear Facts That Beg More Questions
It gets more confusing, as some details have been left out to make this as readable as possible. Below is Khan's timeline from its 2010 Annual Report which covers activity and share price from January 2009 to December 2010. Interesting notes along the timeline include when the Mongolian Nuclear Energy Agency [NEA] invalidated all of Khan's Mongolia licenses in April 2010 [#6], a court in Mongolia and an appeals court in Mongolia both say Mongolia's NEA decision to invalidate Khan's licenses is not legal [8 & 9], and Mongolia's NEA stands pat that they will not reissue any licenses to Khan [10]. On pages 6 and 7 of the report (link in the caption below) Khan responds at length to seven allegations by the Mongolia NEA as to why Khan's licenses have been invalidated.
Click to enlarge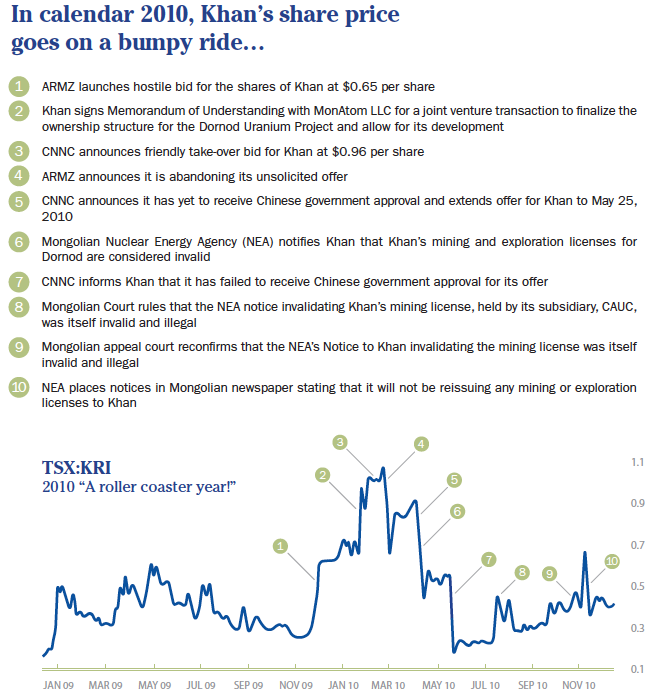 Source: Khan Resources 2010 annual report.
An undated 2011 article by Mark Godfrey notes that, "suggestions that Mongolia has reverted to Soviet-era laws favouring Russians are rubbished by N. Algaa, Executive Director of the Mongolian National Mining Association (MNMA). He says the country's new Nuclear Energy Law, passed in July 2009... grants 'similar treatment to companies from every country.'" The article additionally cites anonymous sources "that the MonAtom and ARMZ joint venture, signed during a visit to Mongolia by the Russian president, was over-favourable to Moscow. Licensed to explore Dornod and separate resources in East Gobi, the joint venture will not be subject to Mongolian taxes, partly because it'll be operated entirely with Russian labour." [This data is not confirmed. Anonymous sources cannot be verified.]
An interview from February 2010 with Mongolian Member of Parliament Z. Enkhbold frames the issue at hand differently. According to Mr. Enkhbold, the problem is that Khan had exploration licenses for areas with previous mining activity during the communist era. This breached "provision 2.3 of article 17 and provision 1.4 of article 19 of the Mineral Law of Mongolia. It is illegal to issue exploration licenses in the previously mined areas." Yet, he then says that these previously mined properties which were left dormant for some time require, "re-evaluation on deposits, restor[ation of] the infrastructure of the mine area and updated feasibility stud[ies]." Thus, it seems that the work one does under the auspices of an exploration license are required for the terrain in question but this work needs to be done under the auspices of a mining license because of prior activities at these sites. Yet, it was the government that granted the exploration licenses to Khan Resources in the first place.
Most recently, on October 31, 2011, Khan won a motion in Canada's Ontario Superior Court that said ARMZ should be served papers. However, this is an international case involving Russia, Mongolia, and the U.N. A complete resolution of these cases could take many years.
One Other Junior Uranium Miner And A Few Notes Of Interest Pertaining To Uranium In Mongolia:
Solomon Resources (OTC:SLMZF). Market cap $1.4 million. Properties in Canada, the U.S. and Mongolia. Reading Solomon Resources page on Mongolia, this company has experienced similar rulings by the Mongolia courts as those Khan Resources has:
"In the written decision of the Mongolian Supreme Court dated November 24th, 2009, received by Solomon on December 15th, 2009, Justices Punstag, Sumya, and Tungalag affirmed the ruling of the lower court and found that the manner in which the Mongolian Cadastral Office handled the various licence applications was improper and further clarified the process to be followed by the Cadastral Office in issuing the disputed exploration licences in accordance with Mongolian law."
Red Hill Energy which had a few uranium deposits in Mongolia is now part of Prophecy Coal (OTCPK:PRPCF). The World Nuclear Association site on Mongolia still cites Red Hill Energy as a uranium property holder in Mongolia (as of its October 2011 update). However, Prophecy Coal's 1st quarter 2010 report states clearly on page 10, "During the year ended December 31, 2009, the Company wrote-off its investments in all the uranium licenses in Mongolia, as management determined the licenses did not have sufficient merit to continue exploration."
The China National Nuclear Corporation and related entities have interests in uranium in Mongolia. These do not present investment opportunities.
Ties between India's and Mongolia's uranium interests have been established since 2009.
Conclusion:
Mongolia has uranium resources that place it in the top 15 countries for uranium resources in the world. Mongolia's resources are relatively unexplored and Mongolia's uranium resources once explored could be firmly among the top 5 countries in terms of global uranium resources.
Mongolia's mining laws regarding uranium are particular, and less favorable to foreign entities than its other mining laws. There are multiple large international uranium interests operating effectively and without problem in Mongolia, all in good standing with the Mongolian government.
The case of Khan Resources is worth watching. The Khan Resources case is a problem hanging over the uranium industry in Mongolia, and possibly hanging over any legal revision to the 2009 Uranium Law. The settlement of the Khan Resources case may signal a realignment that will lead to further growth in Mongolia's uranium industry.
Disclosure: I cited data from Mongolian brokerage ResCap in this article. ResCap is partially owned by Origo Partners (OPP.L). I am long Origo Partners. Frontier Securities whose data I cited in this article is one of multiple brokerage companies I have invested funds with in Mongolia to-date. I have no positions in any other stock mentioned in this article and no intention to purchase or sell any holdings mentioned in this article in the next 72 hours.
Additional Disclosures: I am not an attorney. I have made a best effort to present all the facts I have learned so far regarding Khan Resources, ARMZ and the Mongolian government. I have no personal or financial interest in any party winning, losing, or settling this case. If there are additional details I have omitted, I will print them in the comments below post-haste as submitted, verbatim, from any party involved in this matter.