Despite issuing seventeen apparently positive news releases since the beginning of 2011, trading charts show little to cheer about regarding an investment in CytRx Corporation (NASDAQ:CYTR).
In fact, the most recent SEC filings show that the company with a $ 90 million market cap, despite the numerous promises and positive proclamations, continues to amass losses. In fact, some of the ridiculous price targets assigned by paid analysts have not only been wrong, in hindsight they look contemptible. Their last 10-K filing shows that the firm has accumulated deficit of approximately $196.5 million. A trend likely to continue until they are able to commercialize one or more of their product candidates. And given how far along their pipeline looks, that may not happen for quite some time.
That hasn't stopped stock pickers from continuing to list CYTR among one of the top biotechs with the most upside and some analysts continue to see a $1.70 price target for shares. In May, even an otherwise respected analyst, David Moskowitz from Roth Capital, initiated coverage on the firm with a BUY recommendation when shares were trading at prices nearly three times higher than they are today. For now, investors have been left to watch shares trade between $.30 and $.40 since August and things could get uglier before they get better.
Operating activities cost CYTR shareholders over $11 million as of the nine months ended September 30. The previous year, the company burned through over $10.7 million.
Since the lifting of the controversial clinical hold which the FDA placed on the company's Phase IIb clinical trial for Arimoclomol- a treatment for amyotrophic lateral sclerosis (ALS or Lou Gehrig's disease), investors had been hearing that the "evidently undervalued" company seemed determined to partner, acquire or develop more drugs for their oncology portfolio, but the only move worth reporting in that direction was the Valentines Day announcement in which CytRx announced a definitive agreement for the acquisition of SynthRx by ADVENTRX Pharmaceuticals (ANX).
In it, shareholder would receive shares of ADVENTRX common stock based on CytRx's 19.1% ownership of SynthRx. CytRx would initially receive approximately 191,000 shares of common stock of ADVENTRX, but if all milestones were achieved, CytRx would receive an approximate 7.8% ownership stake in ADVENTRX. The sale price of ADVENTRX shares on the NYSE Amex in February 11, 2011 was over $2.15 a share. Today, shares of ADVENTRX can be had for less than one-third that price.
In the February acquisition, which Adventrx CEO Brian Culley dubbed a "transformative event," the San Diego-based Adventrx agreed to acquire SynthRx, a private biotechnology company developing a purified form of a rheologic and antithrombotic agent, poloxamer 188. Over the years, CytRx had either discontinued or simply farmed out the development of drugs with SynthRx, including Flocor (otherwise known as poloxamer 188) for Sickle Cell Anemia, Flocor with Chemotherapy for Cancer, and even Flocor for Spinal Cord Injuries and Muscular Dystrophy.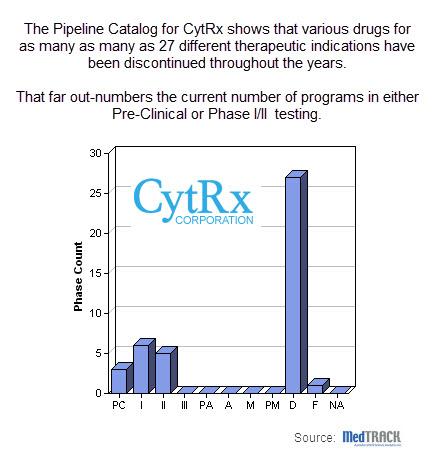 Two years prior to that announcement, Adventrx was in dire straits. But by January 2010, Adventrx was back on its feet and had raised $19 million in financing -- enough money to restart clinical testing of ANX-530, a reformulated version of the already approved drug Navelbine.
By April, Adventrx had closed the acquisition deal and SynthRx stockholders (namely CytRx) were promised that the unvested shares would vest upon dosing of the first patient in a phase 3 clinical study meeting certain criteria, subject to reductions based on the timing of dosing of the first patient and the anticipated size of the study. To sweeten the deal, stockholders are also promised that they were supposed to receive additional shares of common stock upon successful achievement of development milestones. It all sounded great until they realized that the total shares issuable in connection with the acquisition, more than 75% are contingent upon the FDA accepting and approving an NDA covering ANX-188 to treat sickle cell crisis in children. To this day, that remains a big "IF."
In fact, a May SEC filing from Adventrix, shows that "If" they are able to reach agreement with the FDA on a study protocol on a timely basis, they "may" initiate a Phase III clinical trial of ANX-188 for pediatric patients with sickle cell disease in acute crisis sometime next year.
You can't fault the CEOs of CytRx Corporation or Adventryx for trying to make some money for shareholders- even if those profits comes at the expense of other corporations and their shareholders. That's the way this public shell game works isn't it?
In fact, some would argue that CytRx might better serve investors by operating a hedge fund or investment bank and not a biotech firm. They would, arguably become more profitable- or perhaps at least be more transparent. The only line item that appears somewhat decent in audited filings is the $16.4 million in net cash provided by investing activities during the Nine Months Ended September 30, 2011.
As SEC filings show, CytRx has relied primarily upon proceeds from sales of equity securities and the exercise of options and warrants and to a much lesser extent upon payments from strategic partners and licensees, to generate funds needed to finance their "business and operations."
A significant majority of those profits and returns comes from the spin-off and subsequent liquidation of shares of RXi Pharmaceuticals Corporation (formerly trading on the Nasdaq as "RXII" but now known as Galena Biopharma (OTC:GALEF) after re-inventing itself.
In January 2007, CytRx had contributed its RNA interference (RNAi) assets to RXi Pharmaceuticals, a subsidiary co-owned by CytRx and several world leaders in RNAi technology. After distributing approximately 36% of the stock of RXi to CytRx's stockholders as a dividend in March 2008, RXi became a separate, publicly traded company (NASDAQ:RXII), with CytRx owning approximately 17% of the outstanding stock of RXi.
During that time, Steven A. Kriegsman who has been CytRx's President and Chief Executive Officer and a director since July 2002, still pulled strings at RXII where he served as a director.
Sadly, nothing much ever came of the highly touted RNAi technology platform. Despite that, the firm was quite successful as raising money. Two underwritten public offerings provided net cash proceeds of approximately $18.2 million after underwriting fees and other estimated offering expenses both of which came after both rumors and public confirmations had Pfizer acquiring or partnering with the firm. What happened to most of those funds is reportedly under investigation by a large group of angry shareholders who held large stakes in the company.
Last September, the RXII reported that it would separate its programs into two publicly traded companies in order to "strengthen focus": Galena Biopharma which would focus on the development of targeted cancer therapies; and RXi Pharmaceuticals would continue to focus on the development of RNAi-based therapeutics. The RNAi programs have been contributed to the new RXi, which was expected to be spun off later 2011. In connection with these transactions, the company changed its name to Galena Biopharma. As of September 30th , SEC filings for Galena shows only $30,329 in total cash and assets.
Management believes that the spin-off transaction will enhance shareholder value by providing a sharper strategic focus for both of the company's key programs.
For now, investors are probably hoping that Galena will show more success than any of the products which have been paraded in front of them by this same group of players (meant in this context both literally and figuratively) over the years.
Galena is supposed to focus its resources on its lead product, NeuVax, a cancer immunotherapy that it acquired in early April 2011. When the firm announced the acquisition of Apthera, Inc.; with Apthera surviving as a wholly-owned subsidiary of the company, Galena issued to Apthera's stockholders approximately 5.0 million shares of common stock of the company and agreed to make future contingent payments of up to $32 million based on the achievement of certain development and commercial milestones relating to the company's NeuVax™ product candidate. This is the same vaccine that Oprah Winfrey was excited about back in 2008.
For the Three and Nine Months Ended September 30, 2011 and September 30, 2010 Galena reported to the SEC some ugly losses from operations of over $5 million, which includes over $1 million of non-cash equity based compensation, for the three months ended September 30, 2011 compared with a loss from operations of $3,719,000, which includes $987,000 of non-cash equity compensation, in 2010. The 36% increase in loss was due primarily to a $1 plus million increase in research and development expenses, an increase of $321,000 in general and administrative expenses due to the focus on oncology related to the Apthera acquisition, and other increases in non-cash equity compensation.
As far as the RXi equation, on September 24, 2011, Galena entered into a contribution agreement with RXi in which they assigned and contributed to RXi substantially all of their RNAi-related technologies and assets. They also contributed $1.5 million of cash to the capital of RXi. In exchange, the firm agreed to assume certain recent accrued expenses and all future obligations under the contributed licenses, employment arrangements and other agreements. All of it bundled with another bunch of big "If" promises. Specifically that RXi has agreed to make future milestone payments to Galena and their shareholders of up to $45 million, consisting of two one-time payments of $15 million and $30 million, respectively — but only "if" RXi ever achieves annual net sales equal to or greater than $500 million and $1 billion, respectively, of any covered products that may be developed with the contributed RNAi technologies.
As good lawyers would have it, the parties also agreed to indemnify each other against losses arising from a breach of their respective representations, warranties and covenants set forth in the contribution agreement.
If only shareholders had that same cushion of indemnification. If!
As of this report, Cytrx has 272,730,000 outstanding shares after the company effected an increase in the authorized shares of common stock this past summer. The designated number of shares of Series A Preferred Stock were also increased.
Looking ahead, Cytrx announced on October 31st that they are enrolling additional patients who will be treated in the planned INNO-206 international Phase IIb clinical trial in advanced soft tissue sarcomas expected to begin in December 2011.
Trick or treat?
Disclosure: I have no positions in any stocks mentioned, and no plans to initiate any positions within the next 72 hours.