New York-based Perceptive Advisors is a biotech-focused hedge fund with approximately $235 million in assets under management. It employs a long/short equity strategy in making its investments, and per its most recent SEC 13-F filing for the September 2011 quarter, it deployed 92% of capital in the biotech group, with the remaining 6% in healthcare services and 2% in medical equipment and supplies. Over 60% of its capital is invested in small-cap equities, 25% in large-cap equities and the remaining 15% in mid caps.
With the biotech index down by almost a third since the peak in May this year, now may be a good time to hunt for some bargains in the group. Based on Perceptive Advisors' most recent Q3 filing, the following are its most bullish picks that may be of interest (see Table):
Celgene Corp. (NASDAQ:CELG): CELG develops therapies to treat cancer and immune-inflammatory related diseases by regulating cells, genes and proteins. At $26.7 million, this is the largest position in Perceptive's portfolio, including the addition of $4.6 million in Q3. CELG shares are currently approaching the highs of the year, as earnings are projected to increase strongly from $2.80 in 2010 to $4.51 in 2012, at a growth rate of 26.9%, driven by strong growth in its oncology product line, including Revlimid, Abraxane and Vidaza. The stock trades at a steep discount 14-15 forward P/E and 4.9 P/B compared with the 27.1 and 8.1 averages for its peers in the biotech genetics group, and keeping in mind also its projected strong earnings growth, the stock is poised to outperform its peers in the group.
Endocyte Inc. (NASDAQ:ECYT): ECYT develops targeted therapies using small molecule drug conjugates for the treatment of cancer and inflammatory diseases. Perceptive added $2.1 million in Q3 to its prior $1.2 million position in the company, a minor position in the absolute, but relatively large keeping in mind its current $135 million market cap. ECYT shares are among Tuesday's biggest movers after the company announced the results of supplemental analyses of its phase 2b PRECEDENT trial that failed to show a survival advantage, and Baird as a result downgraded the stock and slashed its target from $17 to $9, as in their view, early conditional approval in the EU looks less certain now in light of Tuesday's news.
Ariad Pharmaceuticals Inc. (NASDAQ:ARIA): ARIA is engaged in the development of drugs that treat aggressive and advanced-stage cancer by regulating cell signaling with small molecules. It is also developing small-molecule drugs that block signal transduction pathways in cells responsible for osteoporosis, and immune and inflammatory diseases. Perceptive added $5.5 million in Q3 to its $10.0 million prior quarter position in the company. ARIA's lead product Ridaforolimus for the treatment of metastatic soft-tissue or bone sarcomas (in patients who had a favorable response to chemotherapy) currently awaits FDA decision in June next year, and it has two other potential blockbuster oncology drugs in its pipeline, Ponatinib in phase 3 for CML and AP26113 in phase 1 for lung cancer and other tumors.
AVI Biopharma Inc. (AVII): AVII develops RNA-based therapeutics using proprietary third-generation NEUGENE anti-sense drugs and ESPRIT exon skipping technology to treat genetic, infectious, and other diseases. Perceptive added $0.7 million in Q3 to its $3.1 million prior quarter position, again a small position in the absolute, but larger in view of the current $135 million market cap of the company. AVII shares are down strongly this year, by two-thirds year-to-date, with the most recent fall after it received news in mid-October that it did not qualify for a Department of Defense (DoD) contract award for the clinical development of its influenza drug candidate, AVI-7100, for post-exposure prophylaxis.
The following are the stocks that Perceptive Advisors is bearish about based on their Q3 selling activity:
UnitedHealth Group Inc. (NYSE:UNH): UNH is a diversified health and well-being company, serving more than 70 million Americans. Perceptive sold completely out of its $17.2 million position in the company, among their top bearish moves in Q3. UNH stock currently trades near its highs for the year, at a premium 10 forward P/E and 1.8 P/B compared to averages of 9.3 and 1.6 for its peers in the HMO group.
Valeant Pharmaceuticals (NYSE:VRX): VRX develops primarily branded drugs to treat central nervous system disorders, pain and cardiovascular disease. Perceptive completely sold out of its $9.3 million position in the company in Q3. VRX shares overall have performed well this year, up almost two-thirds so far in 2011 versus the 2% rise for the average pharmaceutical company, and they trade at a premium current 18-19 P/E on a TTM basis compared to the 12.9 average for its peers in the group.
United Therapeutics Corp. (NASDAQ:UTHR): UTHR is a biotech company that develops therapies to treat cardiovascular, inflammatory and infectious diseases. Perceptive completely sold out of its $14.1 million position in Q3. UTHR shares currently trade at their lows, down by a third this year, and they trade at a discount 10-11 forward P/E and 2.2 P/B compared with averages of 21.1 and 6.2 for its peers in the group.
(Click chart to expand)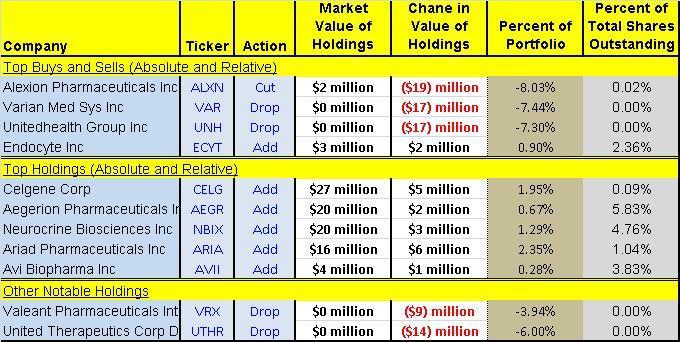 Credit: Historical fundamentals including operating metrics and stock ownership information were derived using SEC filings data, I-Metrix® by Edgar Online®, Zacks Investment Research, Thomson Reuters and Briefing.com. The information and data is believed to be accurate, but no guarantees or representations are made.

Disclosure: I have no positions in any stocks mentioned, and no plans to initiate any positions within the next 72 hours.
Disclaimer: Material presented here is for informational purposes only. Nothing in this article should be taken as a solicitation to purchase or sell securities. Before buying or selling any stock you should do your own research and reach your own conclusion. Further, these are our 'opinions' and we may be wrong. We may have positions in securities mentioned in this article. You should take this into consideration before acting on any advice given in this article. If this makes you uncomfortable, then do not listen to our thoughts and opinions. The contents of this article do not take into consideration your individual investment objectives so consult with your own financial adviser before making an investment decision. Investing includes certain risks including loss of principal.