It has been said that the best place to look for a new mine is next to an existing mine. -- Harris Kupperman, Mining Services Primer, Nov. 10, 2009.
If the premise in that quote is true, there is more gold to find in Mongolia. As discussed previously in Bob Johnson's article on Oyu Tolgoi and my article on Copper Investing In Mongolia, the joint venture of Ivanhoe Mines (IVN), Rio Tinto (NYSE:RIO) and the Mongolian government at Oyu Tolgoi is a massive project.
The November 2011 corporate presentation by Ivanhoe Mines offers insights into the size of this project.
Click to enlarge.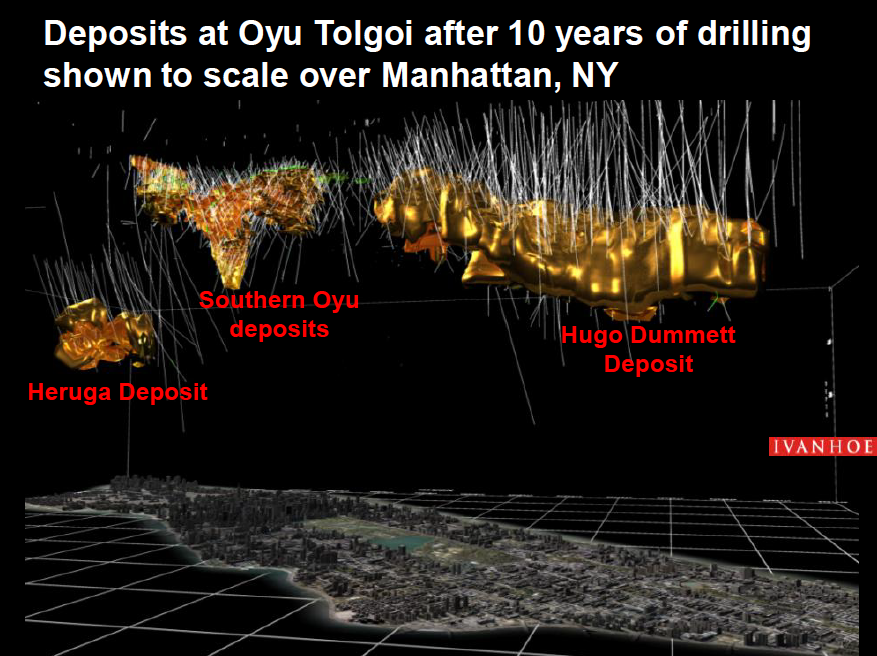 Source: Ivanhoe Mines November 2011 corporate presentation.
Average annual output of the mine at Oyu Tolgoi during the first 10 years:
1.2 billion pounds of copper
650,000 ounces of gold
3 million ounces of silver
Peak annual production beginning in year 7:
1.7 billion pounds of copper
1.1 million ounce of gold
5.1 million ounces of silver
The total measured, indicated, and inferred resources is significant.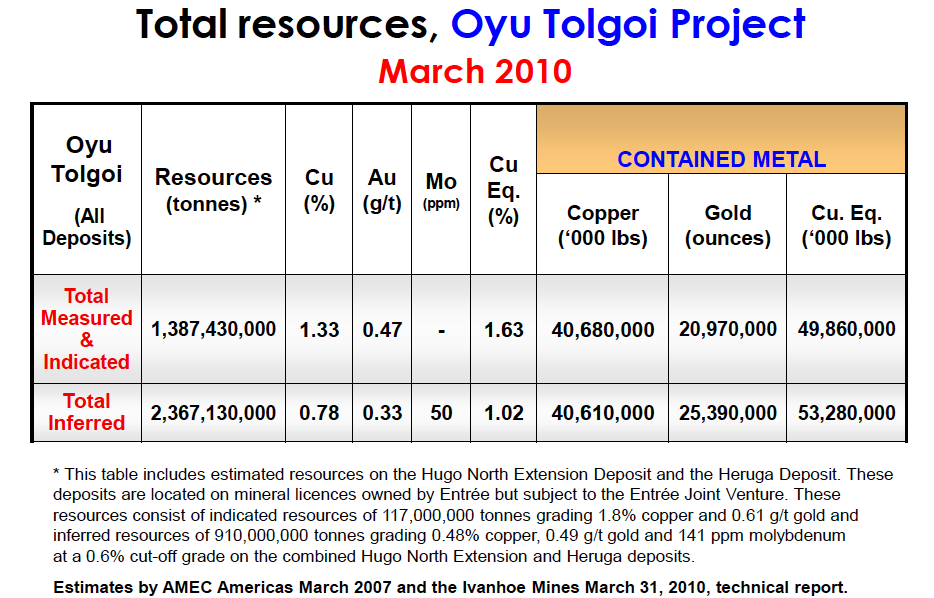 Source: Ivanhoe Mines November 2011 corporate presentation.
Estimates on the lifetime of the Oyu Tolgoi mine range in a wide ballpark from 40 years to 120 years. There is a lot of mining to be done. The below image, in the middle,shows the Eiffel Tower, the Oriental Pearl Tower, and the CN Tower, drawn to scale with the rest of the images.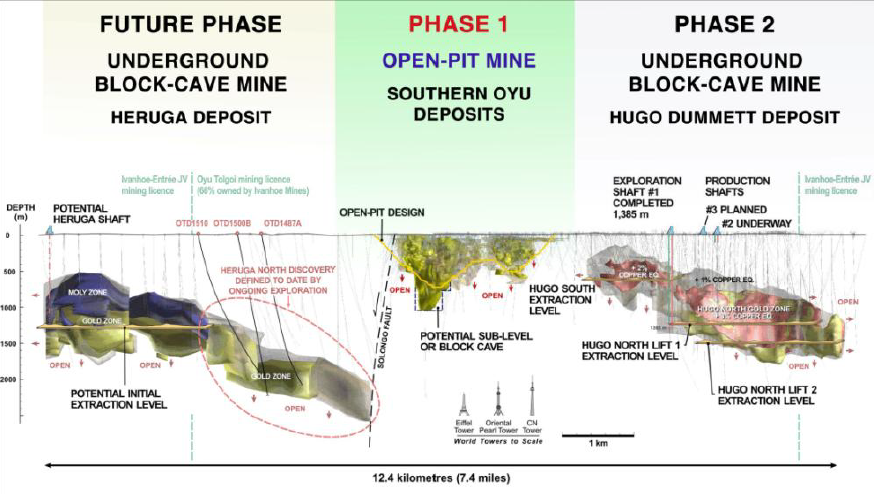 Source: Ivanhoe Mines November 2011 corporate presentation.
It is this mining scale that makes some believe Oyu Tolgoi will boost Mongolia's economic growth and GDP by 25% or more when it goes into production. Oyu Tolgoi is scheduled to go into production in the 2nd half of 2012.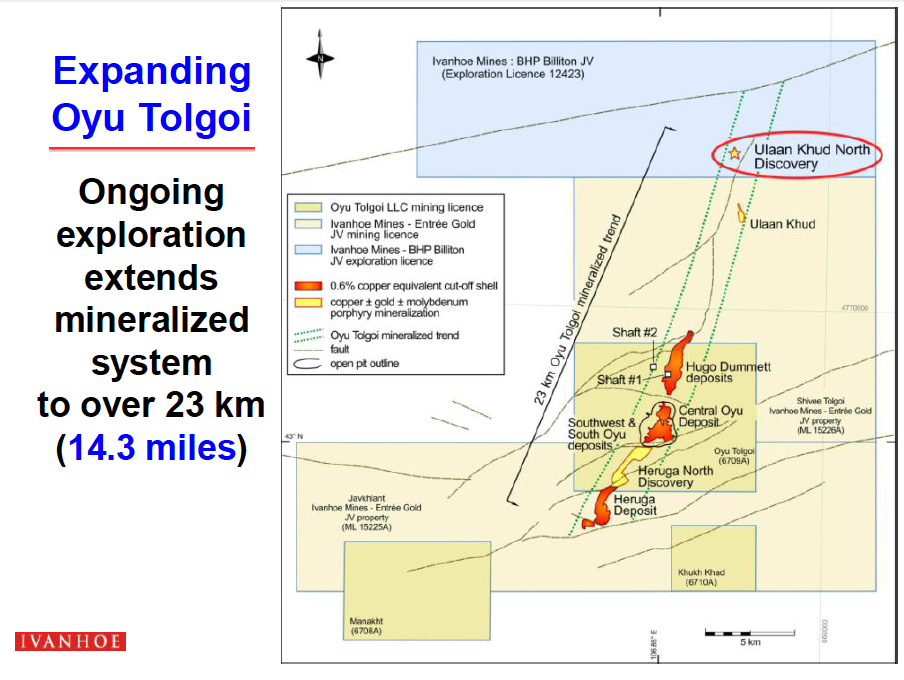 Source: Ivanhoe Mines November 2011 corporate presentation. (Ivanhoe/BHP joint venture site circled in red.)
Following the premise from the quote at the start of this article, what prospects are there near the giant existing mine for investors?
First to follow the premise of that quote is Ivanhoe. Ivanhoe additionally has a 50/50 joint venture with BHP Billiton (NYSE:BHP) 23 kilometers away (pictured above) that they believe will show the mineralized system extends beyond the Oyu Tolgoi property.
Companies Covered And Not Covered By This Article
Seeking Alpha is dedicated to stocks that can be traded in the U.S. Thus, companies traded outside the U.S. will be briefly mentioned here as not covered by this article so that there is a perspective on the broader picture of gold mining in Mongolia.
I have previously covered two stocks at length that could feature in this article as well. Copper-gold companies Kincora Copper (OTC:BZDLF) and Voyager Resources (OTC:VOYRF) both have properties near Oyu Tolgoi and were discussed at length in my previous article on Copper Investing in Mongolia.
Undur Tolgoi Minerals is so newly formed that its UTM stock ticker does not appear yet on Yahoo Finance as of this December 14, 2011, writing. The company is currently only trading in Canada, has a market cap of about $12 million (as of the private placement's closing on December 8, 2011), and it seems 95% of the company's outstanding shares will be in a 4-month lock up period that concludes March 8, 2012.
James Passin of the Firebird Funds, a hedge fund group with a significant footprint in Mongolia, is chairman of Undur Tolgoi Minerals. Undur Tolgoi's corporate presentation shows a 100% interest in a copper-gold-molybdenum prospect on "9,620 hectares of property located approximately 100 kms from Ivanhoe's 'Oyu Tolgoi' copper and gold mine." (The March 2011 NI-43 101 report on the company's property is available; Mr. Passin, and his understanding of investing in Mongolia, can be met via video.)
London traded Central Asia Metals has "a JORC classified resource estimate of 540koz" of gold at its Ereen project in Mongolia (near Boroo which is discussed below), a copper-gold project at Alag Bayan 100 km away from Oyu Tolgoi, as well as molybdenum project in Mongolia and a copper project in Kazakhstan.
Hong Kong traded Mongolia Investment Group and North Asia Resources both have some gold interests in Mongolia. They are both diversified, and gold is not their particular focus.
Diversified Miners With Interests In Gold In Mongolia
Boroo Is Centerra, But Centerra Is Not Just Boroo
Centerra Gold (OTCPK:CAGDF) has mining operations in Kyrgyzstan and Mongolia, along with multiple international prospects. Its subsidiary in Mongolia is named Boroo Gold. The company has a recent market cap of $5.25 billion. Centerra Gold was previously part of Cameco, a company discussed in my article on uranium in Mongolia, and was spun off from Cameco in 2004.
As local Mongolian brokerage ResCap details in its January 2011 Mongolia 101 report:
Boroo started production in 2003, and in 2003 - 2009 the company extracted around 1.26 million oz of gold... [its] reserves are almost depleted by now... The exploration license for Gatsuurt deposit with proven reserves of 1 million oz of gold also belongs to Centerra Gold.
Boroo Gold's (Centerra's) main gold deposit in Mongolia was at the eponymous Boroo deposit. Its past production is part of why gold revenues are in contention for 3rd place in revenues for the Mongolian economy among natural resources as detailed below.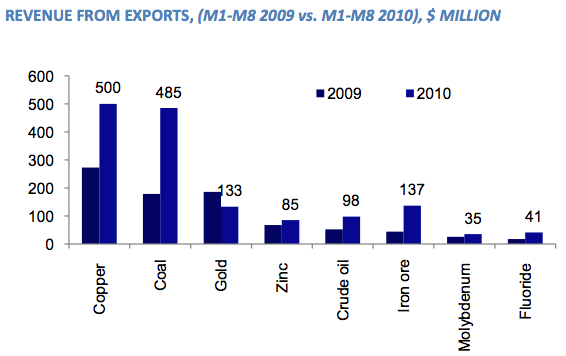 Source: Ministry of Mineral Resources and Energy of Mongolia, ResCap's Mongolia 101 (January 2011).
In the clip from Centerra's May 2011 presentation below, one can easily see that the majority of the company's production and revenues are coming from its Kyrgyzstan Kumtor project. The mine at Boroo has actually been closed. However, the mill at Boroo has stockpiles from the Boroo project the company estimates will last two to three years.
In case the chart below is unclear on the importance of Kyrgyzstan to Centerra, a November 2011 article by Greg Klein profiling the company quotes Centerra CEO Steve Lang:
We're probably 95% of the gold production in [Kyrgyzstan] and about 45% to 50% of the country's industrial output.
Source: Centerra Gold May 2011 presentation.
In the same article by Steve Klein, a couple of other projects in Mongolia are detailed. The aforementioned open-pit Gatsuurt mine is 55 km from the company's mill at the Boroo site. The site is ready to go, structures are in place, transportation trucks and the road from mine to mill are prepared to mine an estimated 1.2 million ounces of gold. However, there is "a 2009 law banning all mining in river basins and forests" that is problematic for this mine. Centerra is clearly trying to work this out with the government on all fronts as a September 2011 article in the UB Post cites, "Boroo Gold is an example of a nature friendly mining company."
Matthew Hill writes that Centerra's goal with production from Gatsuurt is to get its production level up to 150,000 to 200,000 ounces of gold per year. Mr. Hill also notes that the ban on mining in river basins and forests has faced opposition, and led to companies affected threatening to sue the government. Problematically, the government does not have funds to settle claims with all miners affected by the law. Prime Minister Batbold has "formed a parliamentary committee" to revise the law. However, with national elections in Mongolia coming in June 2012, a revision of this environmental law affecting miners has gone onto the back burner and may not be revised until after elections, if it is revised at all.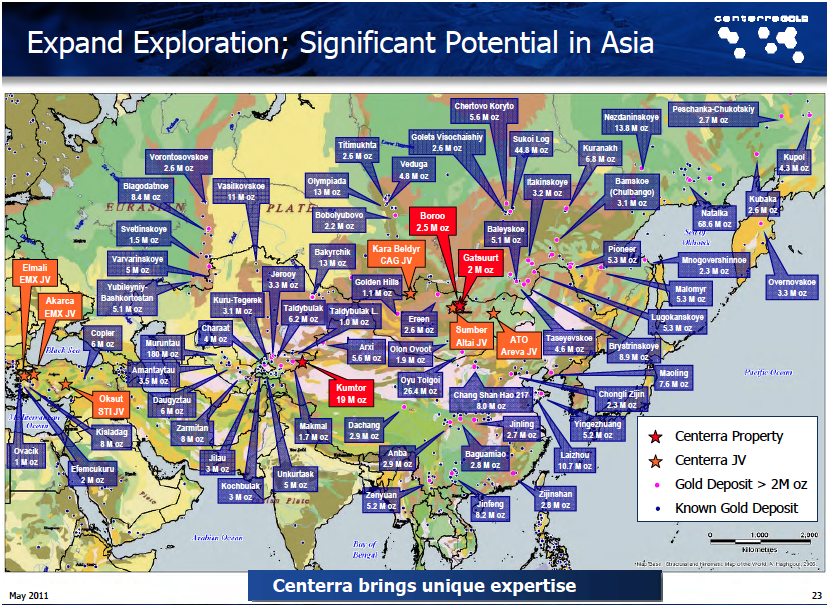 Source: Centerra Gold May 2011 presentation. Mines on this map in Mongolia are: Boroo, Gatsuurt, Kara Beldyr, Sumber, ATO, Golden HIlls, Ereen, Olon Ovoot, and Oyu Tolgoi.
Third quarter 2011 earning were up 396% year-over-year for Centerra Gold. While the company has promising prospects at Altan Tasgaan Ovoo and Sumber Altai in Mongolia that are detailed in the Steve Klein article, as well as a broad vision for expansion in Asia detailed above, for the time being Centerra is clearly a company whose principal profits are in Kyrgyzstan.
Entree Gold
Entree Gold (NYSEMKT:EGI) has projects in Australia, the United States, Peru and Mongolia. Entree's resource projects are primarily focused on copper and gold, but they also have some projects with molybdenum, coal, uranium, and iron. Rio Tinto owns 12% of the company and Ivanhoe Mines owns 11% (as of November 2011). Recent market cap is $142 million.
Notably Entree Gold recently had a private placement offering of 10 million shares at $1.25 per share. It was announced on November 30, 2011, that Rio Tinto exercised "its pre-emptive rights in full" and purchased all of the shares offered plus roughly another "1.48 million shares... Total gross proceeds from the offering [were] about $14.35 million."
Despite a highly diversified portfolio, the company's current presentation highlights their proven resources at two projects in Mongolia and one in Nevada in their current corporate presentation.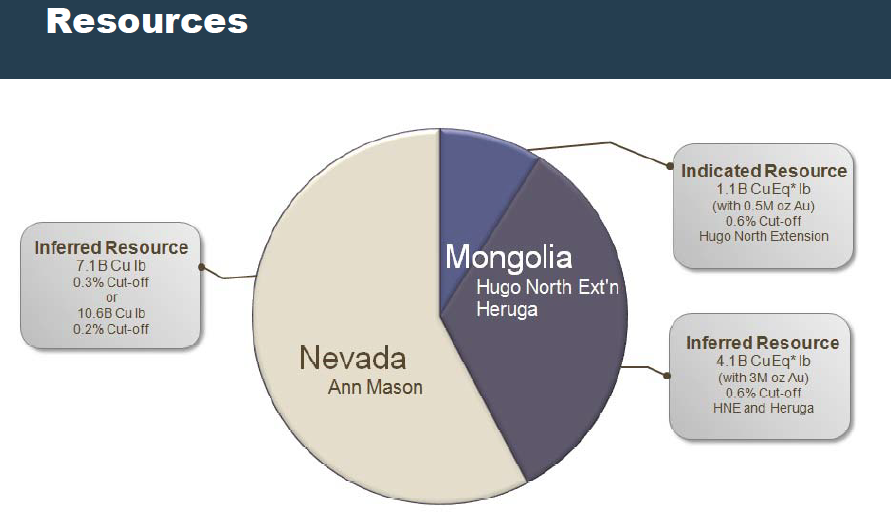 Source: Entree Gold November 2011 presentation.
Thus, returning to the theme that the best place for a new mine is near an old one, Entree's Hugo North Extension and Hergua projects are both joint ventures between Entree and Oyu Tolgoi LLC (the Ivanhoe-Rio Tinto-Mongolia government partnership). Oyu Tolgoi LLC own 80% of the project and Entree owns 20%. In the above section about Oyu Tolgoi, Hugo Dummet is Phase 2 work at Oyu Tolgoi while Heruga is a "future phase."
Source: Entree Gold November 2011 presentation.
While Entree has access to good resources and a share in Oyu Tolgoi's development, its interests in Oyu Tolgoi are on the outer edges of the mine. One should consider the below timeline from two standpoints:
a) as an investor in Entree Gold, it shows production is not a short-term prospect;
b) as an investor in Mongolia, it shows there is a long tail to the production coming on-line at Oyu Tolgoi, as the timeline is 60 years long.
Source: Entree Gold November 2011 presentation. HNE = Hugo North Extension.
Importantly, Entree Gold also has a parcel of land called Shivee West in which they own a 100% interest right next to Oyu Tolgoi. Entree Gold is still in the exploration phase of this property, but notably attained a mining license for the property in 2009 (mining license are granted for 30 years and can be extended twice for 20 years per each extension).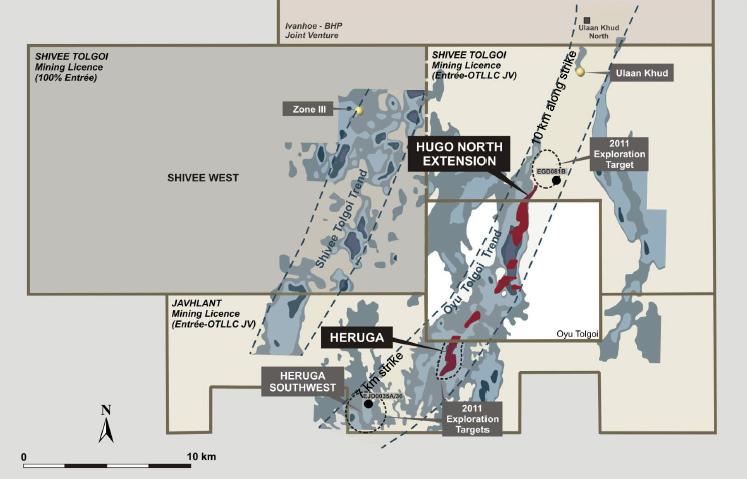 Source: Entree Gold November 2011 presentation.
Entree Gold's website offers plenty of data to research. This includes the 269 page March 2010 NI 43-101 report which is referred to on the site as the most up-to-date resource assessment on Shivee West, as well as having updated inferred mineral resource estimates for Heruga. There is also the 565 page June 2010 NI 43-101 report with further information on development options for the Hugo North Extension and Hergua deposits.
Erdene Resource Development
Erdene Resource Development (OTCPK:ERDCF), formed in 2002, has a recent market cap of $34 million and has an array of projects (market cap per Yahoo Finance as of December 9, 2011).
In Mongolia:
Outside of Mongolia:
At the Mongolia Investment Summit on October 26, 2011 in Hong Kong, Erdene Resource's presentation included 15 slides on their Altan Nar prospect out of a total of 36 slides - nearly half the presentation was about Altan Nar. Recent results from Altan Nar had only arrived on the news wire only on October 12, 2011.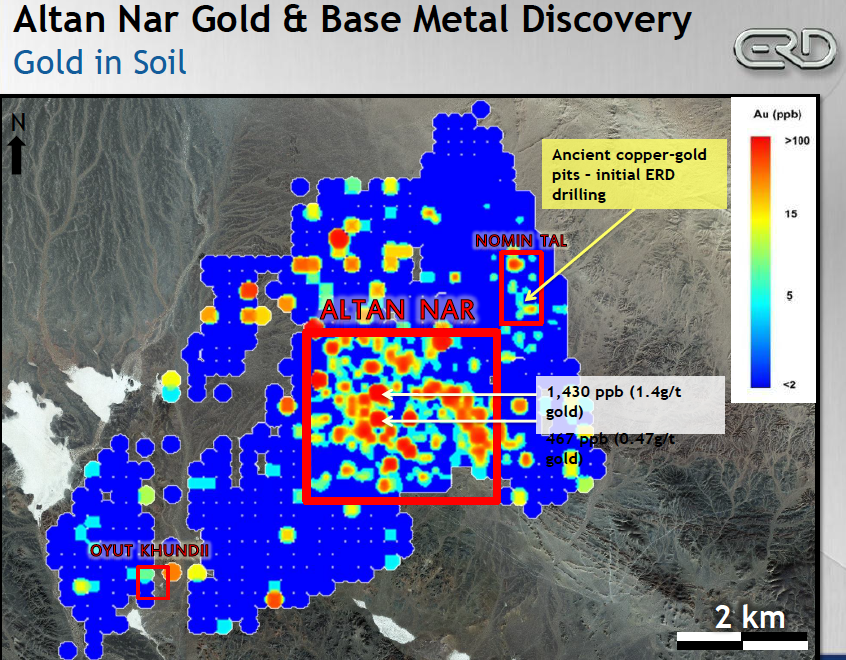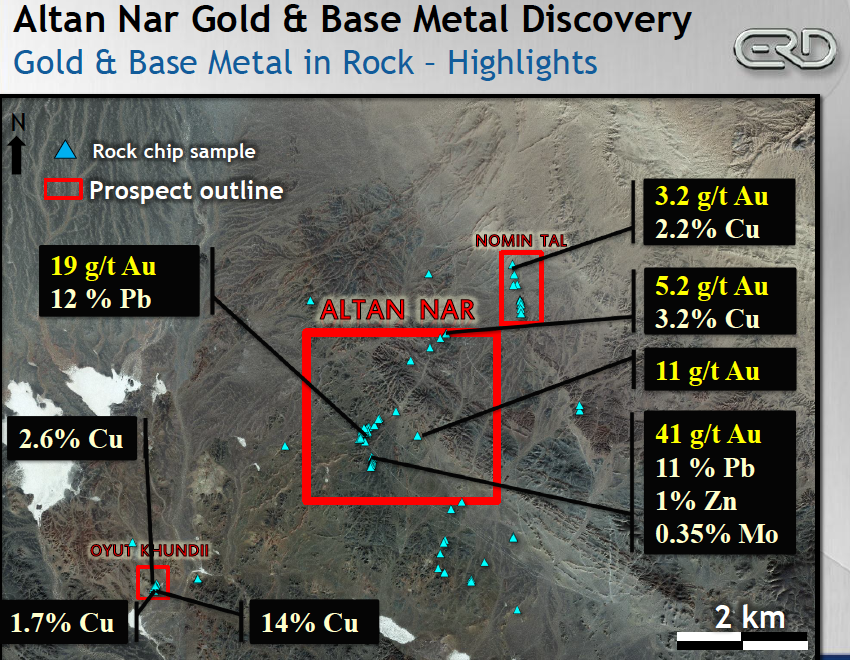 Source: Erdene Resource Development October 26, 2011, presentation at the Mongolian Investment Summit In Hong Kong.
As you can see below, Altan Nar is near Zuun Mod. Furthermore, Zuun Mod and Altan Nar are about 500 to 550 kilometers west of Oyu Tolgoi. A nearby copper-gold project by Voyager Resources (OTC:VOYRF) is also noted in the second map below.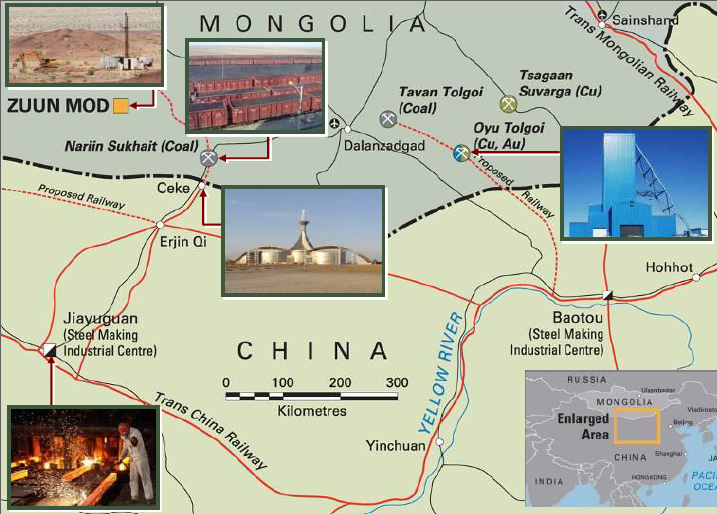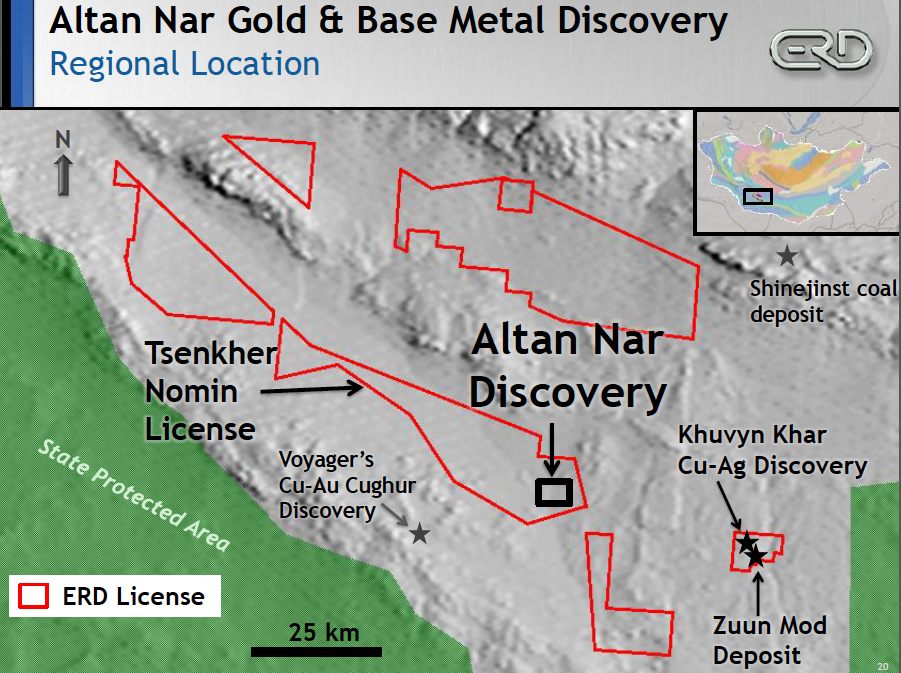 Source: Erdene Resource Development October 26, 2011, presentation at the Mongolian Investment Summit In Hong Kong.
Erdene Resource's two page fact sheet discusses all its projects including molybdenum, a resource used in high-strength steel. The fact sheet notes there is an "anticipated deficit" in global molybdenum resources available by 2014. The 64-page NI 43-101 on the Zuun Mod project from June 2011 is available on SEDAR. A summary that provides a good picture of Erdene's positions prior to the Altan Nar discovery in June 2011 is on ResCap's brokerage site.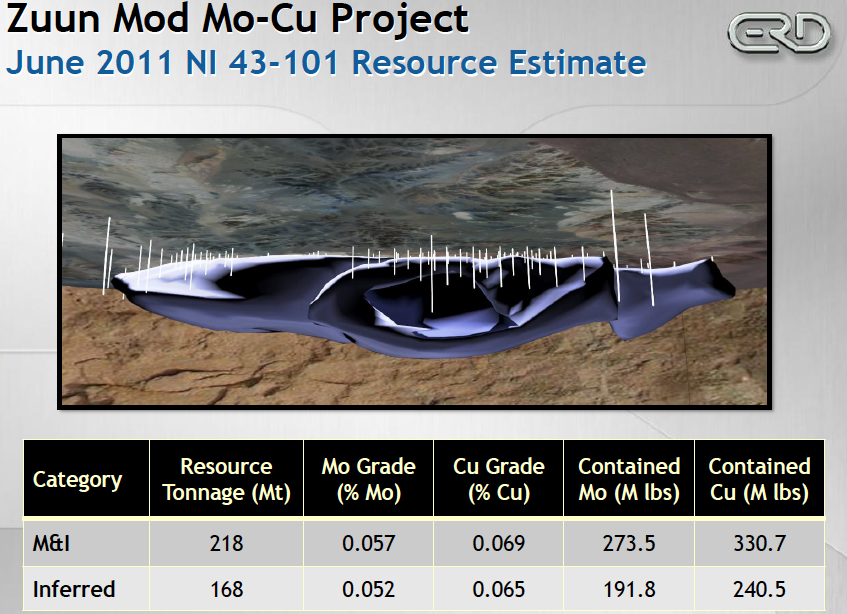 Source: Erdene Resource Development October 26, 2011, presentation at the Mongolian Investment Summit In Hong Kong.
In an interesting move, on November 16, 2011, after the discovery of gold and other resources at Altan Nar, Erdene Resoure's CEO Peter Akerley announced:
As our company continues to advance our activities in Mongolia, now enhanced by our new gold discovery, we are very pleased to provide Mongolian investors an opportunity to invest in the company. We believe it is of strategic value to the company to increase our Mongolian shareholder base and are pleased to do so through a Mongolian firm reflecting the increasing maturity of the mining investment sector in the country as one of the many benefits of the rapidly growing mining industry.
The private placement was handled by Mongolian International Capital Corporation (also known as MICC). On December 6, 2011, the company announced they completed the private placement successfully raising a shade more than the $2 million sought at 40 cents per share.
Micro-Caps
Efforts were made over a period of two weeks to contact several micro-cap stocks in the gold mining sector in Mongolia. These stocks have low market cap valuations under $20 million. Only one responded. Others will be included in future articles when there is sufficient data available.
Meritus Minerals
Meritus Minerals (OTC:MERMF) has a recent market cap of $2.25 million. They are currently conducting a non-brokered private placement to raise capital. An e-mail from Managing Director Terry Bates stated that,
Subject to the current financing being successfully completed we will be carrying out diamond drilling on new untested targets on the property over the next few months. We are also in the process of preparing all the reports and information needed to support an application for resource registration and mining license application which will be lodged next year.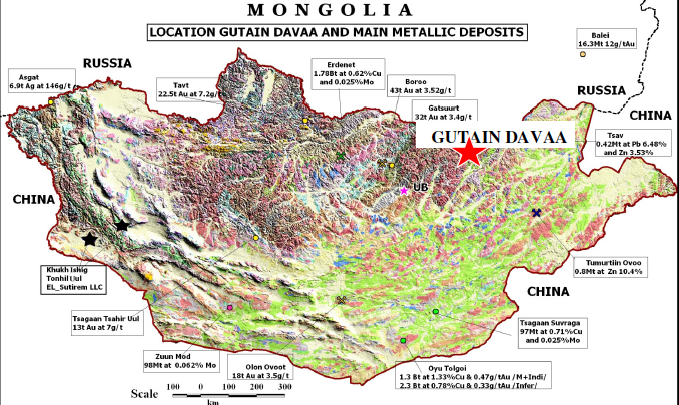 Source: Meritus Minerals August 2011 corporation presentation.
Meritus Minerals flagship property is the Gutain Davaa gold project in Mongolia. The company owns a 100% interest in 3,928 hectares. The prospect is about 300 kilometers east of Centerra's Boroo and Gatsuurt deposits.
Mr. Bates acknowledges that there are not any analyst reports on the company. Information on the company's drill results to-date are available both in the corporate presentation and on the company's web page for projects under way. Investing in this company is speculative at this time. There is far more data on the company's website, and it is requisite to review all that data personally prior to investing.
Newsworthy Notes On Ivanhoe Mines And Rio Tinto As This Article Goes To Press
On December 12, 2011, an arbitration ruling in a case between Ivanhoe Mines and Rio Tinto likely changed the trajectory of the two companies and the future of Oyu Tolgoi. A "poison pill" Ivanhoe had created to prevent Rio Tinto from taking over a majority and/or complete ownership of Ivanhoe was struck down. An agreement barring Rio Tinto, a 49% shareholder of Ivanhoe Mines, from making a hostile bid for Ivanhoe Mines will now expire January 18, 2012. Ivanhoe Mines has pointed out that some shareholder rights' provisions "remain in effect until scheduled expiry in April 2013" (Bloomberg; The Globe and Mail).
Rio Tinto's market cap is more than seven times greater than Ivanhoe Mines as of this writing (December 14, 2011, per Yahoo Finance Rio Tinto has a $90 billion market cap while Ivanhoe Mines has a $12 billion market cap). The bottom line is that the impact of Oyu Tolgoi's profits once operational would be far more significant for shareholders in the smaller Ivanhoe than in a company seven time as large.
Shareholders initial reaction has been to sell off Ivanhoe Mines shares in disappointment that that the company will likely be absorbed into the larger Rio Tinto, and that they will not be able to own Ivanhoe Mines through decades of Oyu Tolgoi's peak production years.
As Oliver Belfitt-Nash of Monet Capital, a Mongolian brokerage company, noted promptly in his news update to brokerage clients on December 13, 2011:
Rio's latest win against Ivanhoe marks an important step in consolidating Oyu Tolgoi's ownership. As Rio gains the upper hand, the international giant looks to be edging in on Ivanhoe to eventually take control of Mongolia's prize asset. For Mongolia, this may mean the opportunity to deal with one of the most experience miners in the world - one that has trodden the political/social line well in the past and knows how to placate all parties involved.

As elections loom [national elections are in June 2012 in Mongolia] resource nationalism bubbles in the local psyche, and mining become the main topic of political discourse, we believe a stronger international partner will help to smooth any further hitches in the plan. The aggressive young Ivanhoe may well give way to a more diplomatic Rio and for the better, in our opinion.
Subsequent to the ruling, Rio Tinto has said they will not necessarily buy all of Ivanhoe's shares. This may have something to do with the shareholder's rights agreement of Ivanhoe Mines that does not expire until April 2013, or the fact that Ivanhoe Mines is still consider a legal response to the ruling, or it may be gamesmanship by Rio Tinto to avoid savvy arbitrage players pumping up the price of Ivanhoe Mines in the interim.
Mr. Belfitt-Nash updated his comments on December 14, 2011:
Against the expectations of investors, Rio have stated they will not be buying out Ivanhoe... The latest statement was clear enough to cause damage to Ivanhoe shareholders, but vague enough to have not made any promises, and we believe investor fear is the main cause of the drop in [Ivanhoe Mines share] price rather than a change in the true value of Ivanhoe... However, the most likely explanation is that Rio will in fact acquire Ivanhoe but at a price they deem fit. Rio have stated the company will acquire a majority and although they have 'no intention' of buying the rest of Ivanhoe, this may well change come January especially when the company 'reserves the right to change its intention in the future.' After all, the market price [of Ivanhoe] is now a lot more appealing.
Rio Tinto will clearly purchase Ivanhoe Mines shares sooner or later. It is unclear where the advantage to shareholders is of selling now compared to waiting to discover how much Rio Tinto is willing to pay for the shares of Ivanhoe Mines later. However, investors can be emotional and in Ivanhoe Mines first full day of trading after the announcement of the arbitration settlement, Ivanhoe Mines share price was down 22.66%.
Share price aside, the success of Oyu Tolgoi remains certain. The resource is massive. However, the ability to invest in this project in a way that shareholder value will fully appreciate the benefits of this project is narrowing. Other mining companies may provide better leverage to appreciate the gains that will be felt in Mongolia's mining boom.
Conclusions And Considerations
Copper and coal are clearly Mongolia's two primary exported resources. However, one can see within the data that as the amount of natural resources discovered and mined rises, particularly with copper, there is more and more gold being found in Mongolia as well.
Mongolia's mining frontier is still being explored. There are numerous small mining licenses near the nine principal gold mining properties in Mongolia detailed on Centerra Gold's map of "Significant Potential In Asia" at the end of the Centerra section above.
For those trying to understand the geology and geography better, you will notice near Centerra's property in the north of the country is where other gold deposits such as Ereen are found, By the same notion, to the east and west of Oyu Tolgoi in the south of the country, there are many other copper-gold and polymetallic properties being found. This is a loose guide and not a binding truth, as it should be noted the Erdenet Mining Corporation jointly owned by the governments of Mongolia and Russia is a massive copper deposit not too far west of Centerra's Boroo. The guiding principal of this article that the best place to find a mine is near an existing mine is proving true in Mongolia. Properties near the mining sites of Boroo and Oyu Tolgoi continue to prove this theory.
There are many moving parts in Mongolia's natural resources mining boom. Gold will be one part of that boom in the same fashion that for most companies in this article gold will be one of many resources they profit from.
Disclosures: I am long Ivanhoe Mines (IVN), Mongolia Growth Group (OTCPK:MNGGF) and Origo Partners (OPP.L). Origo Partners is a 45% shareholder of Kincora Copper (OTC:BZDLF) and also owns a portion of the brokerage ResCap, data from which I cited in this article. Harris Kupperman, who is quoted at the top of this article is CEO of Mongolia Growth Group (OTCPK:MNGGF). I am participating in a private placement with Mongolia Growth Group which closes on December 23, 2011. I met Mr. Belfitt-Nash and management of Monet Capital in September 2011. I do not have a brokerage account with Monet Capital or ResCap at this time, although I may open an account with them in the future (albeit not in the next 72 hours). I have no positions in any other stock mentioned in this article and no intention to purchase or sell any holdings mentioned in this article or these disclosures in the next 72 hours, nor did I make any such purchases or sales in the 72 hours prior to publication.