I've spent much of the year anticipating and chronicling the downfalls of Research In Motion (RIMM) and Netflix (NASDAQ:NFLX). When the dust settles, both stories become worthy of a book.
(In fact, if you know an agent or publisher willing to take me on to tell the tale of Netflix, send them my way).
But companies other than RIM and Netflix could use laugh tracks weaving through their 2011 narratives.
Consider Avon Products (NYSE:AVP). While I have yet to write about it, I've followed Avon's story closely for a while. You see, my mother-in-law is an Avon lady. As the stock tanked and more reports of corruption emerged, I would often query her for inside information on her potential involvement in bribery and the status of CEO Andrea Jung.
It seems that Jung has been on Cramer's worst CEO list since I was 12. Maybe her firing will kick the boards at RIM and Netflix into gear. There's something wrong when it's much easier to oust underperforming female CEOs (see, also, Carol Bartz) than really bad male leaders.
Anyhow, Jung's firing should stand as a lesson to boards and large shareholders. Look for the writing on the wall. Heavy hitters who could influence RIM and Netflix obviously did not - or they just ignored the obvious - and now, if they make a move they do it, like Avon and Yahoo (YHOO), from positions of weakness with both company and stock mired in death spirals.
If the Netflix story was not so ugly, we would have likely paid much closer attention to the blunder that is Coinstar (NASDAQ:CSTR). Let's not forget how the company botched earnings estimates at the beginning of the year leaving some shareholders in the lurch. First, the company guided lower, only to turn around a few months later and up estimates. That's very RIM-like.
Additionally, Coinstar has threatened for months, if not for more than a year, that it will enter the digital realm via some sort of streaming partnership. It never happened with Amazon.com (NASDAQ:AMZN). It now looks as if it will take place with Verizon (NYSE:VZ), but we're still not sure. Sort of sounds like a RIM-style product launch to me.
Coinstar's chart, courtesy of Yahoo Finance, mirrors the uncertainty we get from the firm's management team:
Click to enlarge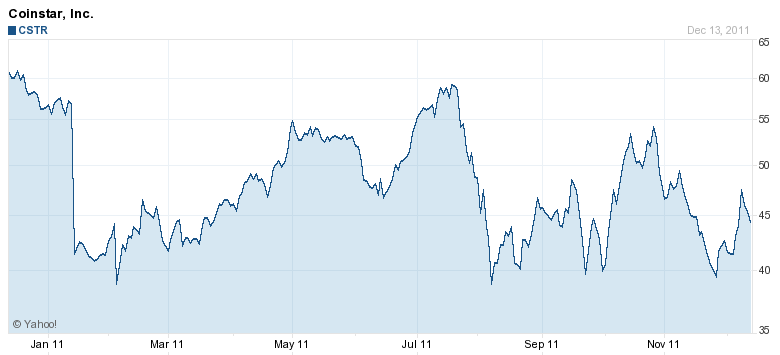 Not to make another RIM comparison, but why does Coinstar keep calling itself Coinstar anyway? Just as RIM should become BlackBerry, Coinstar should become something else. Both companies need help from the people who executed Domino's (NYSE:DPZ) excellent 2011 turnaround.
Just like lots of people love Netflix or their BlackBerry (I like mine, too), large numbers go crazy over Yelp. I'm a big fan of Yelp. I use it a lot like Amazon. When I want some reviews on a restaurant or other place of business, I go to Yelp. What they have going for them is that I type Yelp directly into my browser and many other users go directly to the company's mobile app. But how long will that last?
Just because you love a product or service does not mean that it must stay around forever. Netflix and RIM could very well go down the tubes the way the once-popular Webvan did.
Even though it did not happen in 2011, the dumbest move Yelp made was turning down an offer from Google (NASDAQ:GOOG). In 2011, it became clear that Yelp would do an IPO. While I agree that the company is heading toward an IPO more practically than other recent issues, Google could stomp it out at a moment's notice. There's a reason why Google picked up Zagat in 2011. I think we're about to find out why.
Disclosure: I am short NFLX.
Additional disclosure: I am long NFLX June 2012 $40 put options.