When a large corporation makes it to one of Fortune's lists, it could be just good luck. Making to a second list, it could be that this corporation does something right. But making it to the "Blue-Ribbon," to four or five lists at the same time, it could be that it excels in many things. But does excellence translate to superior equity performance? Should investors buy, sell, or hold Blue Ribbon companies?
To answer these questions, we look at eight companies that toped this year's Blue-Ribbon list—making it to five of Fortune's lists (Fortune 500, Global 500, World's Most Admired Companies, 100 Best Companies to Work For, 100 Fastest-Growing Companies, and 100 Most Desirable MBA Employers).
Five out of these eight companies saw their stock rising in 2011, beating the S&P 500, while 3 saw their stock falling, lagging the S&P 500.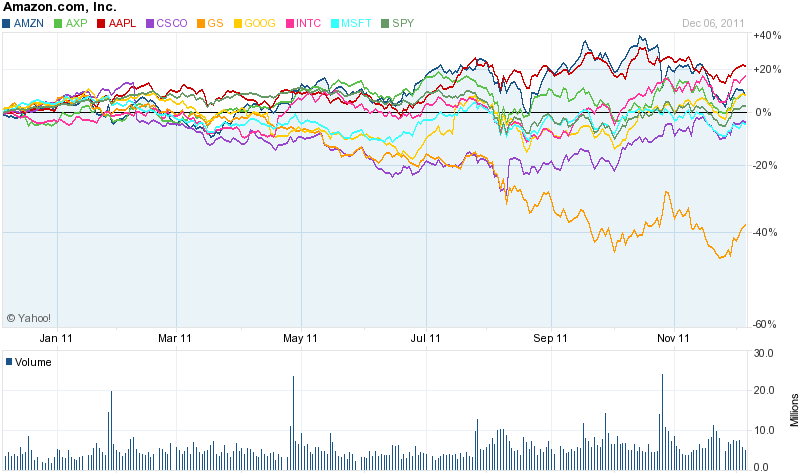 Past performance isn't always indicative of future performance, however. That's why we have to look at each company separately.
1. Amazon.com (NASDAQ:AMZN)
As we wrote in previous pieces, Amazon is still an ascending angel from the dot-com years. The company has demonstrated a remarkable ability to reinvent itself and expand into new business, including reading devices that may end up gaining an edge even against Apple. Amazon's immediate future, however, is challenged by extremely low operating margins; the shifting of the book sales industry from hard copies to e-books, an area with fewer barriers to entry; a loss of focus—the company is trying to compete head to head with Apple in wireless devices, a business outside its core competence. While Amazon may be a short-term buy, as institutional investors try to hold on to winning stocks for the end of the year "window dressing," I will be cautious over the long-term.
2. American Express (NYSE:AXP)
American Express has a good balance sheet and a well-recognized brand, especially overseas. The problem, however, is that AXP has a great deal of competition by Discover, and Visa and Master card issuers that offer customers money back on their purchases, and no annual fees. I will avoid it.
3. Apple (NASDAQ:AAPL)
The undisputed leader in modern wireless mobile devices, Apple ranks number one on the list of the most-admired computer company, and is on the top of the list of prospective employers for MBAs. The question, however, is whether things get better for under the new leadership. Apple is further facing potential competition from Google with acquisition of Motorola Mobility (NYSE:MMI) that is expected to create Apple's first serious challenge in the iPhone market, especially in emerging markets. Already Dell Computer (DELL), and Baidu (NASDAQ:BIDU) have teamed together to manufacture and market Android-based phones in the Chinese market —that's why I will avoid the stock until I get better visibility on leadership transition.
4. Cisco (NASDAQ:CSCO)
Cisco, a fallen angel from the dot-com era and long-rumored as a turnaround, is facing its own problems: the transition from and emerging to a mature company; growing competition from Alcatel-Lucent (ALU), Hewlett-Packard (NYSE:HPQ), Juniper Networks (NYSE:JNPR) and Huawei Technologies Co.; inability to keep up with competition; and its own leadership issues. But with earnings improving, Cisco is a trading buy.
5.Goldman Sachs (NYSE:GS)
Goldman Sachs is a falling angel of the subprime era. The company maintains a strong brand name, but its business has suffered from sluggish trade, a weak underwriting trend, and tight regulations. I will stay away until I get better visibility.
6. Google (NASDAQ:GOOG)
Google, another promising technology company, is facing its own issues that cloud its immediate future:
Weak Economy. Google's revenue comes mostly from sales of advertisement space, which are discretionary in company budgets. This means that a weak economy or an outright recession will make a big dent in Google's revenue.
Move into Manufacturing. With the purchase of Motorola Mobility, Google is soon to bundle together its software with Motorola Mobility's hardware, as Apple has been doing with its iPhone.

While this strategic move may help Google to compete efficiently and effectively against Apple, it raises serious questions as to whether the company can become a good manufacturer and its blend its business model well with Motorola Mobility's.

Developing search engines and advertising and operating platform systems requires a more liberal and entrepreneurial organization that allows employees to experiment with new things with little supervision. Manufacturing mobile devices, on the other side, requires a less liberal organization that defines the different tasks employees must perform under extensive supervision, which includes close monitoring and control.

Regulation issues. After settling regulation issues in the US, Google continues to face issues in Europe and Asia, especially Korea and China. I will avoid the stock, especially after its recent run up.
7. Intel (NASDAQ:INTC)
Intel is fallen technology angel, suffering from the shift of the industry from PCs to mobile devices. Recently, however, Intel has come up with new products to catch up with the trend. Intel's low PE (11.53) and 3.63 percent make it a good investment even among conservative investors. The company, however, had a recent setback due to the Thai floods that seem to have slow-down the entire PC industry. That's why I will avoid it for the time being.
8. Microsoft (NASDAQ:MSFT)
Microsoft is another fallen technology angel, suffering from the shift of the industry from PCs to mobile devices. The company has been trying to move into mobile communications with a partnership with Nokia (NYSE:NOK), but it doesn't seem that promising, as Apple and Google already dominate the industry. I will avoid the stock.
Disclosure: I am long CSCO and short GS.