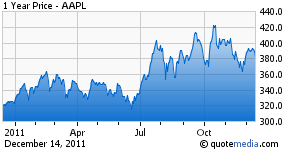 Those looking to see the direction CEO Tim Cook would take Apple Inc. (NASDAQ:AAPL) will get a big clue soon when the company announces its biggest acquisition of the year, an Israeli flash memory company called Anobit.
The reported price, $400-500 million, is close to the size of its largest acquisition ever, Steve Jobs' own NeXT Inc., which cost $564 million in current dollars.
The lesson is Cook wants Apple to be a real hardware company.
Those who think Apple is already a hardware outfit are wrong. Apple creates software, Apple creates designs, Apple sells products and Apple's a big name brand. But Apple mainly buys chip hardware from companies like Samsung (OTC:SSNLF) and assembly services from companies like Foxconn.
But now it's moving to take control of those supply chains:
Apple is killing Intel in mobile chips by focusing on design and software.

Apple's biggest new product for 2012 is likely to be a real PC, its MacBook Air, now estimated to be a $7 billion business.

Apple may accelerate delivery of its iPad 3 to February, showing its ability to turn around designs is accelerating, not decelerating.
Apple is making these moves because, increasingly, hardware is software. So is intellectual property. It's much easier to protect software when it's inside a chip than when it's sent down a wire.
The risk is that it's a lot more expensive to create hardware than to write software. It's incredibly capital intensive. Hardware margins can be wafer thin, while software margins can be very large. Good software inside late hardware can mean products that are too slow and too expensive to compete.
That's why Jobs got out of hardware, turning Apple into a software and design house, a marketing company rather than a manufacturer. Cook is betting the company's future on turning that around, on on solidifying Apple's lead through control of its inputs and manufacturing. He's betting that Apple is now large enough to swing this.
And he may be right.
Disclosure: I have no positions in any stocks mentioned, and no plans to initiate any positions within the next 72 hours.