Robust long-term inflows and growth in assets under management ("AUM") continued to be impressive in first quarter for BlackRock. The company posted decent first-quarter results last week, wherein adjusted earnings of $4.89 per share beat the Zacks Consensus Estimate of $4.51 for the sixth consecutive quarter. Also, the bottom line compared favorably with the year-ago quarter tally of $4.43.
As of March 31, AUM totaled $4.77 trillion, rising 8% year over year. Further, the company witnessed total long-term inflows of $70.4 billion.
In tune with the decent first-quarter results, the BlackRock mutual funds too posted encouraging returns in the first quarter. The best gains for a BlackRock mutual fund hit an encouraging 11.4%, while the lowest gain among the top 15 gainers stood at 4.4%. Another interesting trend in the top 15 list is that it consists of funds from 10 varied categories (considering Large Growth and Mid Cap growth to be different). The top spot is occupied by BlackRock Mid Cap Growth Eq A (MUTF:BMGAX) from the Mid-Cap Growth category, while the 15th ranked BlackRock Small Cap Index A (MUTF:MDSKX) is from Small Blend category.
Fund Family: BlackRock
BlackRock is one of the world's leading asset management firms and offers a range of risk management, strategic advisor and enterprise investment system services. With $4.77 trillion worth of assets under management, the company caters to institutional, intermediary as well as individual investors. Its offerings range from individual and institutional separate accounts, mutual funds and other pooled investment options. BlackRock aims to provide a wide range of investment solutions, helping investors strike a balance between risk and opportunities.
Coming back to the first-quarter returns, the best gains from BlackRock family of 11.4% outperformed the counterparts from American Funds, Vanguard and even Wells Fargo. For American Funds, American Funds EuroPacific Gr R5 (MUTF:RERFX) had the best gains at 5.9%. The top-performing Vanguard fund was Vanguard Pacific Stock Index Inv (MUTF:VPACX), notching up 8%, while the best performing Wells Fargo fund was Wells Fargo Advantage Emerging Gr A (MUTF:WEMAX).
However, BlackRock failed to beat the top return from Fidelity Investments family. The best performing Fidelity mutual fund for the first quarter was Fidelity Select Biotechnology (MUTF:FBIOX), gaining 16% in Q1.
Keep reading our Mutual Fund Commentary section, where we are reporting on performances and best picks from fund families and varied categories.
Top 15 BlackRock Mutual Funds in Q1:
Below we present a table of the top 15 BlackRock funds with the best returns in Q1 of 2015: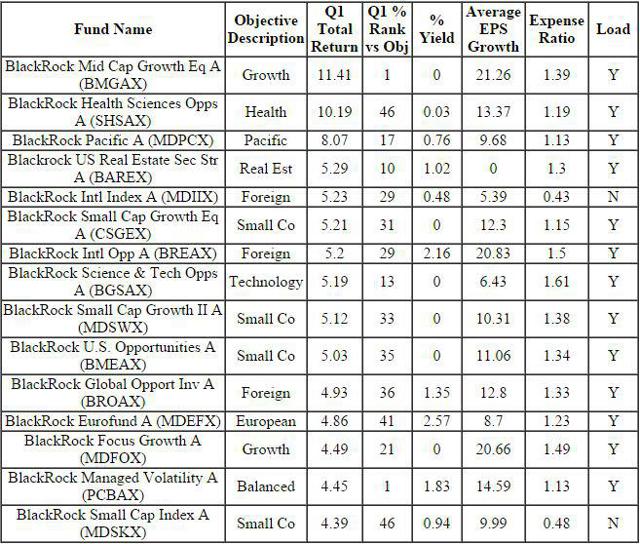 Note: The list excludes the same funds with different classes, and institutional funds have been excluded. Funds having minimum initial investment above $5000 have been excluded. Q1 % Rank vs Objective* equals the percentage the fund falls among its objective. Here, 1 being the best and 99 being the worst.
Zacks Take on the Top 3 Performers
The following are the BlackRock's commentaries on the quarterly performance of the top 3 funds that we listed above:
BlackRock Mid Cap Growth Eq A (BMGAX): The fund gained from strong stock selection belonging to the consumer discretionary sector and particularly the Internet & catalog retail. The largest exposure of the fund was to the consumer discretionary sector. While healthcare and information technology also helped the fund, consumer staples sector was a drag in the quarter. United Therapeutics (NASDAQ:UTHR) and Vipshop Holdings (NYSE:VIPS) were the top contributors, while SanDisk Corporation (SNDK) and Athenahealth (NASDAQ:ATHN) were the biggest laggards.
BMGAX currently carries a Zacks Mutual Fund Rank #3 (Hold).
BlackRock Health Sciences Opps A (MUTF:SHSAX): Positive stock selection across four healthcare sub-sectors, which included pharmaceuticals, biotechnology, medical devices and supplies, and healthcare providers and services, helped the fund. Bulk of the gains was derived from the pharmaceutical and biotechnology sub-sectors.
SHSAX currently carries a Zacks Mutual Fund Rank #3 (Hold).
BlackRock Pacific A (MUTF:MDPCX): Stock selection across markets including India, Korea, Taiwan, Japan and China drove the fund's performance. BlackRock was positive on China and Korea as source of attractive value. Expectations of higher rates in the US makes BlackRock believe that North Asia is in a favorable position to outperform U.S. bond-proxy markets such as ASEAN indices and Hong Kong.
MDPCX currently carries a Zacks Mutual Fund Rank #2 (Buy).
Among the top 15 performers, BlackRock Small Cap Growth Eq A (MUTF:CSGEX), BlackRock Global Opport Inv A (MUTF:BROAX) and BlackRock Managed Volatility A (MUTF:PCBAX) carry a Zacks Mutual Fund Rank #1 (Strong Buy). Meanwhile, BlackRock Science & Tech Opps A (MUTF:BGSAX) and BlackRock Small Cap Growth II A (MUTF:MDSWX) carry a Zacks Mutual Fund Rank #2 (Buy).