Zero Hedge broke news this morning that Netflix (NASDAQ:NFLX) is apparently the target of an "undisclosed SEC investigation." Upon hearing the report and letting out one giant yawn, I emailed Netflix's VP of Corporate Communications, Steve Swasey. Here's the exciting exchange:
Click to enlarge

Maybe it's just because I tend to follow Netflix more closely than the rest of the world, but, for some reason, I often have something tangible to add to the company's story that goes unreported elsewhere.
As usual, Netflix opens itself up to speculation when it issues a "no comment." Although that could be a better approach than letting CEO Reed Hastings put his foot in his mouth. In any event, I have yet to see anybody bring up something reported by the Puget Sound Business Journal back in September regarding Netflix and the SEC.
Stephen E. F. Brown captured a scoop that everybody else seems to have missed. Shortly thereafter, I summarized Brown's work and added my two cents to the report that the SEC was badgering Netflix about how it discloses subscriber metrics, particularly churn. Here's the meat of Brown's September story:
In late April, two months after Netflix filed its 2010 annual report with the SEC, regulators wrote the company asking it to disclose more detail about who subscribes to what (DVD by mail or online streaming plans or both) and about "rates of churn or any other statistics that would better enable investors to understand your business."

... Investors, the SEC was saying, like to know how many customers quit Netflix service during a particular quarter or year, since the company's business model is built on attracting as many customers as possible...

But Netflix disagrees. "With respect to various operational metrics, management has evolved its use of these metrics as the business has evolved," it wrote the SEC in response. Because it is so easy to quit and then restart a Netflix subscription, it said, "the churn metric is a less reliable measure of business performance, specifically consumer acceptance of the service."

The company told the SEC it planned to stop reporting churn for fiscal year 2012.

The SEC wrote back in late June, saying investors do indeed need to know about churn rates.

Netflix counterpunched again, saying that in a single year as many as a third of the people who buy a subscription are people who've quit that same year.

"We do not require long term commitments from our subscribers," it wrote in July.

In its latest reply, the SEC kept its cards close to its chest. "We have completed our review of your filing. We remind you that our comments or changes to disclosure in response to our comments do not foreclose the Commission from taking any action with respect to the company or the filing and the company may not assert staff (i.e. SEC staff) comments as a defense in any proceeding," regulators wrote in a terse, single-paragraph letter.
Of course, there's a chance that this is all this morning's report is about. However, Netflix's "no comment" leaves open the possibility that it's about something more. Given the myriad issues that surround this company's balance sheet, Is It Live or Is It Memorex conference calls, corporate communications or lack thereof, public discourse regarding shorts, options compensation, misguided stock buybacks and generally broken business model, nothing would surprise me.
Either way, I'm always baffled as to why the media and Wall Street picks up on one story at a particular time, but not on a similar, more specific story at another time. When Brown went public with explicit details on the SEC churn investigation in September, I was one of the few - maybe even the only - media members to follow up. Today's story basically says nothing precise other than there is some sort of inquiry and it makes repeated headlines while dinging the stock. Go figure.
This news only adds to the laundry list of reasons to, at the very least, not be long NFLX. Once 2012 losses come closer into view, I expect the stock to resume the next leg of its downward spiral. Of course, I will be watching out for guidance from the company, particularly regarding its subscriber situation in December. For what it's worth Netflix is heavily courting people to re-subscribe or take another free trial on the house.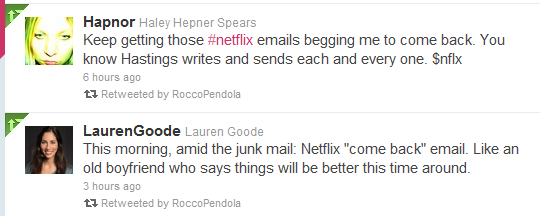 Speaking of Twitter, feel free to follow me there @RoccoPendola.
Disclosure: I am short NFLX.
Additional disclosure: I am long NFLX June 2012 $40 put options.