Many gold mining companies, especially the senior producers that are listed in the market vectors ETF (GDX), have recently been publishing very bullish earnings, and reports show rapidly increasing margins as a result of rising gold prices. Despite record earnings and steadily increasing gold prices the shares have not kept up with the price of gold.
Stock valuations are suppressed and do not represent fundamental value. This is especially true among the junior minors. As a result, many industry veterans, including Rick Rule believe that we will see an increase in mergers and acquisitions, staring in 2012.
The chart shows the performance of gold versus the senior minors (GDX), and junior minors (GDXJ). Gold has outperformed and the minors are lagging behind.
As a result of increased profitability, many of the seniors are sitting on a lot of cash. Newmont mining (NEM) for example have over $4 billion in cash & equivalents, and Barrick Gold (ABX) is not too far behind with $2.6 billion in cash & equivalents. With accumulated cash positions, the seniors will soon need to deploy some of this capital in one way or another. The chart shows the increase in profits among the seniors over the last four years.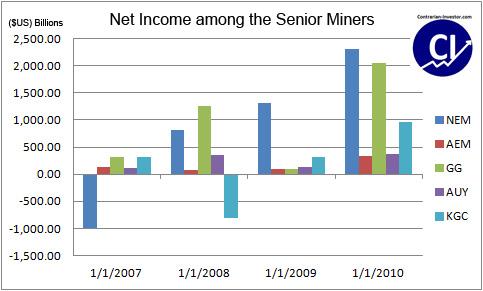 The prospect of acquisitions is becoming clear. Many of the seniors face the prospect of maturing mines and diminishing reserves, in addition to production delays and shortfalls among new projects. Rather than to invest capital in length development and exploration projects, it is becoming more and more attractive to acquire companies that already have exploration and development project on the way, especially at these valuation levels.
We have already seen a preview of what's likely to come. Earlier in the year Agnico Eagle Mines (AEM) put up $70 million in a move to take over Rubicon Minerals (RBY). In addition, Aurico Gold (AUQ), an intermediate gold producer took over Northgate Minerals (NXG), in an effort to expand their operations.
Heading into 2012, there are several good takeover candidates, especially among the juniors, those that trade in the Market Vectors Junior Gold Miners ETF (GDXJ). The following companies are potential targets for takeovers.
Golden Star Resources (GSS) is a small to mid-tier gold mining company with two operating mines situated along the prolific Ashanti gold belt in Ghana, West Africa. It is currently trading at $1.95, down from over $4 back in 2008. The company has a strong balance sheet, and with the stock price down more than 50%, this company is definitely a takeover candidate.
Next, Taseko Mines Limited (TGB) is a small-cap mining company based in British Columbia, involved in exploration and development. The company has four properties; the 75% owned Gibraltar Copper-Molybdenum Mine, the new Prosperity Gold-Copper mine development, the Aley Niobium project, and the Harmony gold project. The stock is currently trading at $2.73, down from over $6 at its peak. Furthermore, the company has strong growth potential and also looks like a possible takeover target.
Finally, Esperanza Resources (EPZ), is a company that investment veteran Rick Rule expects to be taken over during the coming consolidation phase. The company is based in British Columbia, and has two attractive projects in Cerro Jumil, Mexico, and Strieborná, Slovakia that are close to production. The stock is trading at $1.14, down significantly from its 2007 high of over $4.
The writing is on the wall. If the market will not bid up the price of the juniors, the cash rich seniors will acquire them in efforts to expand operations. Going into 2012 we should expect to see consolidation in the industry.