Investing in the world of biotech is like no other game in town. Information is at a premium as investors and traders lay their money down based upon very limited data in hopes of striking it rich. In this world the companies are small, tiny in fact. Some even have fewer employees on staff than the average local fast food restaurant chain down the block. But what they have going for them is the promise of new technologies and products that will better serve the needs of mankind. Make use healthier and allow us to live longer lives. Needless to say it's hard to put a price tag on that, but that is exactly what happens every day in the equity markets across the globe. These companies with no revenue streams, dwindling cash reserves, and costly trials to fund trade million of shares on a daily basis. Investors and traders buy and sell based upon the latest SEC filings, company presentations, and FDA decisions, but for those willing to look a little bit deeper there is usually overlooked clues buried in the everyday noise.
Now before we continue on, let's make sure to point out that these are clues and nothing more. They are not guarantees that a company will be successful or not in their endeavors. But oftentimes it is these clues that can tip the scales just enough to provide investors the small advantage they need to make the right decisions. Let's visit some.
Reading Between the Lines
Reading between the lines if oftentimes one of the best methods to pick up useful bits of information. Most of these companies are small and don't have large legal or investor relations departments to fall back on. The physician and scientists are often called upon to cover many duties that fall outside their expertise. They will give interviews, presentations and share information that if one were to look at hard enough they may find a treasure trove of info. A prime example comes from Advanced Cell Technology (ACTC.OB). This company has been thrust into the limelight of the regenerative stem cell world with the demise of Geron's (GERN) stem cell trials. Geron's departure left a bad taste in investor's mouths and as a result left the whole stem cell investing community second guessing themselves. But digging a bit deeper into the facts though one finds that the reason GERN left the sector was due to ever increasing cost on a trial that was vastly underestimated in complexity. Cost was what killed the beast, not the efficacy of the stem cells.
This leaves ACTC as the champion of the sector with a Phase 1/2 clinical trials for Stargardt's macular dystrophy and dry age-related macular degeneration being conducted here in the U.S. and clearance to begin in Europe. Unfortunately though, once again negative events overshadow the company. For example a recent event was plastered across the press where 40 holders of certain warrants and debentures will be issued approximately 240.5 million new shares in exchange for a mutual two-way release of any current and/or future claims against the company. Dilution is always ugly but the real question here is what are ACTC investors missing? What has fallen between the cracks that could offset a dilutive press release? The answer actually lies right under your nose. In a recent interview with Dr. Robert Lanza, the Chief Scientific Officer, the following was reported,
"We're moving full steam ahead," said Lanza, making final arrangements for other sites to enroll patients. Although results have not been formally reported yet, the first patients — who received stem cell–derived treatment this summer — are doing well enough, Lanza said, that "both want us to treat their other eye."
So let's read between the lines. The Phase 1/2 clinical trials are typically about safety foremost and little to do with efficacy. To apply these cells is not a simple outpatient office visit procedure. The patient had to undergo a major medical event, that was none to pleasant I'm sure. If all that was seen was the cells are safe and causing no damage then why would both patients want their other eyes treated? Why go through all the time and trouble for something that has no measurable benefit? Reading between the lines we come up with a logic answer in that they probably wouldn't unless the patient was noticing improved eyesight. Now is that fact? The answer is no, but it is one big clue and if we play it all the way out to a logical end point we get some staggering conclusions. If the stem cells do work as predicted, then Age-Related Macular Degeneration (AMD) will be tackled on a worldwide basis since it is an unmet medical need. Patients with macular degeneration who are slowly going blind are not going to sit quietly and wait around while as cure is at hand. Millions of people will insist on getting the procedure to save their sight and the demand will be unrelenting. With an estimate of over 30 Million patients in North America and Europe plus many, many more in the Far East, this medical treatment could generate huge revenue numbers for the company and any partners they decide to bring on. Until then, there are many more tantalizing clues found here and there for this company. Now let's see where they lead to.
Patient Excitement
In the biotech world, often times companies are dealing with ailments and conditions that are unmet and cause significant suffering in the patients that are afflicted. Now if the biotech's new product or technology can address these issues then obviously the patients are more than happy to share their experiences if possible with friends, family, and the media. Investors are so focused on FDA data and press releases from the company that often times simple interview from the patients themselves are overlooked, and that is the hidden clue we are looking for. A prime example comes from a company named Neuralstem, Inc. (CUR). CUR is a biopharmaceutical company that focuses on the development and commercialization of treatments for central nervous system diseases based on transplanting human neural stem cells and small molecule drugs. The company uses its neural stem cell technology as a tool for use in the small-molecule drug discovery, as well as to create cell therapy biotherapeutics for the treatment of central nervous system diseases, various neurodegenerative conditions, and for the regenerative repair of acute diseases.
CUR's basic goal is to take specialized cell and blend them with their technology to replace and/or repair dead or diseased cells. If this cell therapy is successful the goal is to be able to treat such aliments as brain cancer, spinal cord injuries, stoke, Huntington's Disease, Ischemic Spastic Paraplegia, and Lou Gehrig's disease (ALS). Neuralstem initiated the first FDA-approved stem cell trial in January 2010, at Emory University and decided to tackle ALS head on. According to the ALS Association, as many as 30,000 Americans have the disease, and about 5,600 people in the U.S. are diagnosed with ALS each year. The study was designed to enroll up to 18 patients, and the initial goal was to test safety and evaluate the surgical techniques used. Of that number the first 12 patients have been transplanted in the lumbar (lower back) region of the spine. Here is where the clue comes in. It did not come from the FDA nor was it buried in an SEC filing. It came from one of the patients from the trial who spoke with several media outlets about his experience. His name is Ted Harada. According to his story, he was told in May 2010 that he probably had ALS, and then in August 2010 the doctors confirmed the diagnosis. When the trials started Ted was to the point where he walked with a cane, had quit his job, and was getting out of breath just walking to the mailbox. Since receiving his injections last March, Ted has improved enough to participate in a two-and-a-half mile ALS walk, breaths easier, and has returned to a more normal life. Ted, on his own initiative, even made a heartfelt comments on my own Seeking Alpha article "3 Companies Leading The Stem Cell Revolution" as a testimony to the company and the technique. Now is that a clue or what?
On November 23, 2011 CUR announced that the first patient to receive stem cells in the cervical (upper back) region of the spine was treated. It is also the first time surgeons have gone into the gray matter of the cervical region. The ultimate goal will be to preserve or even enhance breathing capacity for the patients and possibly support life-sustaining functions. The big question will be to see where the clue will lead us as biotech investors. Initial results are very promising but in the end it is only a clue and it will be interesting to see where it takes investors.
Partnerships/Joint Ventures/ Agreements
Often times one can find clues about a biotech company and their products by the partnership arrangements they have in place. Now there are all kinds of partnerships and they can come in a variety of styles and flavors. For our example consider AEterna Zentaris (AEZS) and their partnerships dealing with the drug Perifosine. This drug is an oral anti-cancer drug that is designed to treat advanced colorectal cancer, but also is being tested on other forms of cancer as well. AEZS's most well known partner is Keryx (KERX). This company derived the rights to the drug from a commercial license agreement in 2002 with Zentaris AG, which is a wholly owned subsidiary of AEterna Zentaris and will promote the drug in North America. Needless to say, KERX will spend a large sum of money trying to get Perifosine past the FDA trials. Now does this one partnership alone provide a clue? Actually no, it does not but now consider that AEZS has further agreements with Yakult Honsha (OTC:YKLTF) for Japan, Handok for Korea, and most recently Hikma Pharmaceuticals for Middle East and North Africa. Seems we have many more interested parties in play now. These companies do not form partnerships, joint ventures, and commercial license agreement blindly and off the cuff. Much time and analysis is put into the decision and these companies will usually choose drugs and companies that they feel have a good chance for success. That being the case, a strategic string of partnerships could easily be a clue of what it likely to come. It is by no means a guarantee of success but it does make a definitive statement.
Let's look at a different example of how a partnership might have been a clue. Consider the company Antares (AIS). This is a small pharmaceutical company that has a business line that focuses on self injection technologies and topical gel-based products. The company actual has a couple agreements in place, so let's just focus on one in particular dealing with their newly approved drug Anturol. This drug is a topical gel for individuals with an overactive bladder condition. Currently 33 million adults in the United States suffering from overactive bladders, and that makes for a market that exceeds $1.8 billion. So the question is what was one of the clues that Anturol might get a pass by the FDA? The answer was in the form a license where AIS made a deal with Watson Pharmaceuticals Inc. (WPI). Watson will market the drug and make payments to AIS based on sales. AIS will also get royalties based on sales of the product in the U.S. and Canada. So was the partnership enough of a clue? Not really, one would have look deeper into Watson's business model to find the real clue. Before the approval, Watson already had an overactive bladder product called Gelnique which produces about $50-60 million in sales for the company. The question would be why would Watson want to partner with AIS if they already had a product? We may never know the exact answer of why Watson made the decision to partner up. But if one were to follow the logic it would lead to the conclusion that Watson, after some in-depth analysis, must have determined that Anturol is the superior product and might replace Gelnique in their lineup. This was the clue investors were looking for. Once again, it was just a clue and not a guarantee for success.
Unusual Option Activity
One fairly easy clue to spot revolves around the trading of unusual amounts of options relate to the stock in question. When trading options, whether short of long, the investor has placed themselves into a leveraged position and is depending on a very specific event, happening at a specific time, within a predetermine price range. Needless to say, trading options is not a game for the newbies. Lots of time and research goes into these trades, and the bigger the trade the more money that is on the line. When one spots an unusual large trade it means that a very well financed individual or entity is behind the investment. Chances are very good that quite a bit of thought and analysis went into the trade prior to execution. So whether the trade is a bull or bear, it should give a nice clue as to what its expectation is for the stock price. Examples are always best so here is the most recent one.
Targacept (TRGT) is a biopharmaceutical company engaged in the design, discovery and development of NNR Therapeutics, a new class of drugs for the treatment of multiple diseases and disorders of the nervous system. The company has a nice clinical-stage product pipeline and multiple preclinical product candidates. Their most advanced product candidates are in development for major depressive disorder, attention deficit/hyperactivity disorder, Alzheimer's disease and cognitive dysfunction in schizophrenia. Now this article in no way is endorsing TRGT as a buy, but if you were an investor and took a look at a series of recent option trades you might pick up a clue as to what a larger, more well funded trader is thinking. Take a look at the option chain below for today December 13, 2011 to see the after affects the trades.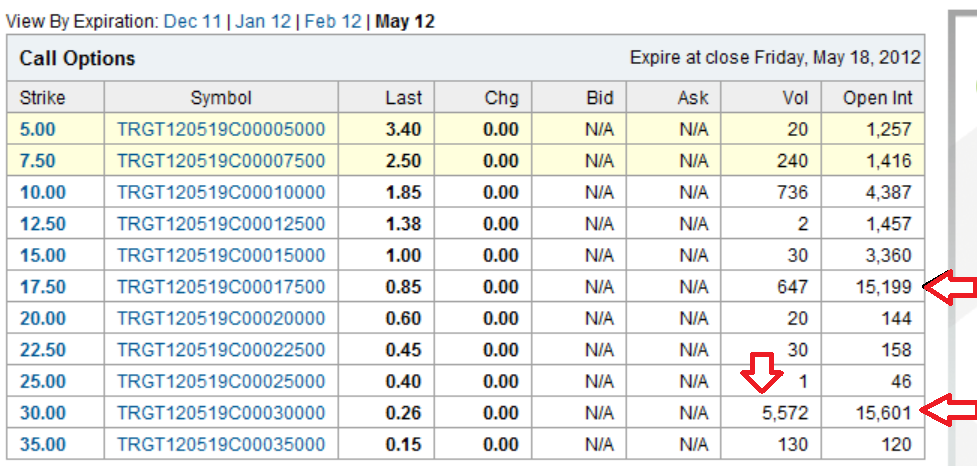 (Click to enlarge)
It seems that on Friday December 9, 2011 an investor started a bull call spread by buying the May$ 17.5 and selling the May $30 calls against it. If that was not enough, on Monday December 12, 2011 it happened all over again, but the real kicker is that they are trading in the neighborhood of 5,000 calls on each side of the spreads. Needless to say, anyone dealing in that large number of calls is very well financed and has done their research prior to the trade. This trader knows the stock trades around$7.70 a share so for them to buy the $17.50 calls makes them rather bullish to say the least, and here lies the clue. Now does this mean that TRGT will climb all the way to $17.50 and beyond by May 2012? The answer is no but as of right now some big money is betting that this will be the case. It will be interesting to see how this clue plays out.
In conclusion, for most biotech stocks there are always clues hiding beneath the surface waiting to be discovered. Not all can be trusted and some can and will be misleading at times. But for those willing to keep digging, they can give the biotech investor a small edge in the game and often times that is all you need. Good luck and good hunting.