The health care sector hasn't fully recovered from the shock of President Obama's health care reform. Despite its allure as a defensive sector during a weak economy, health care continues to underperform the S&P 500. But there are clear winners in the space. Express Scripts (NSDQ: ESRX), one of the largest pharmacy benefit managers (NYSEMKT:PBM) in the US, is one of them even if the market doesn't yet realize it.
Two major issues have weighed on Express Scripts' share price this year. There is an ongoing contract dispute between the benefits manager and Walgreen Company (NYSE: WAG). And Express Scripts' proposed merger with Medco Health Solutions (NYSE: MHS) has faced intense regulatory scrutiny.
The merger would create the largest PBM in the nation, covering about 155 million Americans and roughly 40 percent of all prescriptions written in the US. The economies of scale created by the deal would allow the combined entity to wring huge efficiencies from its operations. And the size of the merged firm would also enable it to enjoy substantial leverage when bargaining with pharmacies and drug makers, thus providing it with an effective bulwark against health care cost inflation.
While the scale of the combined entity makes the merger compelling to investors, it invites regulatory scrutiny that could lead to the deal's undoing. Under the Obama administration, the Dept. of Justice and the Federal Trade Commission have been far more active than in years past. Regulators have blocked a number of smaller deals in the entertainment, communications and health care realms as a result of competitive concerns.
Historically, Express Scripts' shares have out-performed Medco's stock by 8 percent to 10 percent, largely due to Express Scripts' already dominant market share. In the event that regulators nix the deal, Express Scripts will enjoy even greater dominance of the industry because Medco has lost three major PBM contracts so far this year. So Express Scripts should benefit regardless of whether or not the deal goes through, particularly since there won't be a breakup fee involved.
The dispute with Walgreen Company is also likely to work out in favor of Express Scripts. As a PBM, Express Scripts essentially acts as an intermediary between pharmacies and insurance companies, negotiating the rates paid by insurers for prescription drugs. As a result, Express Scripts pushes pharmacies to eat a portion of health care cost inflation in the form of lower payments toward prescriptions. The core of the dispute is that Walgreen wasn't willing to accept the payout rate offered by Express Scripts. Walgreen believed that Express Scripts would eventually yield to its demands by virtue of its position as the largest pharmacy chain in the US.
But Walgreen appears to have miscalculated. Express Scripts' client retention rate has barely budged since the dispute began because its clients are willing to accept more restricted pharmacy access in exchange for lower costs. If Express Scripts' clients don't abandon them, Walgreen isn't likely to prevail.
The market is not as favorably disposed toward Express Scripts as it once was, but that situation should change when it once again recognizes the firm's dominance of the PBM market and ability to grow earnings.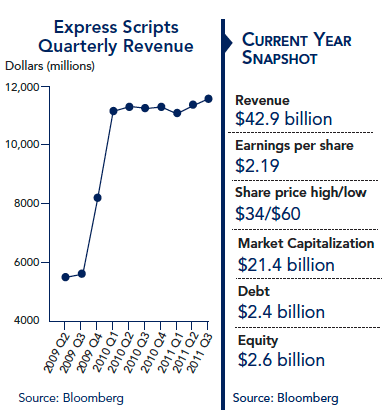 Disclosure: I have no positions in any stocks mentioned, and no plans to initiate any positions within the next 72 hours.