Laredo Petroleum (NYSE:LPI), the Permian and Granite Wash player, priced its IPO last night at $17, below the expected range of $18 to $20, which after the cold reception of SN and the equity market and OPEC decison inspired sell off in crude is not surprising and just a bit of unlucky timing.
Management: I don't know Randy Fouch but have heard of him and believe him to be well respected. He and the other members of management all have deep expertise with public and private E&Ps. They have successfully acquired and grown producing assets in the past, they have drilled hundreds of wells in the Permian Basin over the course of decades apiece and they are technically skilled. I am acquainted with Ed Segner, one of their board members, from his days as CFO of EOG. He was always a conservative, top notch, under promise and over deliver type of guy and I'm glad to see him here.
Post deal this will be a $3-- B total enterprise value company with about $0.55 B of that in the form of senior notes due in 2019 and a small amount drawn on their revolver.

Available liquidity following the deal should be about $740 mm and given their budget for 2012 of $757 mm and assuming 4Q levels or slightly better of EBITDA generation annualized for all of 2012 (guesstimating at as much as $500 mm next year) we should see some modest creep in borrowing over the next 12 months excluding thoughts on acquisitions.

Unlike Sanchez Energy, (NYSE:SN), which came to market on Wednesday, this U.S. onshore E&P has significant current production that has been ramping swiftly largely via a vertical well program in the Permian Basin as you can see in the table above.


Operating costs (LOE, production taxes, and G&A) are fairly low and have only recently begun to trend higher as their liquids component has risen … as would be expected.
This leads to strong-ish EBITDA margins ($45 /per BOE in the first twelve months of this year) despite the name being more gassy than what most people think of as a Permian play. I know of Eagle Players in the condensate rich window with lower EBITDA margins (I'm thinking of you, ROSE). In fact, I don't see a lot of higher margin players, making this much gas as a percentage of their production profile, outside of the Williston or the oily Shelf players.
Reserves were 137 MMBOE (34% liquids) at mid year 2011 and Laredo uses Ryder Scott so those reserve numbers should be pretty unassailable. No doubt the 3P reserves would be multiples north of here. Notably, 63% of reserves are in the Permian and these are half oil. So, as the drill bit budget will largely be focused on on the Permian look for reserves (and the production mix) to get oilier.
The Plays:
Permian Basin

– Glascock, Howard, Reagan, and Sterling counties Texas. The have

127,000 net acres and until recently this has been

a vertical program for them in the shallower conventional "Wolfberry horizons".

Now they are adding horizontals targeting the deeper Wolfcamp shale

.

Granite Wash

– Hemphill and Wheeler counties, TX and Roger Mills County, OK. The have

37,740 net acres straddling the border of Oklahoma and the Texas Panhandle. This is

also a stacked pay play, with high BTU gas and liquids.

In early November, LINE paid $600 mm for 20,000 net granite wash prospective acres in Hemphill and Wheeler counties, TX and perhaps n

otably, Wheeler county is home to the Stiles Ranch area where NFX has drilled many horizontals with IPs north of 20 MMcfepd with high condensate production and a number of wells with strong longer term performance. This is good hunting ground.

Other Stuff

– Laredo has two oil prospects in north Texas that may hold granite wash and shale potential and a dry gas play in western Oklahoma. I don't know how much of the budget in 2012 is going to these but would guess it is pretty small for the first two and none for the last one.
Valuation:
If you wanted to price them on current production and used a high $100,000 per flowing barrel the firm would on that basis be worth $2.3 B (before acreage value).

EBITDA through the first 9 months of this year was $284 mm so for round numbers, and given oil prices in the 4Q and assuming 4Q production was up, call the full year EBITDA figure at $400 mm. EV to 2011 E EBITDA would then be 7.6x. Not exactly cheap. But

I don't have a handle on how fast they think they will grow next year and really next year is the multiple we'll be focused on. The 2012 budget is $757 mm so they will be diving back further into the revolver next year - not a bad thing given the oilier production they can tap, at a faster rate in West Texas.
Nutshell: I think it is coming to market at a pretty fair valuation, not overly cheap, but it should have some initial popularity in the market place (Europe willing) as people always want another pure player (or nearly pure player) and especially one that has been rapidly growing in a stacked pay play like the Permian where you can talk about verticals and not just horizontals, where you are talking conventional horizons in carbonates and sands and not just in low perm shales. And its size should make it a good trading vehicle for energy specific mid and large sized funds. So, it should be a welcome fresh face in the sector.
In the near term, I think a lot happens in a month when they get official Wall Street coverage and they release 2012 production guidance, probably with the guidance immediately preceding the coverage. That will be interesting. Medium and longer term I think they are relatively inexpensive given the upside potential in the current leasehold. Moreover, they are in plays with a high catalyst potential. Assuming they get rolling with horizontal development in both regions I would look for continued rapid production and reserve growth and expanding EBITDA margins.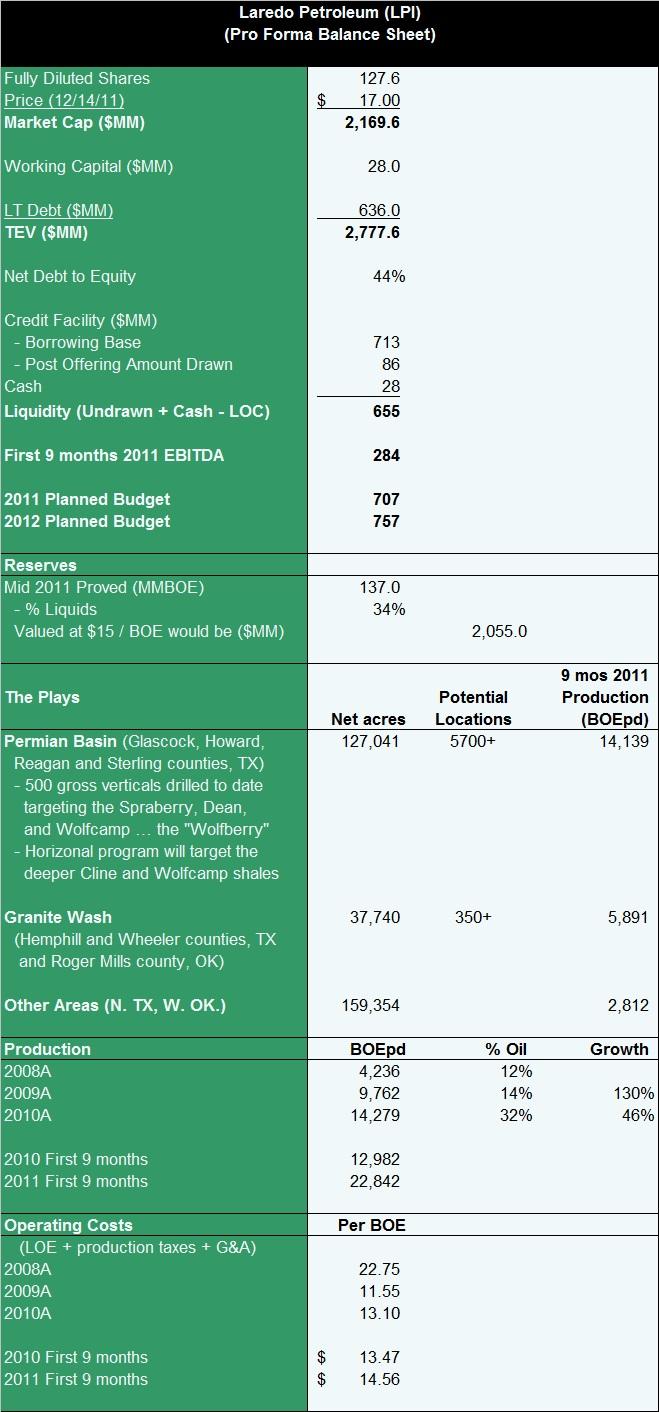 Disclosure: I am long NFX.