Well, you knew this wasn't going to last forever and, as a few shrewd analysts have boldly proclaimed in recent days, it seems clear that the decade-long bull market in gold is now finally over.
A big price run-up to almost unthinkable new highs in a relatively short period of time and then panic selling when investors realize that there are no more buyers brings to a tidy conclusion another long-term bull market in the yellow metal here in 2011, just like in 1980.
It's all clear to see in the graphic below.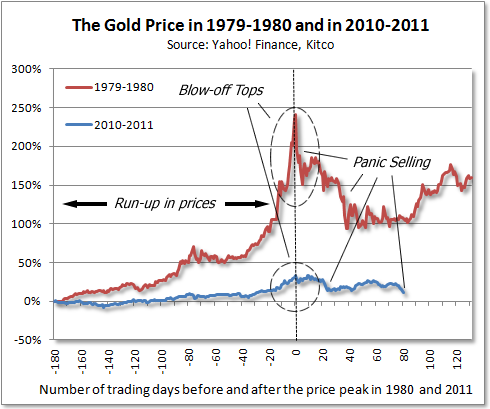 What we've seen over the last few months is a virtual carbon copy of what happened the last time a secular bull market in gold came to an end. About all there is to look forward to now is a little bounce and then a 20 year bear market.
The comparison to 1979-1980 couldn't be more compelling, that is, except for the odd difference in how far prices rose back then and how little they rose just recently.
Disclosure: I am long GLD.