While much has been made of the decline in gold this week, the much larger story may reside in what it is foreshadowing for the stock market in the weeks ahead.
The reasons for why the gold price is dropping may be signaling an impending crisis for the stock market. Financial institutions, including many across Europe, are scrambling to raise U.S. dollar liquidity. The critical issue here is that many of these same institutions were already facing solvency concerns due to their thin capital base and excessive exposure to at risk sovereign debt across the region. And now they are facing a mounting liquidity problem. This is inducing them to sell gold, which is among the most liquid assets, to raise liquidity. Given this backdrop, it's reasonable to wonder - have we seen this script before?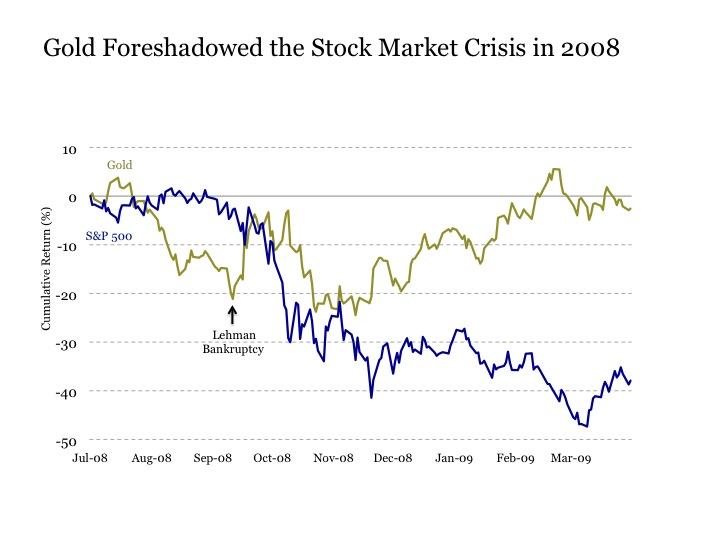 One has to look no further than the 2008 crisis to see how gold might be foreshadowing considerable trouble for the stock market. It was the summer of 2008 and the stock market was coasting along, although considerable signs of stress were brewing under the surface. In early July, gold plunged into a sharp decline, however, as the impairment of interbank lending markets had financial institutions scrambling to raise liquidity in a market where the ready access to low cost capital was increasingly drying up.
This downward trend for gold continued up until the day that Lehman declared bankruptcy in mid September. And it was at this inflection point that the decline in gold ended and the collapse in the stock market began. It would be two weeks later in early October before stocks tumbled into free fall, but it was the preceding liquidation driven decline followed by its massive snapback rally that signaled that the scramble for liquidity was being replaced by a frantic flight to the safety of hard asset protection. In the months that followed, stocks would continue descending in three separate waves lower until finally bottoming in March 2009.
So where do we stand today? While a sample size of one is hardly a basis to draw any conclusions, we are seeing some striking correlations to the 2008 episode continuing to develop today. Similar to the summer of 2008, stocks continue to coast along in choppy fashion while gold has fallen into decline. And just as with 2008, financial institutions are selling assets such as gold in a desperate attempt to raise liquidity.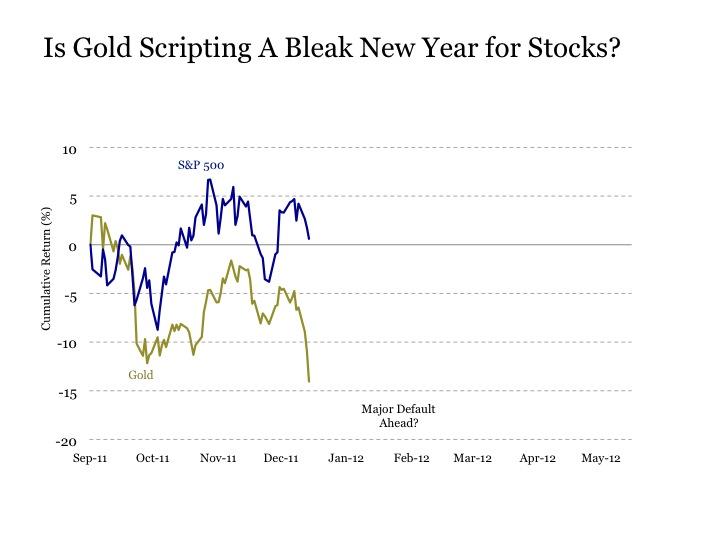 Thus, at what point do we see another Lehman moment that serves as the inflection point where the sell off in gold ends and the plunge in stocks soon begins? The candidates are many with several systemically important banking institutions across Europe seemingly on the brink of collapse and major sovereigns such as Italy facing massive sovereign debt redemptions that will need to be refinanced in the coming months. And I fear that such an outcome may arrive sooner rather than later at this stage.
Given this potential outcome, investors may be well served to consider dialing down risk exposures in the stock market. And it may be best to concentrate any remaining positions in higher quality defensive names with U.S. focused businesses such as J.M. Smuckers (NYSE:SJM), Alliant Energy (NYSE:LNT) and Westar Energy (NYSE:WR). Beyond the stock market, the recent sell off in gold (GLD, IAU, PHYS) may soon be presenting an attractive buying opportunity for safety seeking investors.
Disclosure: I am long GLD, SJM, LNT, WR.
Disclaimer: This post is for information purposes only. There are risks involved with investing including loss of principal. Gerring Wealth Management (GWM) makes no explicit or implicit guarantee with respect to performance or the outcome of any investment or projections made by GWM. There is no guarantee that the goals of the strategies discussed by GWM will be met.