In my previous article on cloud computing, I recommended shorting the most overvalued companies in the sector shortly below their August free falls. Thanks to a rally based on takeover rumors, NetSuite (NYSE:N) has again become an excellent shorting opportunity. I am bearish on NetSuite because the company is performing poorly, grossly overvalued, and the technicals show that the stock is extremely overbought.
Netsuite is one of the most overvalued companies that is publicly traded. First of all, the company has been consistently losing money. With a trailing twelve month profit margin of -11%, the company is clearly unprofitable. Despite revenues doubling over the past three years, the net profit margin and operating income have slightly declined over the same time period. Its negative 25% return on investment capital is also a strong sign of weakness that reflects the inefficiency of NetSuite's management. Despite these factors working against them, NetSuite is still valued at 219 times forward earnings, 160 times free cash flow, and 26 times its book value. All of these valuations are way above technology sector averages. Stronger cloud computing competitors such as VMWare (NYSE:VMW) even look cheap compared to NetSuite.
The crisis and pending recession will also hurt Netsuite as 20% of IT sales come from Europe. Reduced overseas revenue will make Netsuite even more unprofitable than it currently is already. A slow economy also reduces the chance of a takeover that bulls of Netsuite are betting on.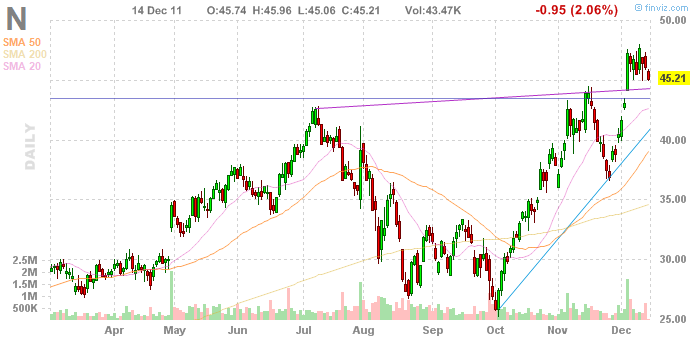 Despite Wednesday's down day, the technicals still highlight that Netsuite is an overbought stock that is on the verge of a major breakdown. The MACD crossed bearish Wednesday and stochastic indicators have also pointed bearish. Looking at the chart, Netsuite faces stiff resistance near the 52 week high of 48.03. It also has four island gap ups that need to be filled between $37.02 and 43.03 per share and I expect all of them to fill within the next few months. Its first clear support line is at the 50 day moving average of $39, followed by support at $36 and $34.63.
Overall, I am shorting Netsuite due to its severe overvaluation, its unprofitably, a weak overall stock market, and bearish technical indicators. The company is not one of the strongest firms in its sector and macroeconomic economic indicators are also weighing down the market. These factors will hurt high beta companies such as Netsuite disproportionately because of its nature as a momentum stock.
Disclosure: I am short N.