First Moody's, then Fitch downgraded several large EU banks. The Italian 5 year note auction of 3B euros was the most highly priced Italian auction in Euro era history at a yield of 6.47% on Wed. Dec. 14, 2011. The Spanish bond auction is scheduled for today, Thursday Dec. 15, 2011. There doesn't seem to be a let up. The EU credit crisis is "risk on" for downward economic pressure.
On top of this the China flash PMI for December came in at 49.0 (contraction). The new orders sub-index was even worse at 47.4. Many had been expecting a sharp rebound in the PMI to above 50 in December. US Retail Sales (MoM) missed at 0.20% versus an expected 0.60% on Dec. 14, 2011. Plus the inventories substantiated the Retail Sales number with a miss to the high side at 0.80% versus an expected 0.50%. On top of the Spanish bond auction Thursday, the French, German, and EU PMI data come out. If these show worsening data, that data will likely help the markets to fall more. Negative data would reinforce the current downward economic spiral in the EU. ECB President Draghi is due to speak at 6:25am ET.
It will be interesting to hear what he has to say. The US Fed meeting results didn't help the markets. More non-action from the ECB will likely be a big negative for both the EU and the US markets. On good news above, the markets will likely rebound a bit from their recent fall. If this proves to be the case, you may want to wait a day or several days to see if we get a second leg of a Christmas rally.
Regardless of the above near term data, the EU seems unavoidably headed for a recession. This likely means commodities prices are headed for a fall. It means energy stocks are going to get hurt. When you have a company like Patriot Coal (PCX) this is forecast to lose -$1.48 per share in FY2011 (a "good year"), you have to question whether it can possibly right itself in FY2012, which is looking more and more like a bad year. The FY2012 analysts' EPS forecast for PCX has fallen from $1.51three months ago to $0.52 now. One might reasonably think the forecast for FY2012 earnings will continue to fall. PCX has missed analysts' forecasts badly for each of the last three quarters. This isn't the mark of a well run company.
On top of the above, the Central Appalachian Coal Futures prices have fallen significantly in the last year, and they are not expected to improve. Not long ago, the January 2012 contract was priced at over $80. Now it is $67.83, and there is no Central Appalachian Coal Futures contract over $77.18 through Dec. 2016. Does that sound like PCX is likely to become profitable soon? Its Trailing Twelve Month Net Profit Margin is -3.00%, and that could get worse instead of better. With the EU going into recession, exports to Europe don't seem likely to be a growth area. With China slowing, the more aggressive companies like Consol (NYSE:CNX), who are already exporting good amounts to China, seem likely to pressure PCX in any incursions into that business. I just don't see any upside.
In a quick business summary PCX produces and markets coal in the eastern US, with 14 current mining complexes in Appalachia and the Illinois Basin. PCX ships to domestic and international electric utilities, industrial users, and metallurgical coal customers. It controls approximately 1.9B tons of proven and probable coal reserves. This sounds impressive, but the bottom line is that it hasn't been making money at a time when many of its competitors have. It seems likely to do worse in a slowing world economy. Some people give it extra kudos for being a spin off of Peabody Energy Corp. (NYSE:BTU) -- a leader in the coal industry. However, kudos for this are a proven mistake. Peabody Energy has been highly profitable in FY2011, and it has beaten on earnings every one of the last four quarters. This is the mark of a well run company (BTU). This is not the behavior PCX has exhibited.
The one year chart of PCX tells the recent tale (see below).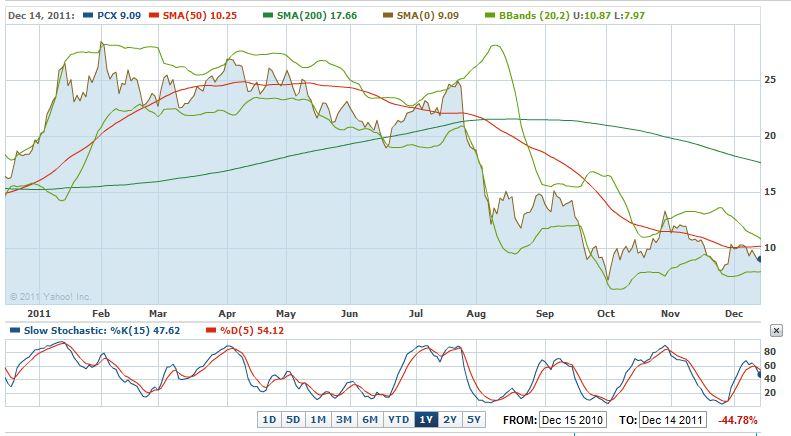 PCX has been in a down trend since April 2011. Even the recent rise in the overall market has not served to reverse that trend. Instead, PCX has merely consolidated during the markets' late 2011 up movements. To me this spells outperformance to the down side on an overall market fall. The US markets psychology on PCX seems very negative. It seems like a stock you can short. In fact, many people are already short with a short interest of 16.20% of the float.
With the world economic situation worsening seemingly each day, it seems unlikely that the relatively strong downtrend in PCX will reverse itself. Plus, there should be little threat of short squeezes as the world economy contracts. Rather, bad economic times are usually when poorly performing companies get beaten to a pulp. This seems likely to happen to PCX over the next 6-12 months. Since it does not pay a dividend, you do not have to pay for the risk of shorting the stock. If the world economic situation changes measurably for the better, you can always cover your short position.
The following table shows some of the fundamental financial data of other US coal companies for comparison. The table includes data from Patriot Coal Corp., CONSOL Energy Inc., Alpha Natural Resources Inc. (ANR), Arch Coal Inc. (ACI), and James River Coal Co. (JRCC). The data are from TDameritrade and Yahoo Finance.
| | | | | | |
| --- | --- | --- | --- | --- | --- |
| Stock | PCX | | ANR | ACI | JRCC |
| Price | $9.09 | $36.94 | $19.87 | $14.22 | $6.80 |
| P/E | -- | 15.54 | 41.66 | 19.53 | 13.88 |
| FPE | 17.15 | 10.01 | 10.74 | 5.51 | -- |
| Dividend Yield | 0.00% | 1.30% | 0.00% | 3.10% | 0.00% |
| Average Analysts' Opinion | 2.6 | 1.8 | 2.2 | 2.2 | 2.7 |
| Market Cap | $830.18M | $8.38B | $4.37B | $3.01B | $235.96M |
| Enterprise Value | $1.05B | $11.11B | $6.56B | $6.74B | $606.04M |
| Beta | 3.37 | 1.49 | 1.84 | 1.71 | 2.65 |
| Short Interest as a % of Float | 16.20% | 2.62% | 9.70% | 10.30% | 41.10% |
| Cash per Share | $2.62 | $2.08 | $3.62 | $0.75 | $6.01 |
| FY2011 EPS Estimate | -$1.48 | $2.95 | $2.08 | $1.20 | $0.24 |
| 5 yr. EPS % Growth Estimate per annum | 5.00% | 35.75% | 31.76% | 35.66% | 13.40% |
| Price/Book | 1.03 | 2.44 | 0.53 | 0.85 | 0.54 |
| Net Profit Margin | -3.00% | 9.12% | 1.23% | 3.36% | 1.56% |
Admittedly, some of the other coal companies look troubled, especially JRCC. However, three of them have 5 year EPS % growth estimates per annum of greater than 30%. Even JRCC's is 13.40%. PCX's is a meager 5.00%, and it is currently losing money. Further, PCX is the only one with a currently negative Net Profit Margin. Some might point to the Price/Book ratio of only 1.03;but PCX's peers all have lower P/B ratios, except CNX. CNX is the healthiest. Plus its P/B may not reflect its true value. For instance, it has 200,000 acres of oil shale property in the Utica that it is just starting to develop. This valuable property likely has little value on CNX's books.
In sum, PCX is the clear under performer of the above US coal companies. Underperformers, especially ones that lose money, get killed in slowdowns and/or recessions. It is unclear exactly what will happen in the US economy, but some estimate that the EU recession will cost the US at least -1.0% in GDP in 2012. That will make shorting PCX that much more attractive.
Good Luck Trading.
Disclosure: I have no positions in any stocks mentioned, but may initiate a short position in PCX over the next 72 hours.