In the last few days I've made a couple of references to the 2012 Outlook article I've been working on for Seeking Alpha. In the follow up questions that came back on the original submission there was a question that in the context of the article did not call for a blog-length answer but I thought it would still make for a good blog post without front running the article too much (I've only published the answer to one out of 20 questions).
The question had to do with how I decide whether to use an individual stock or an ETF for a particular exposure in the portfolio. The short answer is that in an actively managed portfolio, regardless of what analysis is done a decision needs to be made based on the information taken in and the decision is really a judgement call that hopefully turns out to be correct.
Once the top down decision of what country or theme has been made, the next step is sifting through alternatives and pinning down possible alternatives. In reality this is a very long term process of first maybe reading a couple of articles about something like farmland/plantation stocks. Then I might look at a few names and see what other names that might lead to. In June 2008 I did a write up about farmland stocks that would constitute an early step in the process of trying to learn about a theme.
Part of the learning process involves seeing how the various stocks trade and react to various types of news. For example, I would think these stocks would generally not be that volatile because of the nature of the demand for the product but it turns out they are very volatile. I've written many times about this space, and quite a few others. I've spent time on the group but have not bought in for clients (yet?). I've explored and written about far more niches than I've bought for clients and I continue to follow them in case it does make sense at some point to buy an airport stock, as just one other example.
The chart below compares Caterpillar (NYSE:CAT) (in green) with a stock I have been following for many years in red. The stock plays into a specific country exposure and also a theme I have been following. The blue line is the benchmark index for the red line stock's country which I am interested in adding to the portfolio.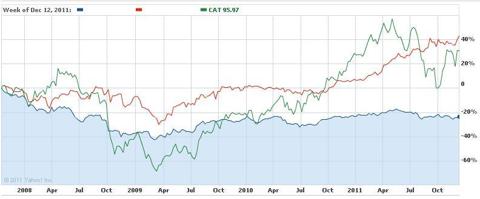 The volatility of the stock is very low compared to Caterpillar which is a very volatile name. I chose CAT for this because we have owned it more often than not over the last seven years. The chart goes back far enough to give a sense of how a stock will react to all sorts of things. The stock in red, despite being a foreign small cap has a volatility profile that most people could live with, IMO, compared to CAT's volatility which, because of the name, is also a holding many people can be comfortable with.
Knowing how a stock processes news is very important to me as I place emphasis on managing the volatility of the portfolio. I know that if I buy the red-line stock it is unlikely to get crushed on "ordinary" bad news. However the stock must be monitored in case there is bad news that comes that is somehow out of the "ordinary." Obviously a stock, once bought, needs to be monitored for all sorts of typical things like changes in the business, changes in the industry, changes in earnings trends, changes in revenue trends, changes in the balance sheet and any of the other typical things that you might think of.
In terms of selecting a stock, I don't think there is too much that I do bottom up-wise that is unique. I try to learn about the business, learn about the financials, relative valuations (relative to its own history, relative to the industry and relative to the market), try to understand if any big changes are looming for the company and so on. From the top down I want to understand how it might react to the economic cycle, understand what the stock will be a proxy for, how it plays into various themes, what attributes it will deliver to the portfolio and so on. I choose to believe that more value is added here than with the bottom up work.
For these things I will also look at an ETF if there is one. We have owned the iShares Emerging Market Infrastructure ETF (NASDAQ:EMIF) for a while. I've looked at and written about many stocks in this space but the ETF is also appealing because of what it owns and what it doesn't. It has some yield and is easy to trade, whereas the stocks in this space are difficult to trade, or at least they used to be before we changed custodians. Choosing the ETF was a judgement call as would a switch to an individual stock be a judgement call as would keeping the ETF and increasing the exposure by adding a stock.
If you are going to use an ETF in the above context there is still work to do. EMIF has large weightings to China and Brazil so it makes sense to keep tabs on those countries. If instead of China and Brazil EMIF had 30% in Hungary and 30% in Latvia then the fund would be a sell based on what is going on in those two countries now, as an example. As another example from quite a few years ago I disclosed not wanting to use iShares Sweden (NYSEARCA:EWD) for exposure to that country because of the then very large weighting in Ericsson (NASDAQ:ERIC).
One final point about process. This is my process for doing things and is right for me (and should be right for people who hire us). You probably have your own process for doing things. If you read blog content then you must have some interest in taking in information to refine your own process. As I say often, take little bits of process from various sources to create (or refine) your own process.