That's right, a product that was a few years ago reserved for retirees and institutional investors - insurance, pensions (more retirees), etc. is now the darling of retail investors. Institutions and foreigners still hold the bulk of U.S. corporate bonds, but the retail share via mutual funds and ETFs is growing each year (see below in blue).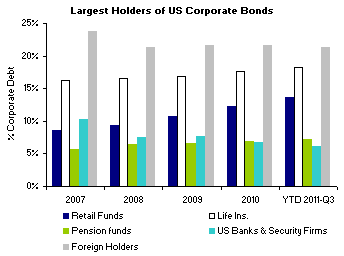 Source: Credit Suisse
In fact until recently corporate bond mutual fund assets have been growing rapidly - a trend started in 2009.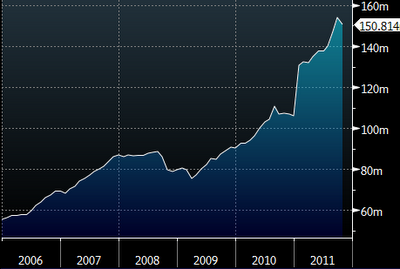 (Click to enlarge)
Source: Investment Company Institute, Bloomberg
The same trend can be observed in ETFs. A popular corporate bond ETF is the iShares iBoxx Investment Grade Corporate Bond Fund or LQD. The chart below shows the growth in LQD shares outstanding.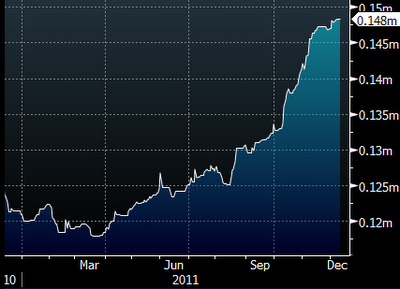 (Click to enlarge)
LQD Shares Outstanding (Bloomberg)
So why all this interest in corporate bonds? One key reason is that retail investors continue to shy away from equities.
Brad Barber: My sense is that sentiment for equities isn't going to get positive until the economy is on strong footing. Even though the market has come back, it hasn't really been accompanied by robust economic growth. That can to some degree explain why retail investors remain skittish. The back story of the returns has just not been strong for the last year or two.
So far retail investors have been correct. Corporate bonds have outperformed equities significantly. As the chart below demonstrates, on a total return basis (including dividends and interest) LQD has outperformed the S&P500 by some 8% this year. This outperformance has been caused by falling rates in the U.S. and stagnating equity markets driven by "macro" concerns. And as long as there is not a full resolution in Europe, this trend may continue.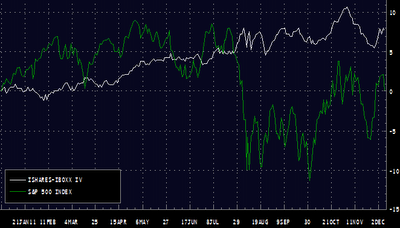 (Click to enlarge)
Total return LQD vs. S&P500 (Bloomberg)
Disclosure: I have no positions in any stocks mentioned, and no plans to initiate any positions within the next 72 hours.