Right now we think it highly likely that going forward we will see an increase in the rate of economic deterioration. Europe is already in a mess but the economy in the United States is now showing signs of its last gasp of growth. One indicator that we track is the Citi Economic Surprise Index. In the chart below you can see that economic numbers have been coming in very strong for the past few months. Based upon previous history, it is safe to say that we have peaked or are very near peaking and that economic numbers going forward should start to turn lower.
Citi Economic Surprise Index USD and G-10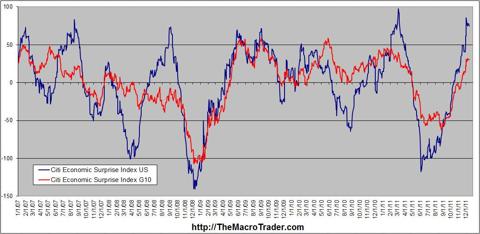 Not only are economic numbers expected to turn lower but we are also seeing several signs that inflation is dropping. One relationship that we follow closely is that of the CRB Raw Industrials Index against the SP500. As you can see in the chart below, the two are usually very correlated. When the industrials are moving higher stocks usually follow and when they turn down stocks tend to do the same. Right now there is a disconnect, one that we expect to be resolved with the SP500 moving lower.
CRB Raw Industrials Index and SP500
This relationship matters because if inflation moves lower the stock market will as well. We can see this very clearly in the next chart where we have overlaid the weekly SP500 with the 10-Yr TIPS breakeven rate. As you can see these have a very tight relationship. What you can't see is that this relationship goes back long before the crisis. When inflation expectations rise the stock market rises and when they fall the market falls.
SP500 and 10-Yr Breakeven Rate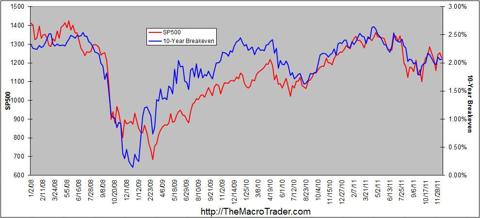 Other signs that inflation is not upon are that government bond yields are hovering around historic lows. As you can see in the next chart the 2-Year Treasury yield has been low and headed lower. Despite all the hype regarding hyperinflation we have not seen any of it, and based upon the messages from the bond market we are not seeing it anytime soon. In case you are wondering we are seeing the same thing farther out on the curve with 10 and 30 year yields also near their lows.
2-Yr US Treasury Yield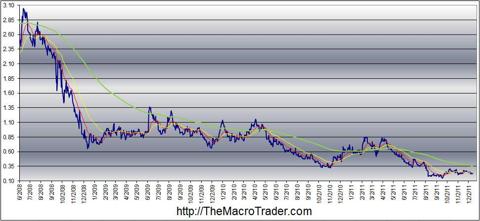 Another sign that we have been following is this chart of the Shanghai composite and the CRB index. As you can see the two indexes peaked within two weeks of each other and have been steadily working their way lower for the past eight months. As the nation of commodity stockpiling has slowed down so have their stockpiles. As this huge underlying commodity bid has vanished it has allowed industrial commodities to drop.
Shanghai Composite and CRB Index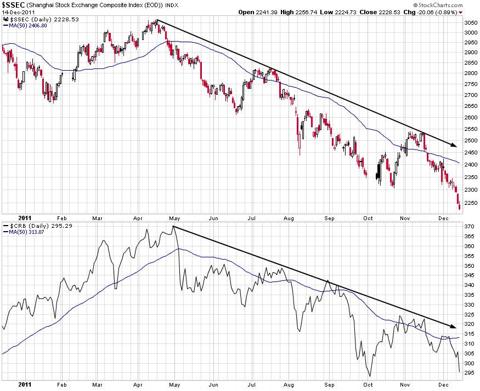 Whether it becomes an all out crash, ala 2008, or not is not known but we are confident that the global slowdown will continue. So what have we done with this view? In our model portfolio we are short the AUD/USD as we expect the Australian Dollar to move lower as commodity prices and Asian demand continues to falter. We are short the EUR/USD via options in a trade we placed back in August. Recently we bought the USD/CHF as we expect the Swiss Franc to weaken considerably from here. We are also short the SP500 via options and long the Lehman/Barclays Aggregate index which is highly weighted with US Treasuries and investment grade credits.