The Niche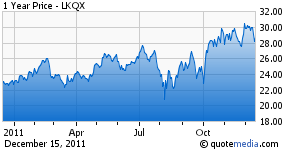 LKQ Corporation (LKQX) is a services company that operates in the Wholesale Auto Parts sector. It provides replacement parts and components for primarily cars and trucks in the United States and Canada, and specializes in the distribution of recycled car products. These car products, from engines to mirrors to doors, are made from collision and mechanical scrap. LKQ is a favorite of collision and mechanical repair shops, new and used car dealerships, and metal recyclers. Tough financial times have also aided LKQ, as relatively inexpensive repairs with parts provided by LKQ have been favored by car owners over the purchase of another vehicle. LKQ Corporation is dominating its industry, with a market cap of $4.13 billion compared to the industry average of $126.8 million. It's subsidiary, Keystone Automotive Industries, has become the United States' largest aftermarket parts supplier, and LKQ shows no sign of slowing down its acquisitions.
In fact, according to Gary Prestopino of Barrington Research, acquisitions have been a key part to LKQ's success. In the first few months of 2011, LKQ bought seven companies, five of which were aftermarket parts distributors. It continued this streak by recently acquiring Euro Car Parts, the largest distributor of automotive aftermarket parts in the United Kingdom, which allowed LKQ to gain a foothold in the European automotive parts and opened up an entirely new geographical market to LKQ's innovative and resourceful products. These acquisitions have paid off and now LKQ is seeing substantive growth as a result of its expansion; LKQ has carved out a significant niche in the Wholesale Auto Parts sector for itself and has positioned itself as a solid momentum plays.
The Result
LKQ is riding on growth and profits and exceeds the vast majority of CAN SLIM requirements. In its 2011 3Q Earnings Report, LKQ reported a 36% increase in Earnings-Per-Share (NYSEARCA:EPS) compared to the same quarter of last year and currently forecasts an extremely positive 4Q EPS as well, with its 4Q EPS estimates 32% higher than the 2010 4Q EPS. Seeing as how LKQ soundly beat its 3Q estimates by 6.3%, it is very likely that it is on track to break its 4Q estimates as well. LKQ's high 4Q estimated earnings growth shows confidence in the company, confidence that is well warranted, especially considering LKQ's long term figures. The average EPS growth of its last 3 quarters was 24%, and LKQ's 3-Year EPS Growth Rate is 26%. LKQ has also had 4 consecutive years of annual EPS Growth and pegs its estimated annual earnings growth this year as jumping 25.21% from last year's earnings. These figures paint an extremely positive portrait of LKQ, one which reflects not only consistency but consistency and profitability, one of the hallmarks of an attractive CAN SLIM stock.
LKQ's other financial components also exceed the majority of CAN SLIM standards. It has had increasing sales, with its 2011 3Q sales figures up 29% from last year's 3Q sales figures. Its 3-Year Sales Growth Rate is a bit on the low end of the CAN SLIM spectrum at 17%, but is still satisfactory. LKQ also has a solid annual ROE of 12.9% and an annual pre-tax margin of 10.9%. LKQ does have a high debt/equity ratio of 39%, but this is completely manageable and partially distorted by its string of acquisitions and subsequent assuming of debt.
The Verdict
LKQ Corporation is charging into an extremely prosperous future with its combination of expansion, profitability, and consistency. It has exceeded a majority of the CAN SLIM requirements and created a niche for itself in the Wholesale Auto Parts sector. Fellow Seeking Alpha contributors generally also view LKQ as an outstanding company and stock, with Kapitall labeling it as a desirable takeover target with outstanding profitability and Insider Monkey noting that it is held by famed investors such as billionaire Richard Chilton. LKQ has had 3 quarters of increasing fund ownership and is set to dominate, prosper, and drive forward.
Disclosure: I have no positions in any stocks mentioned, but may initiate a long position in LKQX over the next 72 hours.