5 GARP Stocks With Yield And In An Upward Price Pattern
Four nice attributes to have in a stock are (1) growth at a reasonable price, (2) above average yield, (3) liquid dollar trading volume,and (4) an upward price pattern.
We identified five stocks that have those four attributes within the combined stocks in the NYSE and Nasdaq.
For growth at a reasonable price, we used the stocks in the Russell Investments GARP discipline ETF (GRPC). For above average yield, we set the bar at 2.1% trailing yield to be higher than for the S&P 500 ETF (SPY).
For liquidity and upward price pattern, we used a multi-part formula:
Minimum $25,000 per minute three-month average dollar trading volume
Linear regression slopes for 200, 100 and 50 days are each positive
Price is greater than the 50-day average, which is greater than the 100-day average, which is greater than the 200-day average
200-day moving average now greater than the 200-day average 10 days ago by at least 0.1%.
Only 11 Nasdaq stocks passed the liquidity and upward price pattern filter, and 111 NYSE stocks passed.
The GARP ETF from Russell has 232 holdings.
The GARP ETF and the liquidity and upward pattern filter have 20 stocks in common.
Of the 20 stocks in common, five have a yield of 2.1% or more:
click images to enlarge

The Thompson Reuters StarMine ratings for each stock is as follows (on that 0.1 to 10 scale, 7.1 and above is considered bullish):
ABT 9.4
GPC 7.9
MCD 7.4
WMT 7.8
CB 8.3
The "Street" consensus ratio of the 12-month target price to the current price is:
ABT 1.088
GPC 1.003
MCD 1.056
WMT 1.055
CB 1.025
Here are the percentage performance charts from StockCharts. They factor-in dividends. Our chart filter used only price.
Click to enlarge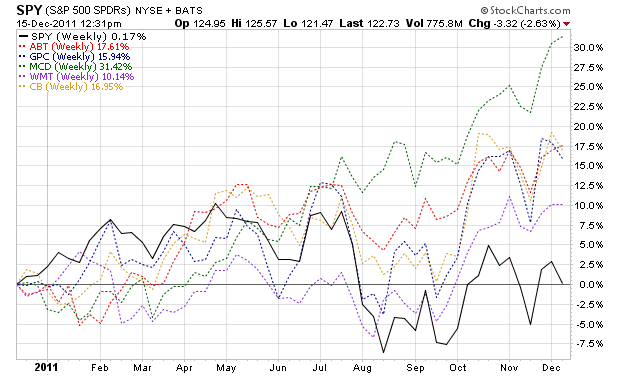 Disclosure: QVM has long positions in ABT, GPC and MCD as of the creation date of this article (December 15, 2011).
Disclaimer: This article provides opinions and information, but does not contain recommendations or personal investment advice to any specific person for any particular purpose. Do your own research or obtain suitable personal advice. You are responsible for your own investment decisions. This article is presented subject to our full disclaimer found on the QVM site available here.
This article was written by
Richard is the managing principal of QVM Group LLC, a fee-based investment advisor based in Connecticut, with clients across the country. . QVM manages portfolios uniquely designed for each client on a flat fee basis through the client's own accounts at Schwab; and provides investment coaching to "do-it-yourself" investors. The investment approach is based on value, asset allocation, expense control, risk management, customizing portfolios to each client's specific circumstances, and regular communication about strategy and absolute and benchmark performance.   Richard's extensive experience includes having served as a Board Director of Phoenix Investment Counsel, a U.S. pension and mutual funds manager, now Virtus Investment Partners (New York Stock Exchange: VRTS http://www.virtus.com); as Managing Director of Phoenix American Investment in London; and as a Board Director Aberdeen Asset Management PLC in Aberdeen Scotland (http://www.aberdeen-asset.com  then listed London Stock Exchange, now a subsidiary of Phoenix Group inthe U.K.).  He has been a Trustee of a $500 million pension fund, and was a charter investor and member of the Board of Directors of several internet companies, including Lending Tree (NASDAQ: TREE http://www.lendingtree.com) prior to its IPO.   He is a 1970 graduate of Dartmouth College.   QVM Group LLC is a Registered Investment Advisor.   Visit the QVM Group website (http://www.qvmgroup.com) or its blog (http://www.qvminvest.com).