"A pessimist sees the difficulty in every opportunity; an optimist sees the opportunity in every difficulty." - Winston Churchill
I've been watching developments in Russia in recent days as its stock market has cratered under social unrest. Basically, there has been an uproar over recent elections as Russians suspect fraud and election rigging. We've seen this story before and how it played out through the Arab Spring, and it looks more and more likely that Putin will be forced out of the political system. Between now and then though, uncertainty continues and investors remain uncomfortable betting on the country's stock market.
Take a look below at the price ratio of the Market Vectors Russia ETF (NYSEARCA:RSX) relative to the iShares MSCI Emerging Markets ETF (NYSEARCA:EEM). As a reminder, a rising price ratio means the numerator/RSX is outperforming (up more/down less) the denominator/EEM.
(Click chart to expand)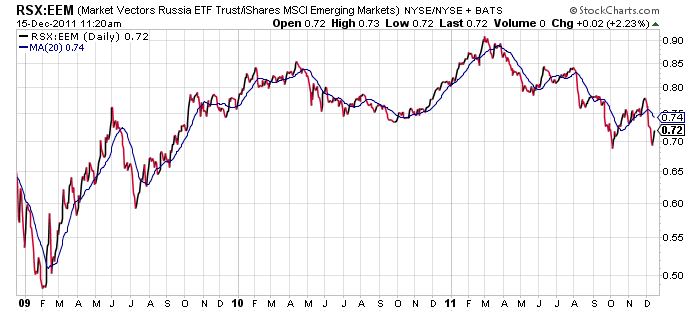 You can see on the far right of the chart that Russia significantly underperformed broader emerging markets in recent days as people took to the streets, but it appears to be bouncing off of a ratio support of around 0.7 hit right before the October/Fall Melt-Up began. Within the context of the Emerging Markets space, Russia appears to be relatively inexpensive and has underperformed fairly consistently all year. Heavy exposure to Energy and continued fear over a possible confrontation with Iran should in theory actually benefit Russia as Oil prices remain relatively elevated compared with other commodities due to a persistent fear premium being priced in.
While not prudent to go "all-in" given the uncertainty over exactly how things play out, it may be worth paying close attention to Russia from a dollar cost averaging standpoint. Russia ain't going nowhere, and could have strong return potential next year on any kind of sustained global rally in risk-assets coupled with less social unrest.
Disclosure: I have no positions in any stocks mentioned, and no plans to initiate any positions within the next 72 hours.
Disclaimer: This writing is for informational purposes only and does not constitute an offer to sell, a solicitation to buy, or a recommendation regarding any securities transaction, or as an offer to provide advisory or other services by Pension Partners, LLC in any jurisdiction in which such offer, solicitation, purchase or sale would be unlawful under the securities laws of such jurisdiction. The information contained in this writing should not be construed as financial or investment advice on any subject matter. Pension Partners, LLC expressly disclaims all liability in respect to actions taken based on any or all of the information on this writing.