The Industrial Metals & Minerals industry is offering up some of the best deals on the market right now. News out of China is killing these companies. The concerns are over real issues, and the problems are big. This being said, volatility is driving these companies into value territory. Everything is a buy at the right price. In my last article, I recommended Teck Resources (TCK) to Canadian Investors. I also mentioned Freeport-McMoRan (NYSE:FCX) as a potential buy. Besides those two, I also looked at Rio Tinto (NYSE:RIO), Cliffs Natural Resources (NYSE:CLF), BHP Billiton (NYSE:BHP), and Vale S.A (NYSE:VALE). I went in depth on Teck previously, but here's what the rest of them do:
Freeport-McMoRan
78% Copper, 18-12% Gold and 10-6% Molybdenum
BHP Billiton
Cliffs Natural Resources
80% of its revenue comes from the iron ore pellet market, where it has 28% market share. The remainder is coal.
Rio Tinto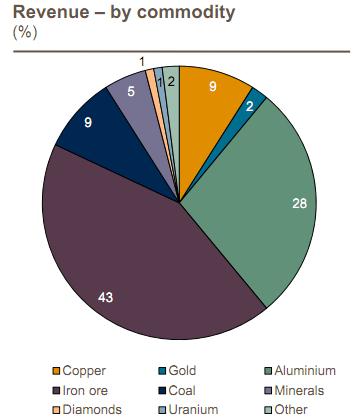 Vale S.A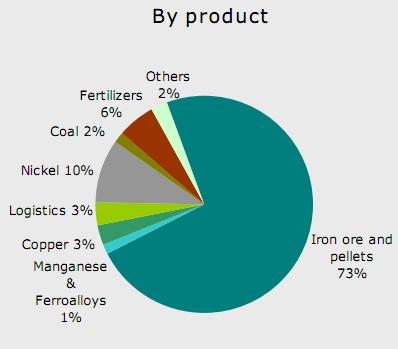 They all have very different revenue breakdowns. Freeport and Teck are heavily tied to the copper market (the latter to a lesser extent), and the other 4 are all reaping massive profits from iron ore. I did a detailed comparison of the six with a focus on valuation, growth, and safety. Below are the results. It's a little complicated but bear with me.
Valuation
If you think about all the valuation metrics I used - they are all equally relevant and important to the companies, they are all looking at different aspects of the financial statements, and in every case, it's better if the ratio is lower. It's in this sense that adding them should give a comparable 'value metric'.
I was surprised to see such a premium given to BHP. It is expensive to the group on almost every metric. It does have one of the better long-term track records of capital appreciation, but the price may be getting too high relative to the group. Teck is not trading at quite the same premium, but then again it has underperformed this group for years. It may be that one of the only 'inexpensive' Canadian stocks I could find in the TSX 60, may not be that cheap at all. This helps support my thesis that the Canadian market is overbought. Cliffs resources looks very cheap - this contrasts its massive rally over the past decade, having made shareholders the most money of the six in the group.
Growth
Again I added the growth rates with the assumption that each rate was of equal importance. I wanted to look at not just top and bottom line growth, but also CROIC (cash return on invested capital). This is perhaps the best measure of a company's. Companies that can spit out consistent and large free cash flows for every dollar invested are good businesses to buy. For these companies, which are in a massively capital intensive industry, it is all the more important. While I don't usually use analyst forecasts, I'm not an expert on the industry. As you can see, they look pretty low compared to what these companies have done in the past; but I don't mind being conservative.
Yet again, Teck's growth is dwarfed by these international firms. On a comparable basis it is starting to look less than ideal. Cliffs Resources again is the winner, showing just how successful it's been. The remaining four are all within a close enough range.
Safety
This is something the financial community does a very poor job of: evaluating risk. I normally don't need to if I see a big enough discount to intrinsic value. These firms, however, are so tied to global growth that it makes sense to pick the one that will weather storms the best.
Lower beta portfolios tend to beat higher beta portfolios over the long term. On an individual basis, beta usually is not a very good analytical tool. Using it in a comparison is just to give me an idea of the volatility of these firms. Having Teck and Cliffs far above the group average is a warning sign. In a recession or contraction in global growth, they will be hit harder than the rest. I also wanted to see where the stock prices were in relation to the midpoint of their 2007-2011 range. It's interesting to know if a company is closer to its March 09 lows or its pre-crisis peaks. BHP and TCK are the two that have closed higher this year than before the crisis. Both RIO and VALE have significant upsides to their midpoints. Again, I hate using analysts, but downgrades/upgrades pose big risk. The only company trading above its lowest price target is BHP - supporting the thesis that it may be overvalued. Finally, I rated their dividend history out of 3. If worst comes to worst, a little income can help buffer a lagging share price. A 0 is no dividend, 1 is dividend, 2 is dividend with either consistent growth or significant yield, and 3 is all of the above. It seems that BHP is being rewarded by "flight to quality" investors for its dividend. RIO yields over 2% and FCX over 2.5%, and both those dividends are safe.
To summarize, let's show the winners and losers from each category:
Valuation
Winners: CLF (RIO and FCX also good)
Losers: BHP (TCK to a lesser extent)
Growth
Winners: CLF
Losers: TCK
Safety
Winner: RIO
Losers: FCX and BHP
Based on this comp, I want to look further into RIO and CLF
I went to Trefis and adjusted all the margins, shipments growth, and price forecasts to extremely conservative estimates. It was very hard to make RIO worth any less than $60 a share. This implies over 25% upside. CLF was a little different - a worst case scenario for every country (again on margins, sales, and prices) put it at about $51 a share. That's about an 18% drop from where it is now.
Ultimately I think many of these companies will outperform. If you only have room for one in your portfolio, I'd highly recommend Rio Tinto. It got saddled with a massive debt balance after its purchase of Alcan - it's debt to equity is now close to 25%. It has diverse assets and revenue streams, it's cheap, has a good track record, and is a leader in many of the commodities it produces.
I think the key is diversified operations - Rio has decent weighting in copper and coal, as well as big aluminum operations - all which hedge its exposure to iron ore prices. Commodities have been cooling this year, but the macro theme of urbanization in emerging markets, increasing demand and decreasing supply, makes it a very good place to be. Given the risk, a conservative fair value is between $68-$72. This may take a while to realize, but the margin of safety - combined with a 2% yield, should make an excellent addition to any portfolio.
Recommendation: Rio Tinto is a strong buy
Disclosure: I have no positions in any stocks mentioned, but may initiate a long position in RIO over the next 72 hours. The views presented are solely my own and not reflective of the investment strategy of any firm I have worked for, past or present. Always speak to your broker or advisor.