Cocoa
As La Niña strengthens and moves into its third year it has been forecast to be considerably weaker than last year (one of the strongest La Niña's on record). The effect/impact on weather for West Africa tends to be plentiful rainfall, which in turn produces near perfect growing conditions for Cocoa. The caveat (weather-wise) would be for persistent rainfall throughout the growing season, or if La Nina weakens quickly either could have an impact on the "mid" crops, which are harvested in Q1 of 2012.
The Ivory Coast – the world's largest cocoa producer – recently announced total cocoa production for the 2011-2012 season would be 1.6 million tonnes. Many question this forecast labeling it "astonishing". Cocoa farms within the Ivory Coast contain some of the oldest trees and age tends to lessen productivity and require copious amounts of fertilizer to stimulate growth. It is also common practice that commodity-producing countries will adjust crop forecasts downward before all is said and done harvest wise.
Ghana is the second largest cocoa producer followed by Indonesia. Together Ghana and the Ivory Coast represent approximately 72% of world cocoa production.
The impact of a continuing La Niña at this juncture does not look like it will cause a major rally. Even with reports out of Indonesia showing a 6.3% decrease in cocoa exports due to 'unusual' wetness producing fungus. Prolonged rain in the Ivory Coast or Ghana creating a disruption in the export quantities would be expected to impact prices to the upside.
The long-term (data from 1923) outlook for Cocoa reveals that prices have been painting themselves into a "proverbial" corner, with current levels sitting right on the upward channel. It may take a bit longer but a break of the channel in either direction (appears to be down at the moment) the pent up energy will produce a sharp volatile move. The angle of the "Wall of Worry" is much sharper rising up off of the November 2000 low at 876, than coming down off of the 1977 high at 5644.
Continued weakness may lead to stronger downside momentum as bids dry up. Consider on a long-term basis the entire cycle peak to trough to peak (if 4257 goes unchallenged) took +/- 34 years. Based on that cocoa would not be expected to reach it's next low until 2022 to 2028. Please do not be misled here, prices are not expected to just go straight down. The trend however looks to have changed from advance to decline.
Just how long it will take to ripple thru the supply chain is another matter. Companies that purchase cocoa would be first in line to receive any benefits of lower prices as to whether the ripple will continue to "trickle" is anybody's claim at this point.
Cocoa Supply Chain (Production)
Source: United Nations Conference on Trade and Development. 2004 Commodity Atlas: Cocoa
Cocoa is not only the key ingredient of chocolate but also an important element of many cosmetics and soaps, pharmaceutical products, and baked goods, which feature cocoa butter.
Elements in the Supply Chain of a Chocolate Bar:
▪ Producers: farmers
▪ Raw materials: cocoa beans, sugar, milk, wood for paper wrappers, aluminum for foil wrappers
▪ Manufacturers: chocolate factories, sugar mills and refineries and milk processors
▪ Distributors: warehouses, transport companies
▪ Retailers: supermarkets, service stations and vending machines
▪ Service providers: designers, advertisers, market researchers, transport providers
One of the largest commercial manufacturers of cocoa is the privately owned conglomerate Mars Inc. Currently estimated to be valued at $30 billion. Other publically traded commercial manufacturers and also conglomerates would be Kraft Foods, Sara Lee, and Hershey's.
SUGAR
Sugarcane is found primarily throughout the tropical region just north and south of the equator that provides a warm growing season. Long days of sunshine and enough rainfall followed by a dry, sunny and frost-free maturing period produces the ultimate harvests. Hurricanes or typhoons making a direct hit on growing regions will usually wipe out the crop for the season.
Once harvested sugarcane needs to be processed before being stored. Sugar mills create raw sugar, with molasses and a sugarcane fiber being by products.
The tropical and sub-tropical growing regions account for almost 80% of global production. Sugar beet grown in the northern hemisphere contributes about 20 % to world production. According to the United Nations Food and Agriculture Organization (FAO):
Ranked in order here are the top 10 sugar producing countries:
Brazil
India
China
Mexico
Thailand
Pakistan
Colombia
Australia
Indonesia
United States
The United States produces a robust sugar beet crop, which covers most of its own demand.
La Nina may effect Brazil's 2012-sugar production if the abnormally dry weather continues.
Chinese demand is expected to remain at almost 2 million tonnes even after their recent purchase of 100,000 tonnes of Thai sugar.
Sugar (spot cash) Technical Outlook
The Chart Store provides some excellent chart data. Currently their sugar spot monthly chart dates back to 1902. That is the "big" picture. A general guideline I apply is that commodity markets tend to produce complete "bull and bear markets" – in other words, unlike the equities markets where bull and bear markets build upon each other to form an ongoing "Big Picture", commodities markets do not. Complete cycles may take years (72 in the case of sugar) to unfold, but once complete stand-alone.
The long-term outlook: Sugar prices spiked to highs in May 1920 and its all time high at 57.30 in November 1974. Sugar prices are extremely volatile evidenced by a ten year parabolic rise to 57.30 followed by a total 10 ½ year collapse of 99.96% to its all time low of 2.56 in June 1985; the bulk of which (90.25%) took a very short 22 months to achieve.
The advance still in force began off of the April 1999 low at 4.79 and unless prices break below 20.46 (monthly spot) expectations would be for additional highs taking place above 39.65 last seen in November 2010.
There is a support zone from 25 down to 21.60. Rallies should find stronger resistance at the 36 - 37 level, but ultimately expectations would be for the advance to reach the 41.80 to 43.50 zone before the larger long-term advance is complete.
COFFEE
The supply and demand for coffee is not going away anytime soon. Check out the tables below courtesy of the International Coffee Organization.
Ten-Year Production: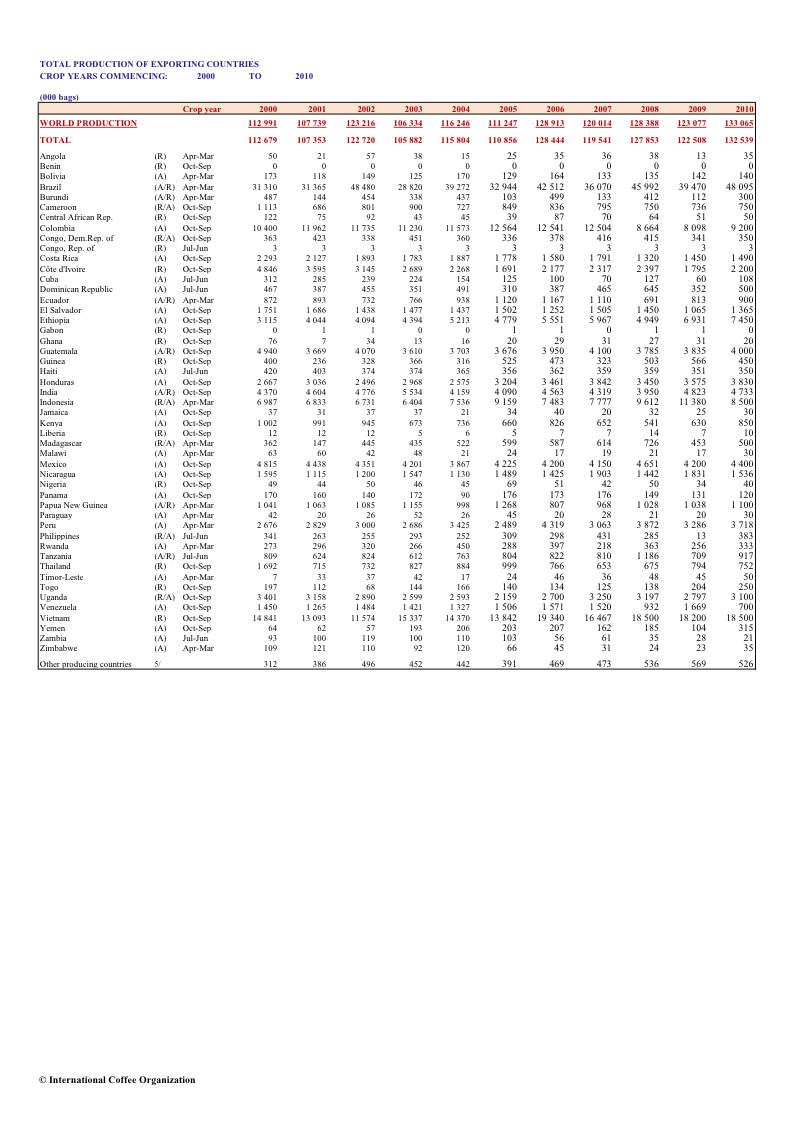 Ten-year consumption figures:
Brazil is clearly the world's largest coffee producer, Vietnam is second and Columbia is third.
A third year of La Nina brings carries the possibility of dryness to the coffee growing regions in Brazil as next years crop "flowering" begins. Indonesia has already reported a 14.7% decrease in crop yields as a fungus from "unusual wetness" hits this year's harvest.
The supply chain for coffee is extensive and consumers rather than the "corporate" supply chain will feel the ripple effect of volatile spot price gyrations harder and longer.
LONG TERM COFFEE TECHNICAL OUTLOOK
Coffee spot prices formed a complete cycle from the April 1977 high to the 1992 low at 35. From that low coffee is in the finishing stages of a larger "flat" type cycle advance bordered by 35 as the low and 359, the 1997 high as the top. Again on a long term basis the 2nd advance still in progress began off of the October 2001 low at 35.50. The "flat" nature of the overall larger cycle (rally –decline- rally) pins resistance at 359.50 as strong enough to contain upside momentum and complete the cycle. The pattern of the next cycle would be a decline – rally – decline.
Coffee Supply Chain
The graphs below show two views at the coffee supply chain vs. the S&P 500. The first is more coffee specific and the second a broader look at conglomerates with exposure within coffee.
On a return basis I would not expect any of the companies included in the graphs above to exceed the numbers produced 3 years ago. With a long-term perspective in mind dividend yields may be lower with the conglomerates, but stability and sustainability will be key in navigating the anticipated trend change likely to begin sometime in 2012.
PepsiCo, Inc. (NYSE:PEP)
PepsiCo is an international conglomerate with operations spanning all four corners of the world. Some of Pepsi's brands are Quaker Oats, Tropicana, Gatorade, Lay's, Pepsi, 7UP, Aquafina, Aunt Jemima, Cap'n Crunch, Cheetos, Cracker Jack, Doritos, Dr. Pepper, Fritos, Quaker, and Rice-A-Roni.
Current market-cap stands at 101.3 Billion. Approximately sixty-two percent of Pepsi's revenue is generate within the United States. Worldwide Pepsi employs 294,000 workers.
Current dividend yield is 3.20% at 2.06 per share.
The technical outlook for PEP shows that prices have recently been turned off of resistance at the 65.20 to 66 area. This zone remains resistance. The mid term picture suggests an additional down leg will take place before PEP mounts a sustained rally. Support (also mid term) should be cushion a decline with 61 to 62 being first up. Followed by 59.50 and then 54.75 on the lower end.
The stochastic oscillator is just pushing into overbought readings and has not acknowledged downside yet. The RSI oscillator on the other hand has turned lower from neutral territory and is pointing lower.
Sara Lee Corp (SLE)
Is also an international conglomerate with a bit stronger tilt towards coffee. Brands included under the SLE umbrella include:
Cafe Caboclo
Cafe Damusco
Cafe do Ponto
Cafe Pila
Cafe Prima
Douwe Egberts
Douwe Egberts Coffee Systems
Maison du Cafe
Currently SLE's mkt cap is $11 Billion. Sara Lee employs 33,400 people worldwide. 41% of 2010 - 2011 revenue is generated from coffee and tea. SLE's divident yield is 2.51%.
Technical Outlook for long term
2011 has more or less produced range bound trade for SLE with 19.40 containing upside and 16.25 supporting and containing downside. La Nina impact on coffee prices should tilt/push SLE out of this comfort zone. It may not last very long (months versus years) but the current configuration favors an upside move before the next sustained decline takes over. The resistance zone to watch for begins at 19.50 (low point), then 21.77 (mid-point) and the 24.85 (high point).
The oscillators are giving mixed signals at the moment with the stochastic pushing back into overbought readings - and the RSI turning lower just above neutral territory.
CONCLUSION
As La Nina moves into its third year it appears that Sugar and Coffee will receive the benefits (of higher prices) if there are any to be had. Much of the power of this weather phenomenon has been spent or so it seems with forecasts for the entire system weakening and eventually yielding to the next El Nino.
Opportunities will exist for traders all along the way - but as I strongly advocate. Please perform your due diligence and determine is commodity trading meets your investment objectives and risk profiles and portfolio. There are many ways of participating. Long term option volatility continues to be "cheap" and could offer strong protection against a long position in any of the conglomerates. Portfolio diversification is not a bad thing and is often appropriate along the long term path (yours and your portfolio's).
Next I'll take an in depth look at Cotton and its supply chain (Part III).
Disclosure: I have no positions in any stocks mentioned, and no plans to initiate any positions within the next 72 hours.