Markets were finally able to snap their losing streak with mild gains on the day, though they were nowhere near enough to erase the losses the past few days have seen. With eurozone fears heating up around the world, this week has seen most major asset classes exhibiting something of a tailspin. Today saw the Dow scrape up a 45 point gain while the S&P 500 jumped 0.3%. Ten-year bonds were able to hold on to meager gains, but gold and oil were not so lucky. Oil endured another tough day amid economic uncertainty, but gold is what has most analysts talking.
Gold seemed to be on a never-ending upward trend for the majority of the past year or so, with its price breaking through the $1,900/oz. earlier in 2011. But now that the metal has declined all the way down below $1,575/oz, many are re-thinking the future of this precious metal. Though some still maintain that gold will hit $2,000/oz before long, its crossing of its 200 day moving average yesterday has spooked many from the commodity, as it has not lost grip on this technical indicator since early 2009. In an effort to keep investors educated on today's markets, we outline two of the most notable ETF performances on the day.
One of the biggest ETF winners came from the Utilities Select Sector SPDR (NYSEARCA:XLU) which has been on a tear this year. The fund posted gains of 1.2% after a day of strong U.S. data. "The number of people applying for unemployment benefits dropped last week to 366,000, the lowest level since May 2008. That's a sign that layoffs are easing, a first step toward bringing down the unemployment rate, which currently stands at 8.6%," said Bernard Condon. Also note that a popular manufacturing index jumped far more than economists were expecting, giving an added boost to this fund. XLU has gained nearly 14% on the year, making it one of the better-performing equity products.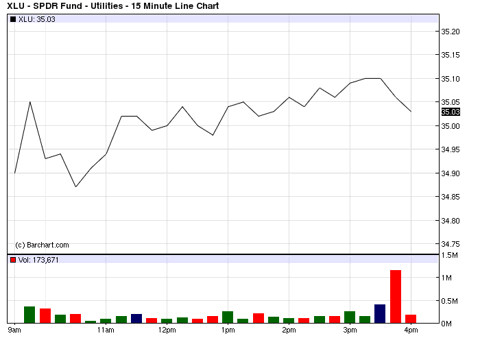 One of the biggest ETF losers on the day came from one of the most popular commodity ETPs, the United States Oil Fund (NYSEARCA:USO), which lost 1.5% on the day. Crude oil, though it had been exhibiting some real strength in recent weeks, has taken a shot to the ribs, losing nearly 7% since Friday's close. In fact, today marked a six week low for the commodity, as reports suggested that industrial demand is weakening. Today, "prices fell 1.1% after Federal Reserve data showed output at factories, mines and utilities slipped 0.2% in November," said Moming Zhou. Though oil is usually correlated to equities, the commodity has been hit especially hard this week, creating a unique buying (or selling) opportunity for investors close to this fund.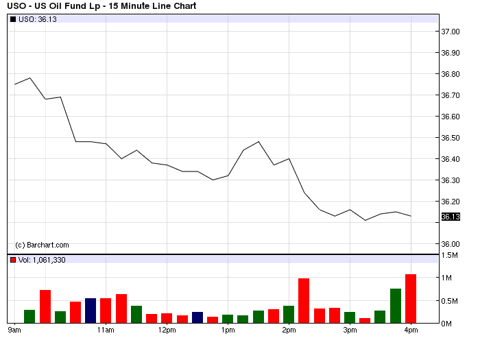 Disclosure: No positions at time of writing.
Disclaimer: ETF Database is not an investment advisor, and any content published by ETF Database does not constitute individual investment advice. The opinions offered herein are not personalized recommendations to buy, sell or hold securities. From time to time, issuers of exchange-traded products mentioned herein may place paid advertisements with ETF Database. All content on ETF Database is produced independently of any advertising relationships.