Eventually, the broken clocks calling for another massive sell-off in gold could be right. I sure hope so. I need to add to my current holdings at cheaper prices.
The latest anti-gold excitement is salivating over the technical breakdown of gold below its 200-day moving average (DMA).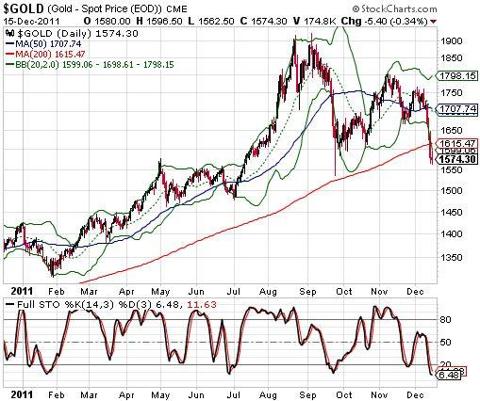 Gold breaks below its 200DMA, ending secondary uptrend. Support still holds for now.
Source: Stockcharts.com
(For you technicians, note that stochastics on gold are now VERY oversold, making it highly likely gold is about to rally again. Similarly, the U.S. dollar is getting overbought and over-extended).
In "Gold Sheds 'Can't Lose' Status: Now, No One Wants It", CNBC hastily claims:
In just three months, gold has gone from the trade that works in every kind of market to the trade that doesn't work in any market.
First of all, anyone investing in gold because they think it is a "can't lose" propisition needs a different perspective and risk adjustment. There are no "can't lose" propisitions in investing. Anyway, the article goes on to quote an analyst who claims traders and investors have found better safe havens. Given the shrinking list of safe havens on the planet, I am assuming this analyst is gushing over the U.S. dollar. The dollar has been on the rise.
Gold's weakness is indeed understandable in the wake of a strong U.S. dollar. The index is back to its highs from late 2010, but the rally is getting quite stretched and is due for a rest, even a pullback.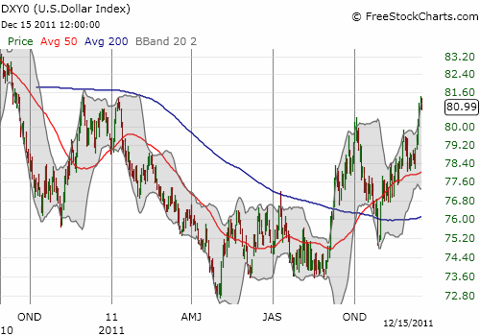 Dollar index's rally is stretching higher and higher...
Source: FreeStockCharts.com
While gold is wobbling and the U.S. dollar is strutting, nervous central banks and monetary authorities around the globe are moving to ease monetary conditions. The laundry list is long:
On Thursday, December 15, the Danish National Bank cut interest rates by 10 basis points after cutting 40 basis points just the previous week.
Earlier in the week, Norway's central bank cut interest rates by a surprise 50 basis points.
The Reserve Bank of Australia has cut rates twice in the past 6 weeks.
Over this same time span, the European Central bank (ECB) has also cut rates twice, and analysts expect even more cuts early next year.
In October, the Bank of England increased the size of its program of quantitative easing.
China cut reserve requirements last month for the first time in three years.
The Swiss National Bank (SNB) has warned currency markets that it will print as much currency as necessary to keep the franc pegged to the euro. The SNB claims to stand ready to implement additional measures as needed to further weaken its currency given deflationary risks.
Monetary policy is as easy as ever in Japan and monetary authorities have attempt to weaken the currency several times this year.
While the Fed has actually done little recently in terms of new monetary policies, on November 30, it did coordinate with global central banks to set up swap agreements to lower the cost of loaning dollars and other currencies.
Clearly, concerns are rising about economic growth and the stability of the global economy. Easy monetary conditions support gold's value, especially to the extent that more currency gets printed. The ECB may eventually become "compelled" to print in massive quantities to pay Europe's sovereign debt bills. The key question is whether deflationary forces will still outpace all of these pro-active measures. Even if not, the path to devaluation will be paved by deflation; we already know that the general response to economic crises will be to print money, especially in the U.S. and the U.K. Meanwhile, gold will still sit in the ground , vaults, etc… in the same exact quantities before and after more monetary easing. If markets deliver discounts under such conditions, I want to be a buyer.
For me, gold does not lose its luster until monetary authorities around the globe are making paper more valuable by tightening. The depth of the current economic malaise suggests such tightening will not occur for many years to come.
In the meantime, I finally closed out my short euro position which was part of my net long position in the U.S. dollar (for more details on the reason I went long the U.S. dollar, see "Global Economic Pressures Continue To Push The Dollar Reluctantly Higher"). My new plan is to stay sightly net short the U.S. dollar while opportunistically fading rallies in the euro. I continue to prefer playing a weaker Swiss franc as well (see "How To Play The Devaluation Of The Swiss Franc").
Be careful out there!
Disclosure: I am long GLD, FXF.
Additional disclosure: Note I am net short U.S. dollar, net short the euro, net short Japanese yen, and net short the franc.