Generex Biotechnology Corp. (OTCPK:GNBT) has long been a disappointment to its investors. Its share price currently stands at US$0.02. Five years ago it was at US$0.29 and ten years ago at US$3.00. At one stage in the year 2000, the price was in excess of US$18 so its investors have taken quite a haircut.
Here is a graph of the last five years:

Investors were excited by its plans for drug development systems by means of an oral spray with a handheld aerosol applicator called RapidMist. This allows for absorption through the lining of the inner mouth. It was seen especially as a way to treat diabetes. Wholly owned subsidiary Antigen Express has been looking at molecule drugs for immunomedicines (in particular immunotherapeutic vaccines) and has had some interesting products under development.
Its "oralynn" product has soaked up a lot of money without getting approval, a dream turned into a nightmare. Current work is ongoing on buccal insulin and on its Antigen Express AE37 for breast cancer. This certainly has promise but is still only at Phase II clinical trials and the investment money looks to be running out.
In a formal 10-Q filing statement in March, the company announced:
"The company has experienced negative cash flows from operations since inception and has an accumulated deficit of approximately US$370 million and a working capital deficiency of approximately US$6 million at Jan 31st 2015... These factors raise substantial doubt regarding the Company's ability to continue as a going concern."
The company has variously been mentioned in connection with other therapies, including a story doing rounds at the time of the Ebola crisis, on which there was an article here on Seeking Alpha. This came to nothing. Now it appears to be moving into the cannabis sector.
One way to raise more money to keep going, as share dilution seems to have just about hit its limits, is to get financial cooperation with other companies, and one has just been announced in connection with the greatly hyped but insecure business of cannabis.
This is a collaboration with a company called Smoofi Inc. (SMFI) in which Smoofi will use RapidMist for medicinal and recreational cannabis products. Smoofi will issue 10 million of its common stock in exchange for a global licence for the product. In return, Smoofi will pay Generex royalties of 20% of net revenues accrued from sales of RapidMist. Generex will also have the right to purchase 15 million in common stock of Smoofi in the future. As usual when it comes to Generex announcements, the shares popped on the news (up 12%) but soon reverted back to their floor price.
As for Smoofi, the shares also popped following the announcement, and like many cannabis plays its share price has had a wide spread. Currently at US$4.00, the price has fluctuated between $1 and $10 on the over-the-counter market, which of course has some restrictions on trading.
Its short history is as follows: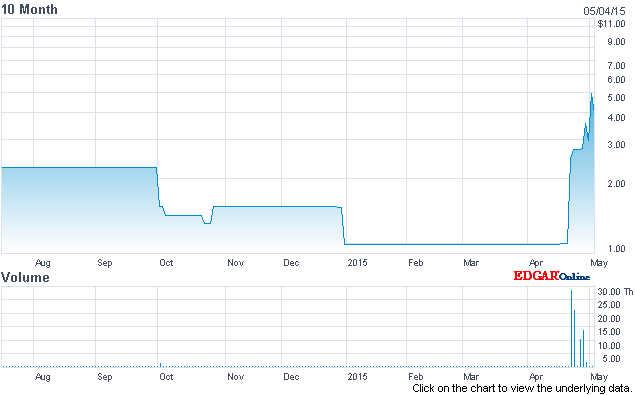 Interestingly, a year ago Smoofi had just one employee. According to Bloomberg data, one individual holds the concurrent titles of Chairman, Chief Executive Officer, President, Chief Financial Officer, Principal Accounting Officer, Treasurer and Secretary. It has, however, just appointed a Chief Operating Officer to help spread the workload.
It has also got a new majority share owner, a company called Blue River Equity. Smoofi states it offers consulting and advisory services to medical and recreational marijuana operators, cultivators and retail dispensaries. Like Generex, its share price was boosted on the news but has fallen back somewhat since.
Generex has also recently announced further collaboration with a company called CannScience Innovations Inc. This agreement gives CannScience the right to market Generex's buccal cannabis product in Canada on a 15% royalty payment basis. Buccal membrane absorption is thought to provide some advantages over oral absorption. It should allow for absorption to be faster, better controlled, and more predictable. CannScience is in the business of developing proprietary technologies for the formulation and extraction processes for medical cannabis.
In another development in a busy April, long-serving chairman John Barratt, a director since 2003, stepped down from his position. That was announced on 7th April, though on 27th April he bought over 5 million shares in the company at a price of US$0.001 per share, so no doubt he still feels there is promise.
Generex is not a fly-by-night company like so many in the cannabis sector and it has been working on some interesting products. Indeed, its record of losses and share dilution over quite a few years proves its longevity if nothing else. It takes time to accrue a deficit of US$370 million. However, its sources of finance for its key development products seem to be drying up and FDA approval is perhaps a distant mirage.
This foray into the cannabis sector can most likely be seen as the dying throes of a company which once had rich promise. It seems to be a long shot when all other sources of finance have dried up. Alternatively, for the optimist, it could be seen as a potential market leader in the new cannabis mega-billion Mecca to come. Potential buyers should do their own due diligence on both Generex and Smoofi.
Generex trades on OTCCQB, a category introduced in 2014. Under this, companies need to have financial reporting up-to-date, must have a minimum bid price of US$0.01, and need to undergo an annual certification process.
Smoofi trades on the standard OTCBB, under which companies need to file current financial statements. Few companies make it from the over-the-counter market to NASDAQ, and trading can be restricted by wide spreads between buy and sell prices.
Personally, I would exercise extreme caution, though at the price these companies trade, it is quite possible to pick up shares for a punt at quite small capital outlay. It is perhaps a salutary tale of the risks involved in investing both in drug development companies and in cannabis companies.
Disclosure: The author has no positions in any stocks mentioned, and no plans to initiate any positions within the next 72 hours.
The author wrote this article themselves, and it expresses their own opinions. The author is not receiving compensation for it (other than from Seeking Alpha). The author has no business relationship with any company whose stock is mentioned in this article.
Editor's Note: This article covers one or more stocks trading at less than $1 per share and/or with less than a $100 million market cap. Please be aware of the risks associated with these stocks.