There are literally thousands of equities and funds (of the mutual, closed-end and exchange traded varietals). A prudent idea may be to consider the investment decisions made by one or a few of the more respected investors within the market.
Warren Buffett is considered one of the best long-term investors out there, and Berkshire Hathaway (NYSE:BRK.A) holds several large positions in well-known American companies. Additionally, most of his publicly traded investments have above-average dividends and a history of growing them over time.
Below are Warren Buffett's largest equity investments according Berkshire Hathaway's last 13F quarterly filing. I have only listed those positions valued at over $1 billion. I have provided each equity's 2011-to-date performance rates, as well as the present annual yield, the quarterly payout and quarterly dividend growth rates compared with one and five years ago.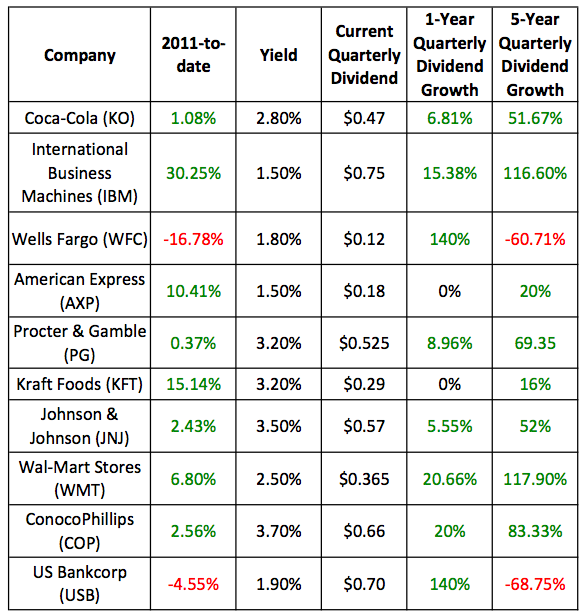 Most of these stocks have acted somewhat resiliently this year and through the recent sell-off. The best performing listed equity is IBM. Buffett has recently acquired the majority of his IBM position, while most of these other positions are long-term holdings. IBM is now Berkshire's second largest holding, behind Coka-Cola. IBM does show strong annual and 5-year dividend growth, which may have been one of the primary reasons Buffett liked the company so much.
The strongest dividend growth over the last year was exhibited by the two banks on the list, with both WFC and USB increasing their dividends by 140% compared with 2010. Nonetheless, these two are also the only listed equities with reduced dividends compared with five years ago, with both still paying dividends below half their 2006 rates. Of the other companies, Wal-Mart grew its dividend the most this year and also has the largest 5-year dividend growth.
Many individuals may also appreciate that these companies are generally familiar. Most investors, even if they are new to investing, are likely familiar with several of these companies, if not all of them. This familiarity also makes it easier to understand the businesses, and also makes information on the companies more readily available and discussed. Additionally, these companies tend to grow their dividends, which is something most income-oriented investors usually appreciate.
Disclosure: I am long KFT.
Disclaimer: This article is intended to be informative and should not be construed as personalized advice as it does not take into account your specific situation or objectives.